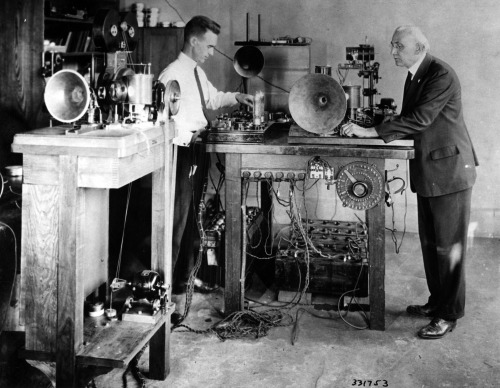 Today's #TechTuesday brings us a Pallo-Photo-Phone, a device developed by Charles A. Hoxie (1867-1941)of the General Electric Company for the purpose of "photographing" and reproducing the human voice.
The text accompanying this photograph, captured on November 6, 1922, declared that the Pallo-Photo-Phone would become "the apparatus which will make talking movies a successful reality and has introduced into radio broadcasting an entirely new element - the possibility of making a master record from which copies may be made and reproduced in the four corners of the world, just as the phonograph record is made."
This photograph is part of Hagley Library's collection of Chamber of Commerce of the United States photographs and audiovisual materials, Series II. Nation's Business photographs (Accession 1993.230.II). The Chamber of Commerce of the United States of America formed in 1912 with the purpose of advising the government on issues facing industry and business throughout the country. The majority of images in this digital collection are photographs that were taken for the Chamber's publication, Nation's Business.
Published from 1912 to 1999, the monthly magazine proved invaluable in communicating the Chamber's messages to business and government, and the magazine featured images by many of the country's most prominent photographers. This collection has not been digitized in its entirety, but you can view a selection of images from it online now in our Digital Archive by clicking here.