The Audiovisual and Digital Department is pleased to announce the acquisition of a collection that documents fruit and vegetable marketing in the United States from the 1880s up to the 1970s.
The collection came to Hagley from Irene Hendrick whose husband, Charles Magoon, collected the photographs during a lifetime of work in the produce industry. Magoon worked as the Director of Research at the United Fresh Fruit and Vegetable Association from the late 1970s into the mid-1990s. In 1997 he published a book titled "The Way It Was: The Produce Industry in the Early Years, 1890 to 1930" that used photographs from his collection.
While many of the photographs are high-quality reproductions from other archival collections, the compilation and arrangement by Mr. Magoon, along with his meticulous notes and descriptions accompanying the images, make it a valuable tool for researchers and an excellent addition to Hagley's holdings on the history of business.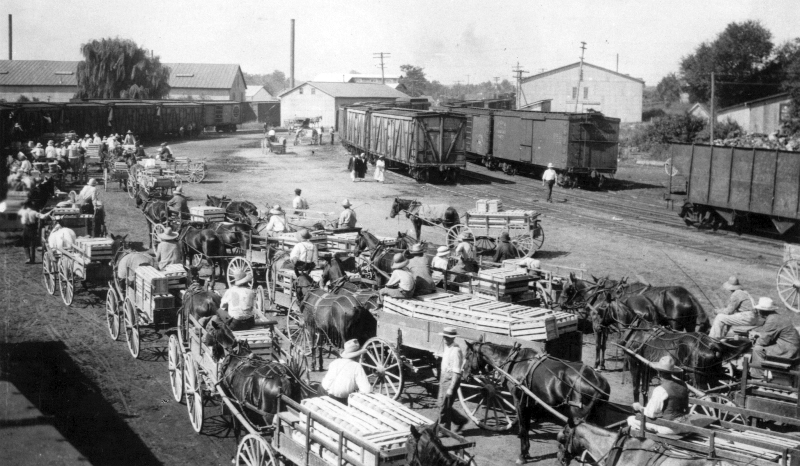 Helen Tangires, a historian who has conducted research at Hagley, had used the collection while it was still in Mr. Magoon's home in West Virginia. Ms. Tangires has published multiple works on public markets. She played a significant role in bringing the Magoon collection to Hagley where it will be used by future historians for many years to come. We are very grateful to Helen and to Mrs. Hedrick for their efforts to preserve Mr. Magoon's collection.
You can find a detailed overview of the collection's contents in the finding aid.
---
Kevin Martin is the Andrew W. Mellon Curator of Audiovisual Collections & Digital Initiatives at the Hagley Museum and Library.