Monday, December 19, 2016
When perusing the bookshelves at a library, it is not uncommon to chance upon a serendipitous find completely unrelated to the original book that was sought. It just occurred to me that the same thing can happen when searching through the Hagley Digital Archives.
Recently I was searching the Hagley catalog for information on bookbinding when several items of correspondence popped up in the search results. These were part of the collected letters of Sophie Madeleine Du Pont (wife of Rear Admiral Samuel Francis Du Pont) and they were all written by Xanthus Smith.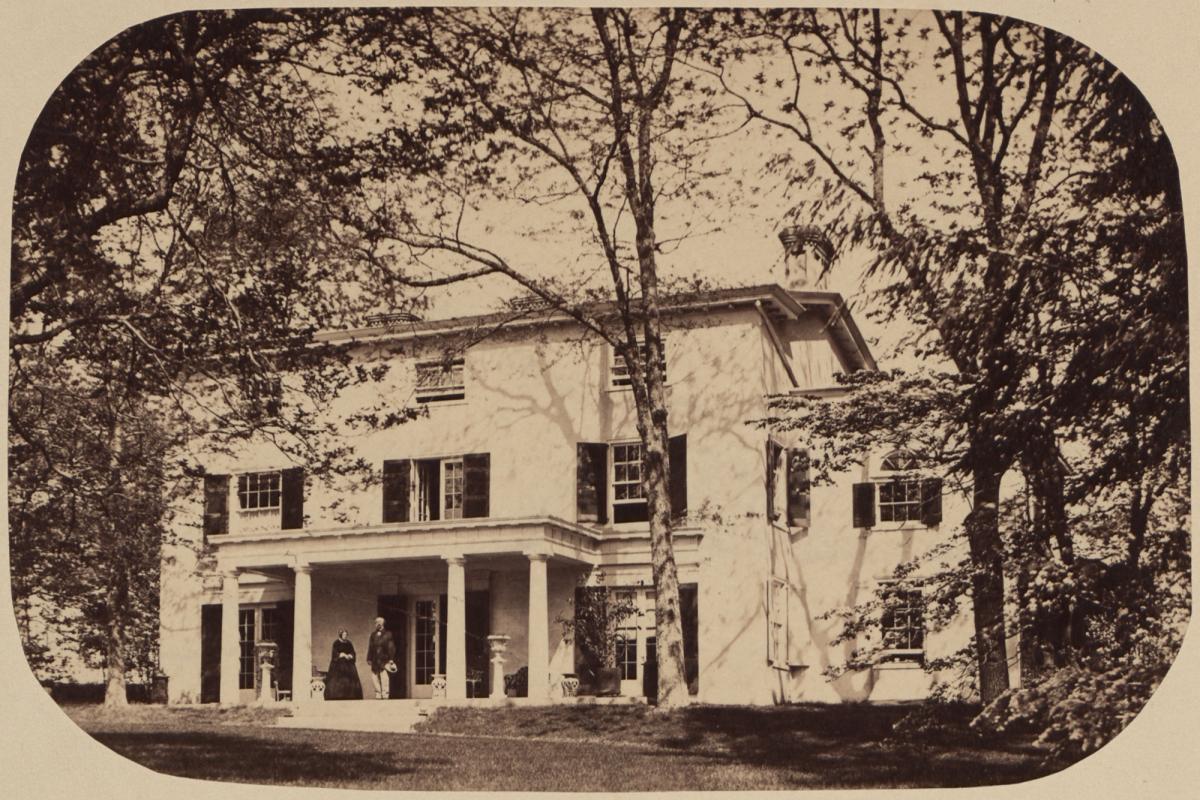 Sophie and Samuel Francis at their home, Louviers, Hagley Digital Archives
The artist Xanthus Russell Smith, son of artists himself, came from Philadelphia. He served aboard the U.S.S. Wabash under Admiral Samuel Francis Du Pont during the Civil War, and maintained close connections with the Du Ponts after the war's end, at which time he was commissioned by Samuel Francis to paint images of the naval fleet. He is best known for his large paintings of naval military engagements.
One thing is evident from this group of letters:  Sophie maintained a close friendship with Xanthus Smith after the 1865 death of her husband and his writings reveal a sense of warmth and gratitude toward her. She was frequently sending flowers and plants to the Smith family. Living in Philadelphia, with many connections in the art community, Xanthus was able to do a lot for Sophie. In addition to the production of commissioned artworks, the letters reference several projects that he took on for Sophie, including acquiring reprints or engraved copies of family photographic portraits, binding papers of S.F. Du Pont, and having collections of engraved prints tipped onto paper and bound in leather. The cost was to be $5 for a leather book holding 100 prints, to be done in Philadelphia by Mr. Oldah. He also wrote of several trips to Louviers to take photographs and sketch the scenery.  
Of particular interest to me is the letter referencing a visit to the Philadelphia photographic studio of Gutekunst. Frederick Gutekunst was a prominent portrait photographer in Philadelphia who is known for his prolific studio photography of Civil War officers and soldiers, and the railroads of Pennsylvania. Along with the military folk, he took likenesses of many famous historic figures, authors and artists of the latter half of the 19th century, among them members of the du Pont family.
In 1870 Xanthus visited the studio of Gutekunst to acquire a copy of a portrait the studio had taken of Admiral Du Pont. Mr. Gutekunst intended to "preserve the imperial negative of Admiral (Samuel Francis) DuPont with all possible care" and would not separate himself from it, nor could a duplicate negative be made. However he stated that it could be copied from one of the photographic prints. Gutekunst claims that the" prints are perfectly permanent" but Xanthus notes that his own observations of photographs over the years have shown some to remain in good condition while others fade away. He does feel that the work done by Gutekunst is more permanent.
During this period most of the prints would have been of the albumen type, which are prone to loss of highlight detail and yellowing. The imperial size of 17 x 21" was much larger than the more common cabinet card, so it is understandable that the photographer would place a high value on the original negative.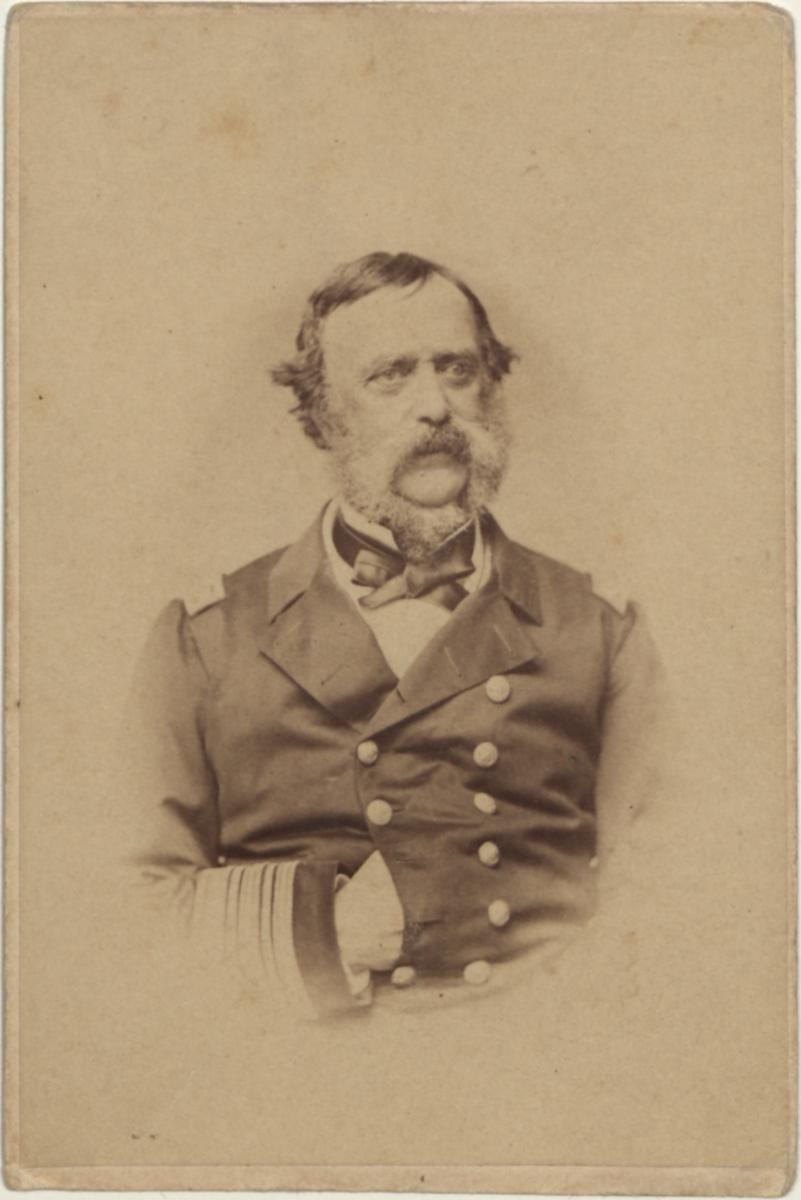 A portrait of the Admiral by Gutekunst, exhibiting deterioration typical of the albumen print, Hagley Digital Archives
Yet another interesting account relates to the Samuel Francis Du Pont portrait by Daniel Huntington, painted in 1867-1868, more than two years after the Admiral's death in 1865. The painting was exhibited for a time at the Pennsylvania Academy of the Fine Arts (PAFA). In June 1868, Xanthus Smith wrote to Sophie Du Pont about the removal of the painting from PAFA.  Anyone who has visited the PAFA galleries, even once, should remember the fantastically ornate Victorian Gothic architecture by Furness and Hewitt. However, this is not the building where Admiral's portrait was hung. Accordin to the PAFA Archives: "From 1805 to 1870, exhibitions took place in PAFA's first and second buildings on Chestnut Street between 10th and 11th Streets. The original structure burned in 1845. A new building, constructed on the surviving foundations, was used until the property was sold in 1870."
At the time of his visit to PAFA in 1870, Xanthus was concerned that the portrait should be packed properly "at Mr. Earles' [galleries]" for transfer back to Wilmington, and noted that he had "found Mr. John the Janitor, rearranging the pictures and hanging those works which form the standing exhibition". He had agreed that the painting should be re-hung, since it would be safer from damage this way, rather than "setting about on the floor." From the viewpoint of a conservator, it can be disquieting to read of a janitor doubling as an art handler, although preservation and proper housekeeping definitely go hand-in-hand. Mr. Earles refers to the shop of James S. Earle and Son on 816 Chestnut Street, a gallery that specialized in looking-glasses, picture frames, and painting restoration. Such a shop would be well-versed in packaging fragile objects, and was just two blocks away from PAFA.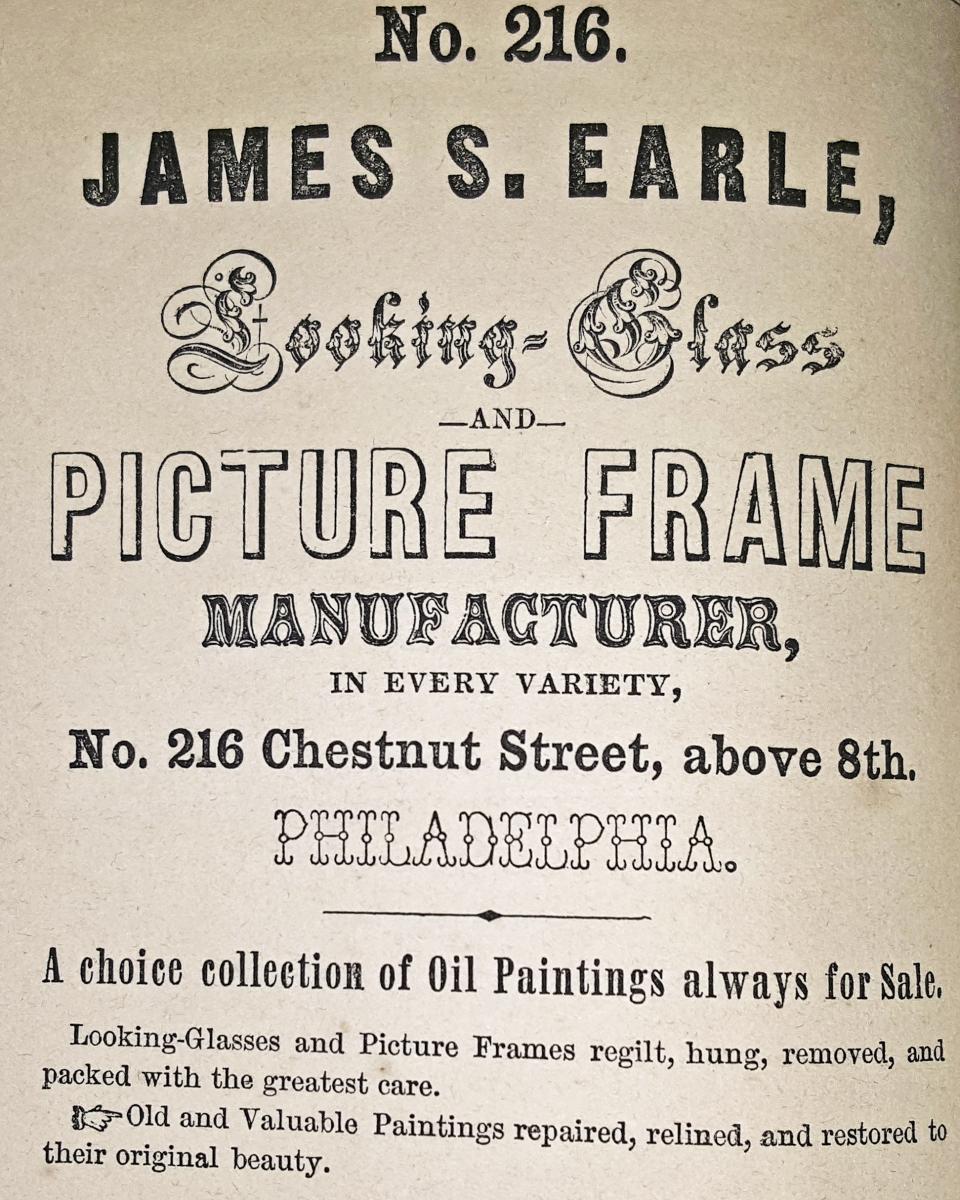 An ad for the James S. Earle store from Rae's Philadelphia pictorial directory & panoramic advertiser of 1851, (Published Collections Dept. Hagley Museum and Library)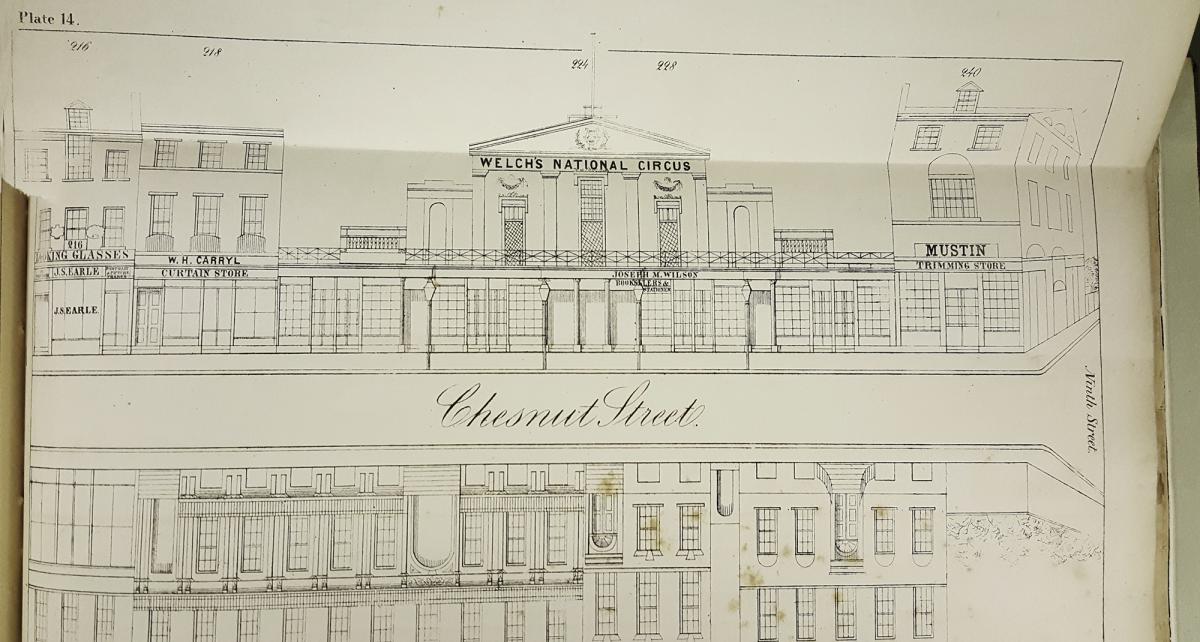 A lithograph of Chestnut Street from Rae's Philadelphia pictorial directory & panoramic advertiser of 1851 shows the location of James S. Earle Looking-Glass and Picture Frame Manufacturer (top left).  
The letters of Xanthus Russell Smith and Sophie Du Pont are preserved in the Manuscripts and Archives department at Hagley.
---
Laura Wahl is the Library Conservator at Hagley Museum and Library.