The Library welcomes its new HHC Business Manager, Michelle DiMeo. Michelle is a historian whose research has focused on the intellectual and cultural history of early modern science and medicine. She is also interested in technology, strategic planning and library leadership.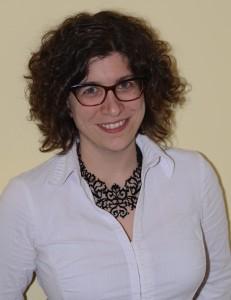 Previously, Michelle worked at The College of Physicians of Philadelphia, where she served as the College's representative on the Medical Heritage Library consortium. Most recently, she was Director of Digital Library Initiatives at the Science History Institute (formerly Chemical Heritage Foundation), where her job was to oversee the development of their Digital Collections.
In the fall, she will be teaching Women in Medicine in the Department of History and Sociology of Science at the University of Pennsylvania. She is currently working on an intellectual biography of Katherine Jones, Lady Ranelagh (1615-1691), the older sister of noted scientist Robert Boyle. She holds a PhD in History and English from the University of Warwick (UK).
With her variety of experience teaching, researching, and managing collections (especially digital), Michelle is a wonderful addition to the Library, and her skills bring fresh perspectives to managing the Hagley Heritage Curators program.
If you would like more information on Hagley Heritage Curators, or preserving your company's history, visit hagleyheritage.com or contact Michelle for more information at mdimeo@hagley.org.
---
Erik Rau is the Director of Library Services at Hagley Museum and Library.