Wednesday, March 23, 2016
A well-known part of the David Sarnoff story is that in 1906 at the age of 15 he began working as an office boy for the Marconi Wireless Telegraph Company of America. Not long after, the young Sarnoff seized an opportunity to introduce himself to Guglielmo Marconi and quickly succeeded at becoming his personal messenger boy. Sarnoff's ability to impress Marconi with his energy and skills, along with his subsequent success, is well noted by history, but over time the relationship between the two appears to have grown beyond Marconi simply recognizing the talents of one of his employees.
Over the course of his life, David Sarnoff travelled in circles that included celebrities, captains of industry, political leaders, and noted scientists, so it does not seem particularly surprising that he and Guglielmo Marconi might have maintained a cordial relationship with each other up until Marconi's death in 1937. However, a 1944 photograph of David Sarnoff with Marconi's widow, the Marchesa Maria Cristina Marconi, made me reconsider how close the two men were.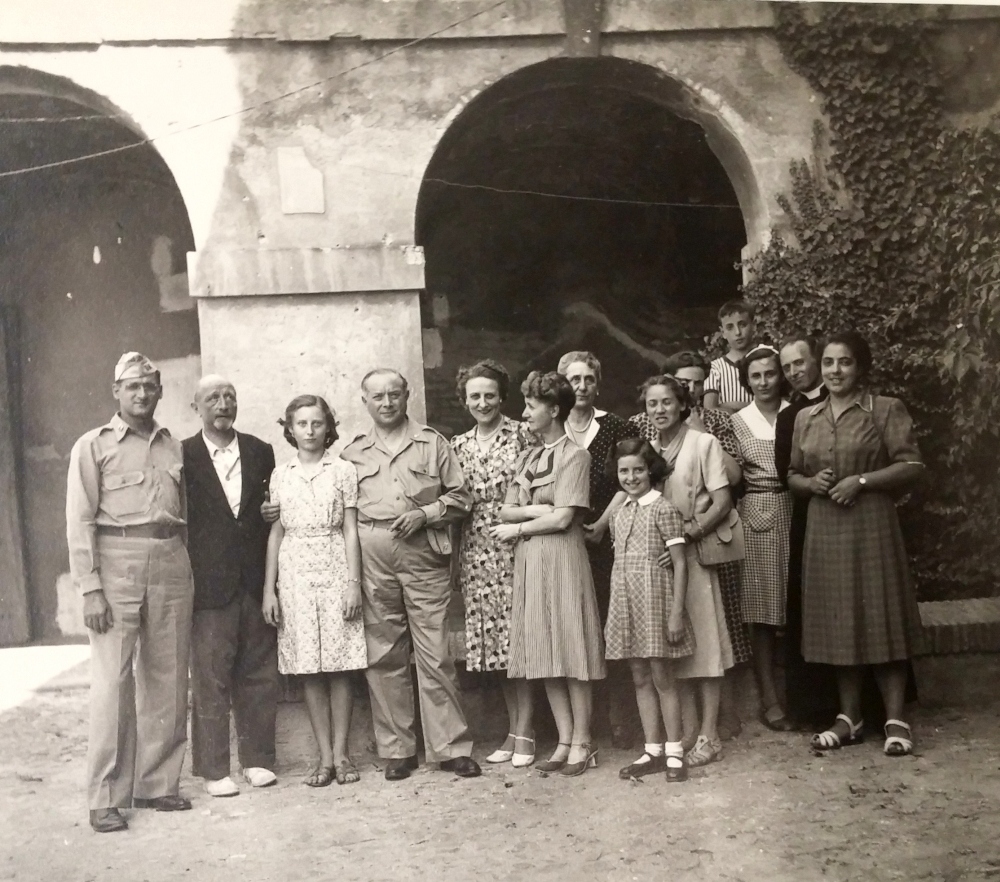 David Sarnoff with Marchesa Marconi on his left and her daughter, Elettra, on his right, along with other members of the Marconi household in Anzio, Italy. August, 1944.
This photograph, and several others like it, were taken when Sarnoff was on active duty in Italy during the Second World War. (click Sarnoff's military service during this time for more information). According to Sarnoff biographer Kenneth Bilby, the photographs were the result of Sarnoff finding time to, "drive several hours to Marconi's farm for an emotional reunion with the inventor's widow."  That David Sarnoff was willing and able to make such a trip, during a time of war no less, would appear to underscore the importance of his relationship with the Marconis.
It's not exactly clear when or how Sarnoff and Guglielmo Marconi became more than strictly business associates, but a passage in Kenneth Bilby's biography of Sarnoff notes that in 1928 he and his wife Lizette vacationed in Italy with the Marconis. At this time, Sarnoff was general manager for the Radio Corporation of America and no longer an employee of Marconi. The account describes the two men spending many nights together discussing the future of electronics and the possibility of new joint ventures. No photographs from this time exist in the David Sarnoff Library collection, but two photographs from 1933 are revealing.
David Sarnoff and Guglielmo Marconi visiting Rocky Point, New York, 1933.
The first photograph shows David Sarnoff and Guglielmo Marconi at RCA's massive "Radio Central" transmission complex at Rocky Point, New York. Unlike Marconi, Sarnoff had no need for a walking cane, yet in this and other photographs with Marconi he can often be seen with one. The visit to Radio Central also included their wives and was part of a larger tour that involved attending the Chicago World's Fair and vacationing at Niagara Falls together.
From left to right, Maria Marconi, David Sarnoff, Guglielmo Marconi, and Lizette Sarnoff, at Niagara Falls, 1933, Hagley Digital Archives. 
The Niagara Falls photograph is found in a photo album from David Sarnoff's personal collection with the simple title, "Marconi." The album begins in 1922 and shows Marconi visiting with Sarnoff and other RCA officials on a tour of New York. Later in the album we see signed photographs from Guglielmo and Maria's daughter Elettra, one as a young girl to Sarnoff in 1939 and again some years later as a young woman. The album concludes in 1958 with a visit by David Sarnoff to Italy where he pays his respects at Marconi's tomb.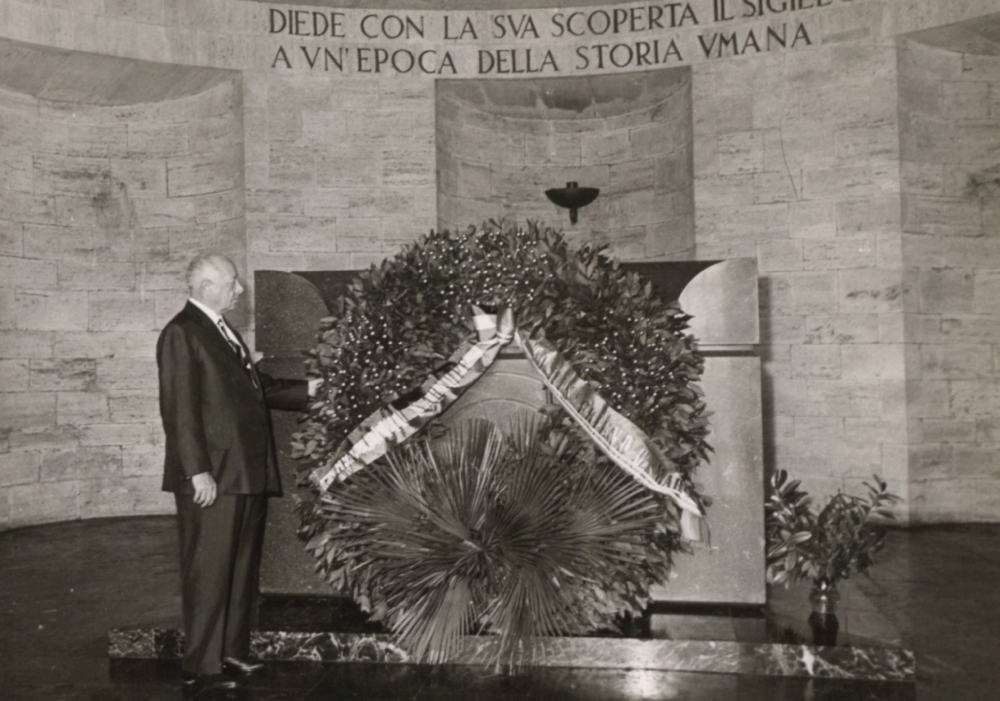 David Sarnoff pays his respects at Guglielmo Marconi's tomb, near Bologna, Italy, 1958, Hagley Digital Archives. 
When asked about his relationship with Marconi, David Sarnoff is reputed to have said that they were both "on the same wavelength." Judging by the photographs found in the David Sarnoff Library collection, it appears that these two remarkable men enjoyed a genuine friendship.
Kenneth Cleary is the Sarnoff Project Archivist in the Audiovisual and Digital Initiatives Department