"The influence exercised by women, individually and through women's organizations, is one of the most constructive forces in this country. NAM recognizes and appreciates the immeasurable contributions women make in their various occupations to the nation's productive strength, the important part they play in helping to raise the standard of living and improve the security of the home, and in building the character of our future citizens."  (From a decree titled "American Women" adopted by the NAM Board, 8 February 1957. Series 7, Box 138.)
In the 1950s, the NAM began to develop programming for women in the workforce and within the larger national economy. In 1957, there were some 22 million women workers, forming about one-third of the working force. At the time it was estimated that by 1975, there would be 32 million female workers.
The NAM asserted that women should receive the same pay as men for equal performance equal. The Board of Directors reaffirmed in 1957 that "the principle of equal pay for equal work performance within the wage structure of a local business establishment is sound and should be observed. Rates of pay should be based on the nature and requirements of each job, irrespective of age, sex or other personal factors of the worker."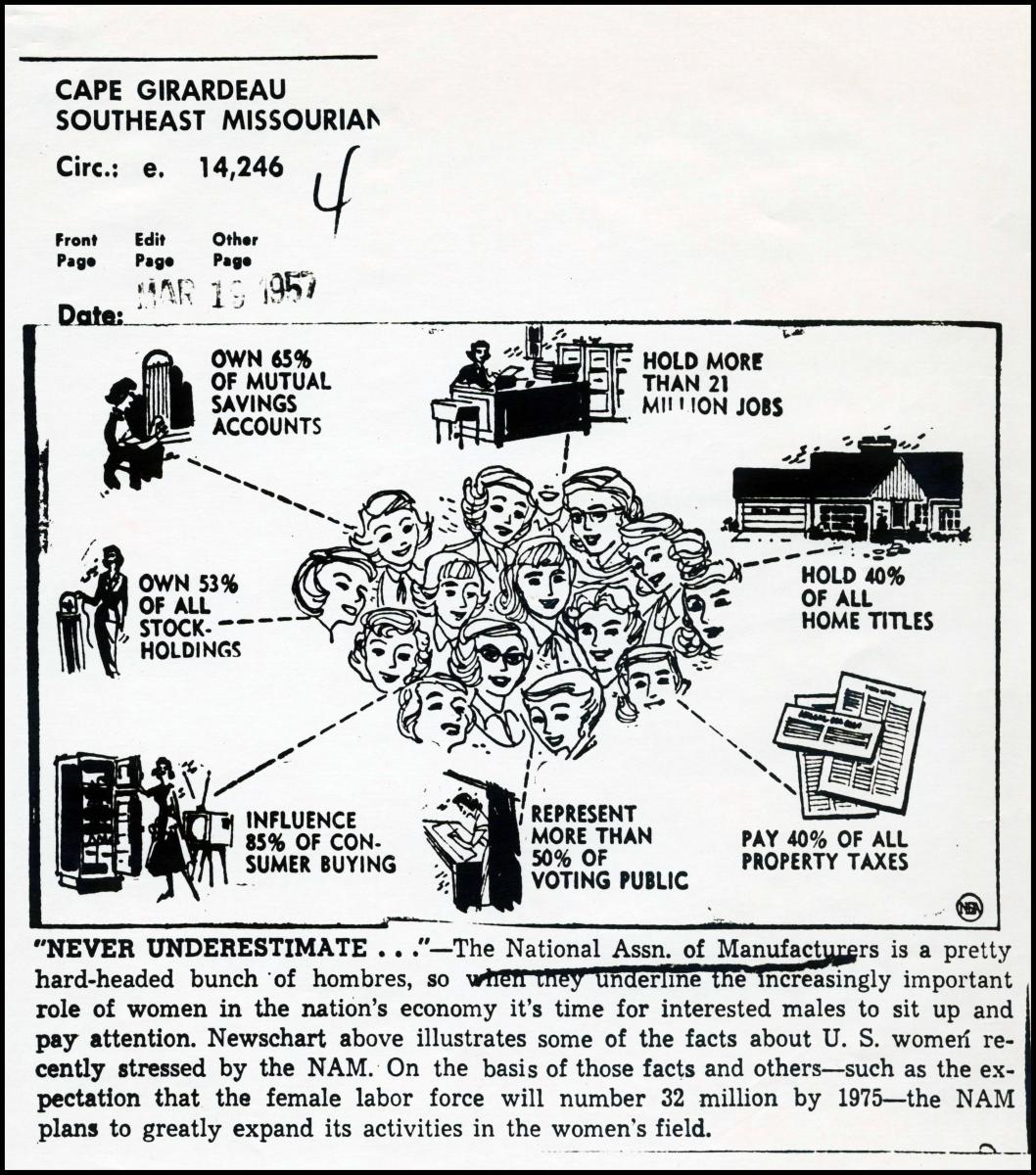 Just over a decade prior in February 1943 at a NAM conference, a speech was delivered by an unnamed attendee from Allis-Chalmers entitled "supervision and wage problems of women workers." The speaker was forthright about the company not paying women the same as men, and not having women supervisors except "one or two in the very lowest bracket." Female applicants were subjected to neighborhood visits. If she had minor children or elderly relatives who need care, the applicant was disqualified unless she could prove that adequate arrangements can be made. While reactions to this speech by those in attendance would be interesting, they were not recorded. The speech indicates that unequal treatment of women in the workforce was a known issue among the members of the NAM during the Second World War. 
The number of women in the workforce has grown significantly since 1957. As of 2010, 66 million women were employed in the United States. NAM continues to recognize the importance of women in the workforce. In 2012, the Manufacturing Institute created the STEP Ahead initiative to showcase the impact of women in science, technology, engineering, and production careers. Each year, they give out the STEP Ahead Awards to highlight the achievements of women in manufacturing who have demonstrated excellence and leadership in their companies and communities.
---
Ashley Williams is the project archivist for the NAM Collection at Hagley Museum and Library.