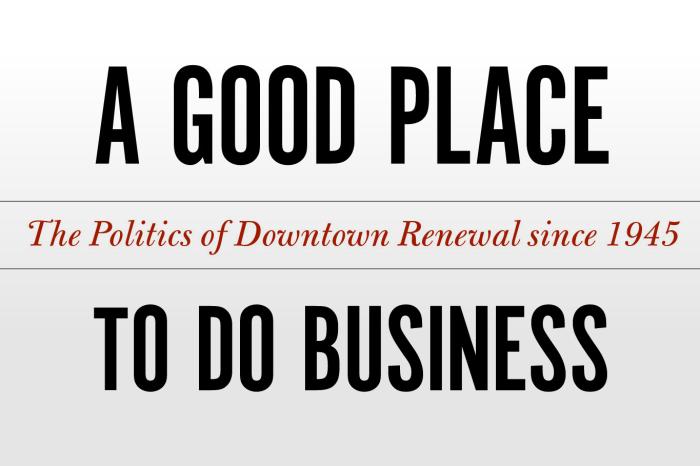 POSTPONED: Author Talk: Roger Biles and Mark Rose
NEXT DATE: | 7 p.m. |
category:
Academic Programs, Author Talks, Conferences, Research Seminars, Adult Programs, Member Events |
location:
Library, Soda House
This Author Talk has been postponed.
A Good Place to Do Business: The Politics of Downtown Renewal Since 1945 will be the topic of the author talk by historians Roger Biles and Mark Rose.
Their book chronicles efforts to reinvigorate the downtowns of major American cities and reverse urban decline. Commencing with Pittsburgh's efforts, they explore how these urban makeovers promised to increase tourism and generate shopping districts by building sports stadiums, convention centers, parks, and other features. As city officials and business elites determined to reorganize their downtowns, a deeply racialized politics sacrificed neighborhoods and the livelihoods of those pushed out. Yet, as A Good Place to Do Business demonstrates, more often than not costly efforts to bring about the hoped-for improvements failed to revitalize those cities, or even their downtowns. It is a telling story, one with relevance for those living and working in Northern Delaware.
Rose is professor of history at Florida Atlantic University, and Biles is professor emeritus of history at Illinois State University. They have published more than a dozen books. A Good Place to Do Business will be available for sale and signing by the authors.
Related Events