Monday, November 21, 2016
In 2016, Hagley's Audiovisual Collections and Digital Initiatives Department made significant infrastructure improvements for the digitization and preservation of videotape. Hagley holds an estimated 20,000 videotapes related to the history of business and technology. These tapes include an assortment of content ranging from television commercials to employee training videos produced by companies like DuPont, Wawa, MCI, and Avon as well as trade organizations like the U.S. Chamber of Commerce and the National Association of Manufacturers.
Hagley's collections of video uniquely document the history of business from the 1970s into the 2000s. Our video content represents a significant communication shift in business culture during the last three decades of the 20th century. Access to affordable video production brought an efficient means to deliver information through moving pictures, allowing businesses to use the medium to communicate both internally and externally with employees and customers.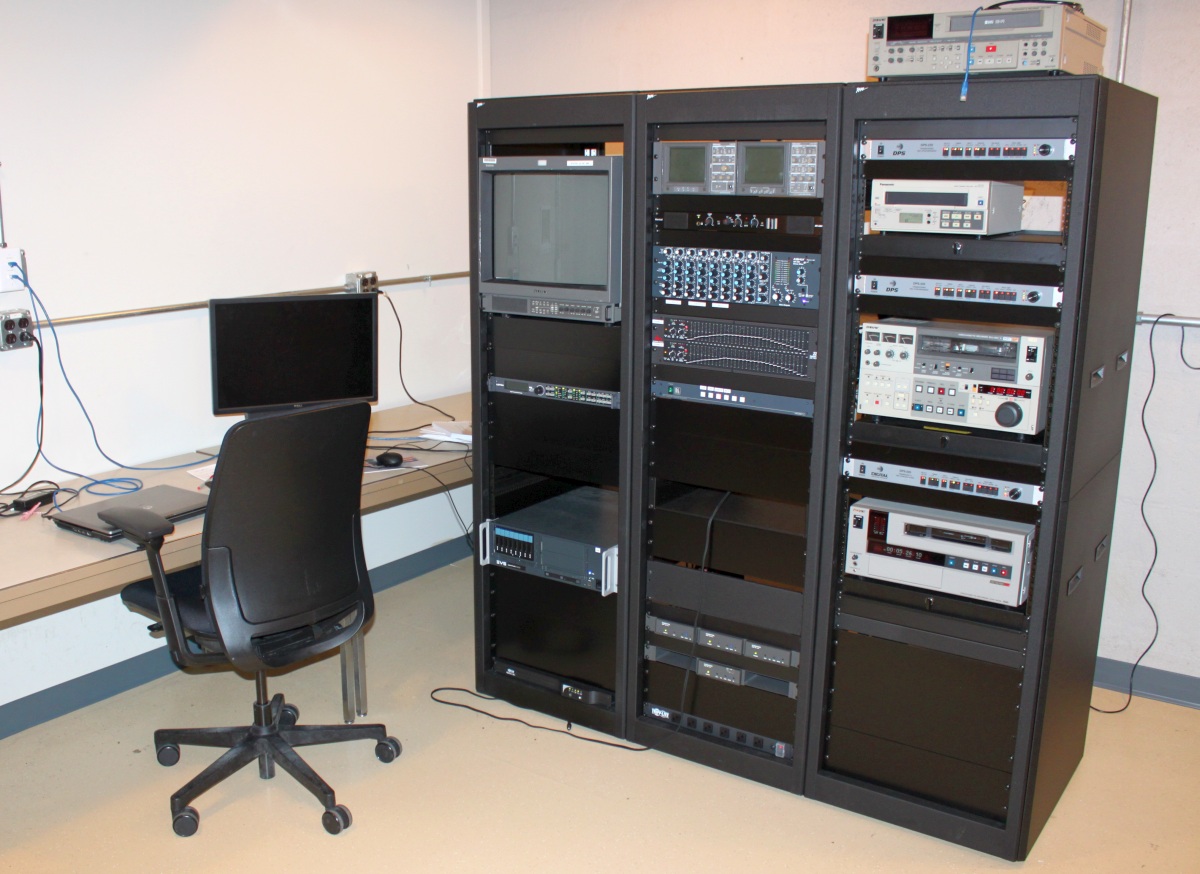 Videotape is an important part of Hagley's collection but also stands as one of its most threatened. Experts agree that videotape has a lifespan. While there is disagreement on how long content will last on magnetic tape -- estimates range from five to thirty years -- Hagley recognizes the need to act now to ensure our video content will remain viable for future generations of historians.
This year, with the help of colleagues in the archival and video production fields, we installed a fully integrated video system (pictured) to digitize three of the most common and threatened formats in our collection (VHS, Beta, and U-Matic.) The new system was installed in a new video lab located in the lower level of the library. It is the first time the library has had a dedicated space for video digitization. The system creates both a preservation file using the archival standards as determined by the Library of Congress and a low resolution viewing copy that we are making available via our website at digital.hagley.org.
You can see a selection of the content we have digitized and preserved so far by following this link: Film and Video Collection
We would like to thank Hagley's Board President - Henry du Pont IV  - who made a generous donation to the Library to support this project.
If you have any questions, please contact us at askhagley@hagley.org.
---
Kevin Martin is the Andrew W. Mellon Curator of Audiovisual Collections & Digital Initiatives at the Hagley Museum and Library.