Among the some 11,000 aerial photographs in the Dallin Aerial Survey Company collection housed at the Hagley Museum and Library, there are several that show sites of sporting events or the events themselves. Well known among these are views of golf courses throughout the Mid-Atlantic region. Lesser well known are some pictures of baseball and football stadiums. One photograph, for instance, shows Shibe Park (later Connie Mack Stadium) during the first game of the 1930 World's Series between the Philadelphia Athletics and the St. Louis Cardinals.
Another photograph shows a different baseball stadium during its last days. The Philadelphia Base Ball Grounds in Philadelphia, better known as the Baker Bowl, was built in 1887 by A. J. Reach and John Rogers to house their team, the Phillies. It was constructed in a small city block bounded by North Broad Street, West Huntingdon Street, North 15th Street, and West Lehigh Avenue. Fire destroyed the park in 1894, but it was rebuilt and renamed National League Park. The Phillies played there through the 1938 season. By that time, the park had become quite rundown, and the Phillies were happy to move to Shibe Park five blocks away, even though they had to share it with the Athletics.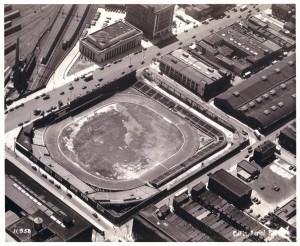 Despite its decrepit condition, the owners attempted to find new uses for the Baker Bowl. When Dallin took a picture of it in July 1939, it was known as the National Speedway, and was home to midget car races. These had become popular in the 1930s. The photograph shows a banked track that had been built within what remained of the stadium. Although the upper deck had been removed, the notorious Baker Wall in what had been right field remained as a legacy from the baseball days. Similar to the "Green Monster" in Fenway Park in Boston but bigger, the Baker Wall had been built to prevent too many home runs from flying out down the very short right field line. Directly across Broad Street from that wall can be seen the North Broad Street Station, built in 1929 by the Reading Railroad.
Gas rationing during World War II brought an end to recreational midget car racing, and the Baker Bowl was abandoned. It was finally demolished in 1950 and today a historic marker indicates the location.
View additonal images of the Baker Bowl in the Hagley Digital Archives
---
Jon Williams is Curator of Hagley Library's Pictorial Collections Department