Wednesday, April 24, 2013
I watch a lot of home shows on television. The ones where they buy homes, remodel homes, decorate homes… I like them all! The one thing that I dislike is when they show an older home, and the people who are thinking of buying it seem to appreciate the vintage details until they get to the bathroom and immediately say "this bathroom has to be updated!" Sometimes they even show the vintage pink, grey or aqua tiles being smashed as the bathroom is being gutted. I always cringe when that happens.
One day after watching such a show the night before, a library patron requested some trade catalogs featuring some of these lovely old bathrooms, with colored tile and fixtures, and that got me thinking about the history of bathrooms.
The modern bathroom, equipped with a sink, tub, and toilet was an invention of the 20th century. Though toilets were in use earlier, dedicated rooms for personal hygiene were almost unheard of except for the very wealthy.
At the turn of the century, there was an awareness that diseases like cholera and typhoid were related to unsanitary conditions, so modern sewer systems in the cities were implemented, and houses began to incorporate indoor bathrooms.
In the early 1900s, we can find references to "hospital tiles" that created a germ and waterproof environment that could be cleaned with a hose. Magazines featured the ideal bathroom in "hospital white."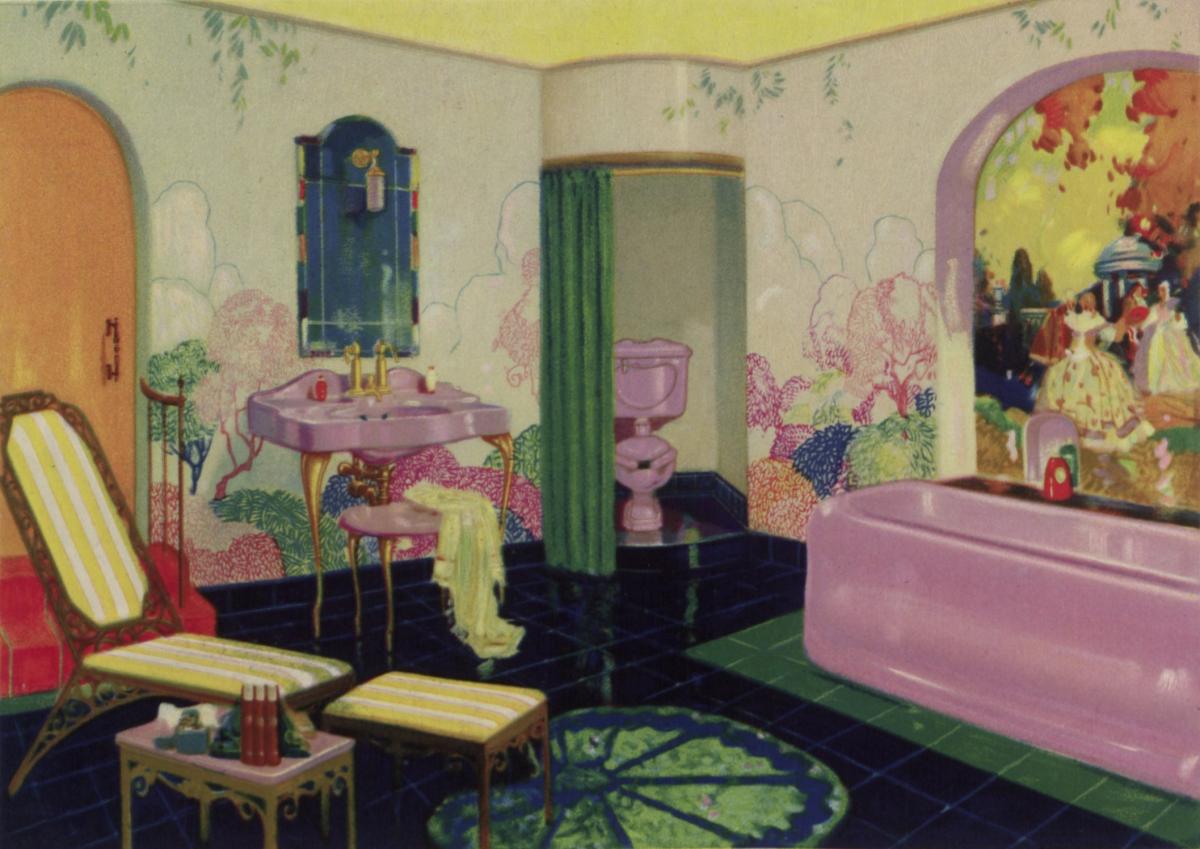 In the 1920s, the idea of a "decorated bathroom" came with the appearance of colored bathroom fixtures. The Universal Sanitary Manufacturing Company was the first to introduce colored fixtures, followed by Kohler and Crane in 1928, and Standard in the early 1930s.
My favorite catalog of those I pulled was published by the Standard Sanitary Manufacturing Co., in 1929, called Color and Style in Bathroom Furnishing and Decoration. It really shows how far the idea of the decorated bathroom could be taken.
In these over-the-top bathrooms, each room has a theme suggested by the name of the color of the bathroom fixtures. The toilets, sinks, and bathtubs, made of vitreous china and enameled iron came in these colors: T'ang Red, Orchid of Vincennes, Royal Copenhagen Blue, Ivoire de Medici, St. Porchaire Brown, Rose du Barry, Ionian Black, Clair de Lune Blue, Ming Green and Meissen White.
The composition of each room is detailed from the floor to ceiling, noting the colors of the wall, furniture, and draperies. These are some special bathrooms!
I'm not suggesting that all of the bathrooms being gutted across the country today were as grand or as sophisticated as these beauties in the catalog, but maybe someone will give their pink tile a second look, think of the Rose du Barry dream bathroom, and have a little more appreciation of this wonderful vintage look.
References
Color and style in bathroom furnishing and decoration. [Pittsburgh, Pa.] : Standard Sanitary Manufacturing Co., c1929.
Linda Gross is Reference Librarian in the Imprints Department at Hagley Museum and Library