On April 17, 1918, convicted French traitor and German agent Bolo Pacha, originally known as Paul Bolo, was executed by firing squad in Vincennes, France. A scammer and profiteer who sought to enrich himself by any means irrespective of national allegiance, Pacha played a central role in a propaganda scheme to control and influence French newspapers in Germany's favor during World War I.
Tangled in this case was French Senator Charles Humbert, who in the spring of 1918 was charged with the crime of corruption, being suspected of taking commissions on orders placed by the French Government to the Bethlehem Steel Company. The contract in question, struck on September 12, 1914, was for six million horseshoes at a cost of $90,000. Due to Humbert's past dealings with Bethlehem Steel, Pacha desired to use him as a middle-man to broker a deal with the company to finance and purchase a controlling interest in the Paris Journal to push German propaganda.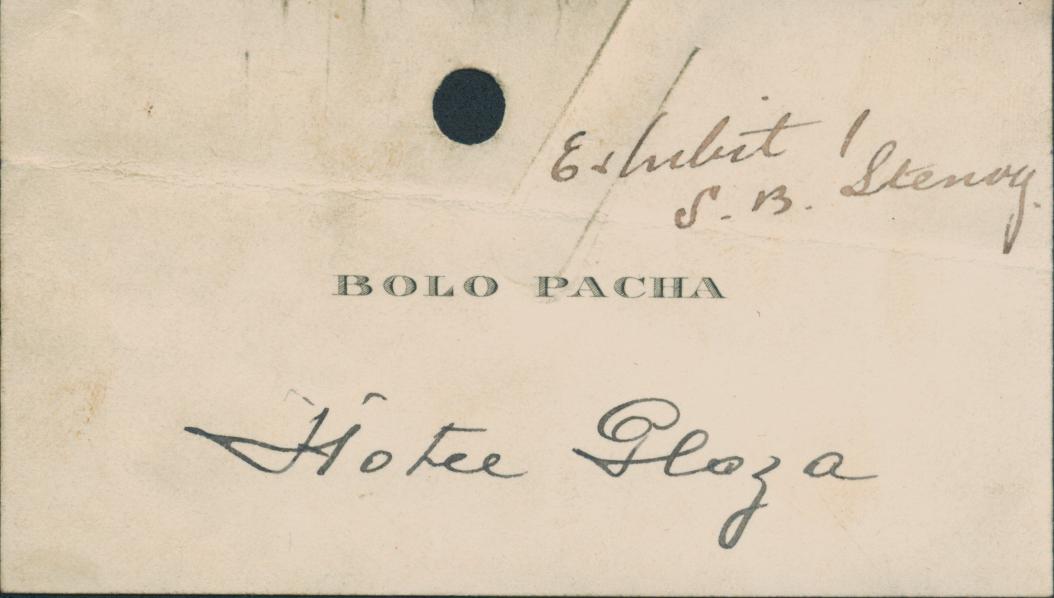 Bethlehem Steel executives Charles M. Schwab and Eugene G. Grace were pulled into the case and questioned by Deputy Attorney General Alfred L. Becker, placed in charge of German propaganda cases by request of the U.S. Government. Both Grace and Schwab had met with Charles Humbert on different occasions in Bethlehem, Pa., and New York City to discuss the contract with the French Government.
Writing from New York City in February 1916, Pacha sent a letter to Grace requesting an urgent meeting to deliver a letter from Humbert. In the telegram, Pacha conspicuously noted that he traveled to the United States to "specially" see Grace on Humbert's behalf. A few short weeks after their meeting, Grace responded to Pacha's offer, saying:
I have been thinking hard on the question you put to me last week, but, as I said then, I doubt it very much whether Mr. Schwab, or any of his associates, would at this time be in position to help our good friend, Senator Humbert, in the direction he suggests.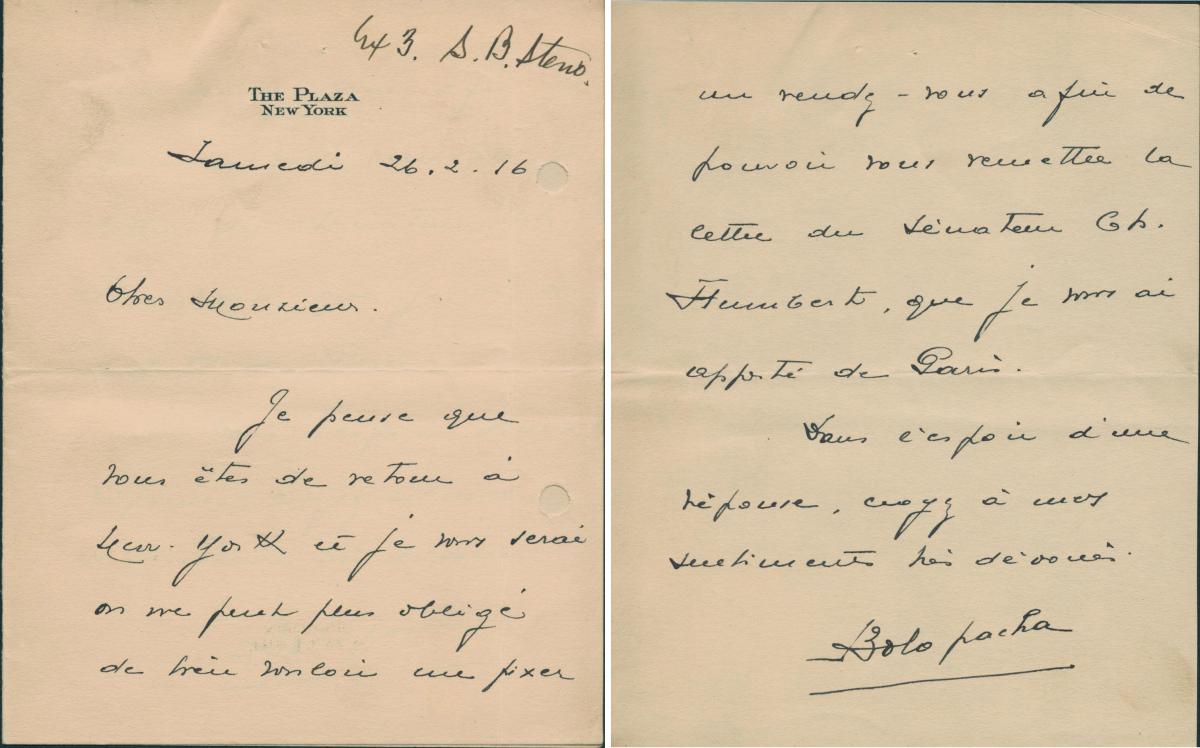 Grace was hesitant to provide Humbert with any financial assistance due to the company's recent acquisition of new plants and properties in Sparrow's Point, Maryland, and Steelton, Pennsylvania. Despite this, nearly a year after Pacha's execution, allegations arose from the French Government that Charles Schwab provided Humbert with money to fund what turned out to be Pacha's failed attempt to acquire the Paris Journal.
In a January 31, 1919 letter written to Schwab, Humbert's lawyer, V. de Moro-Giafferri, asked a glaringly straightforward question: "Did Mr. Schwab ever give a single cent to Mr. Charles Humbert?" Schwab responded with a letter written from the five-star Le Meurice Hotel in Paris:
I beg to say that no commission for monies, directly or indirectly passed between Senator Humbert and myself or company at any time. My business relations with him were of the highest and most honorable character.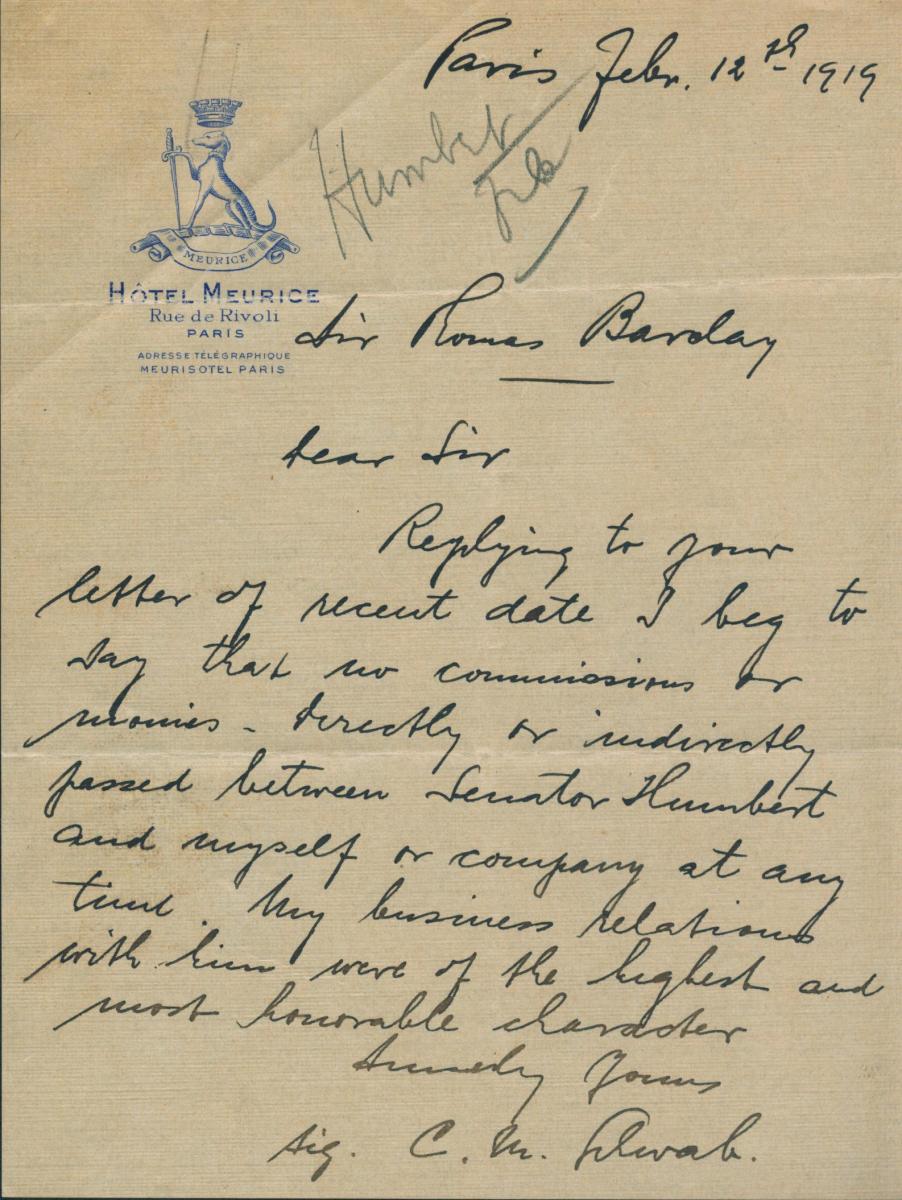 Schwab was acquitted of all accusations. In France, Humbert was brought before a court-martial but was also acquitted after a highly-publicized case.
The letters and documents related to the case are now available for research in a new addition to the Bethlehem Steel Corporation Records. Along with the Pacha case, there is numerous high-profile material related to Bethlehem Steel and its subsidiaries regarding operations, transactions, license agreements, contracts, and property acquisitions between the 1890s and 1930s.
For more information on the Bethlehem Steel Corporation Records and its new addition, please contact askhagley@hagley.org.
---
Clayton Ruminski is the Archival Specialist in the Manuscript and Archives Department at Hagley Museum and Library.