Wednesday, February 16, 2022
Conducting ground-breaking research lies at the heart of Catalyst's mission, and to do good research…you need a good library! Catalyst, Inc., the global non-profit dedicated to advancing women in the workplace, has long known this; a robust Information Center has been part of the organization since its early days. Its records form part of the Catalyst collection, a relatively new acquisition for Hagley.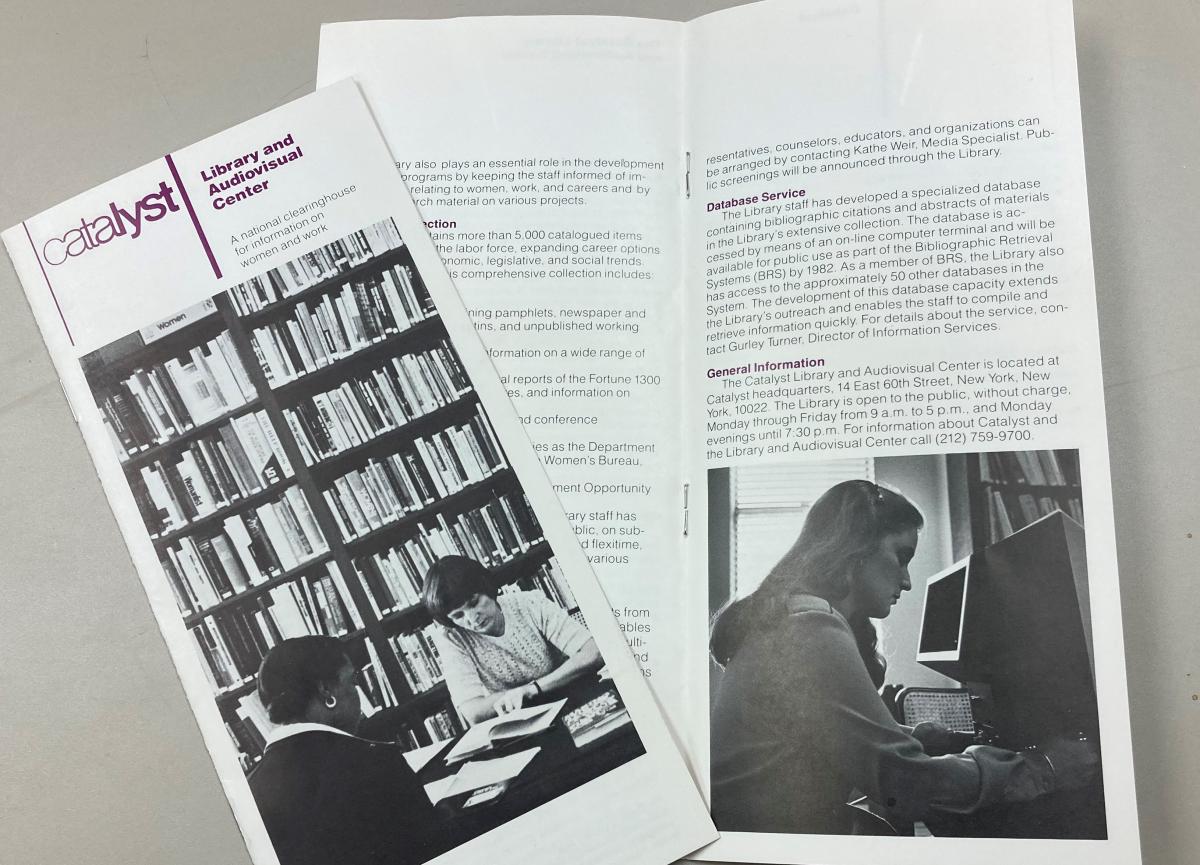 The Catalyst library started in 1974 with a $10,000 grant from the Andrew W. Mellon Foundation. In a 1979 progress report to the Foundation, director of information services Gurley Turner notes that Catalyst's library had grown from "a support unit for in-house research" to "the major national clearinghouse for information on women and work," serving individuals seeking jobs and career information, human resources professionals and career counselors, and the media, all in addition to Catalyst's staff[1]. The library produced bibliographies, position papers, and the first database devoted to women and work. An Audiovisual Center published a monthly review service of multimedia materials and hosted screenings—even a Women's Achievements film festival!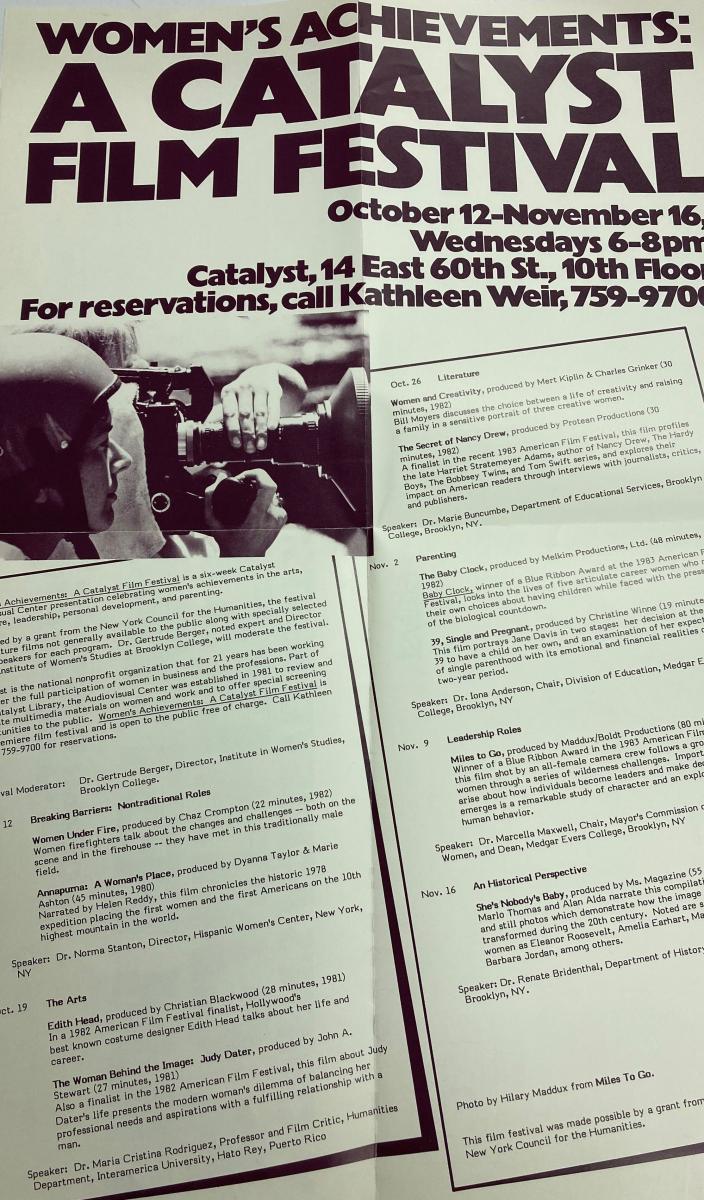 By the time Catalyst was celebrating its 25th anniversary in 1987, the collection had grown to more than 5,000 volumes, 125 periodical subscriptions, and extensive vertical files, clipped from more than 150 publications and filed on more than 250 topics of interest to Catalyst researchers. However, Catalyst's mission was undergoing a major shift—from boosting individual women to effecting broad systemic change in corporate culture—and the library shifted with it, becoming an updated Information Center. Another modernization effort coincided with Catalyst's move from Park Avenue South to 120 Wall Street in 1997, bringing the Information Center into the new century with a new focus on knowledge management tools, automation, tech, and the effective use of space.[2]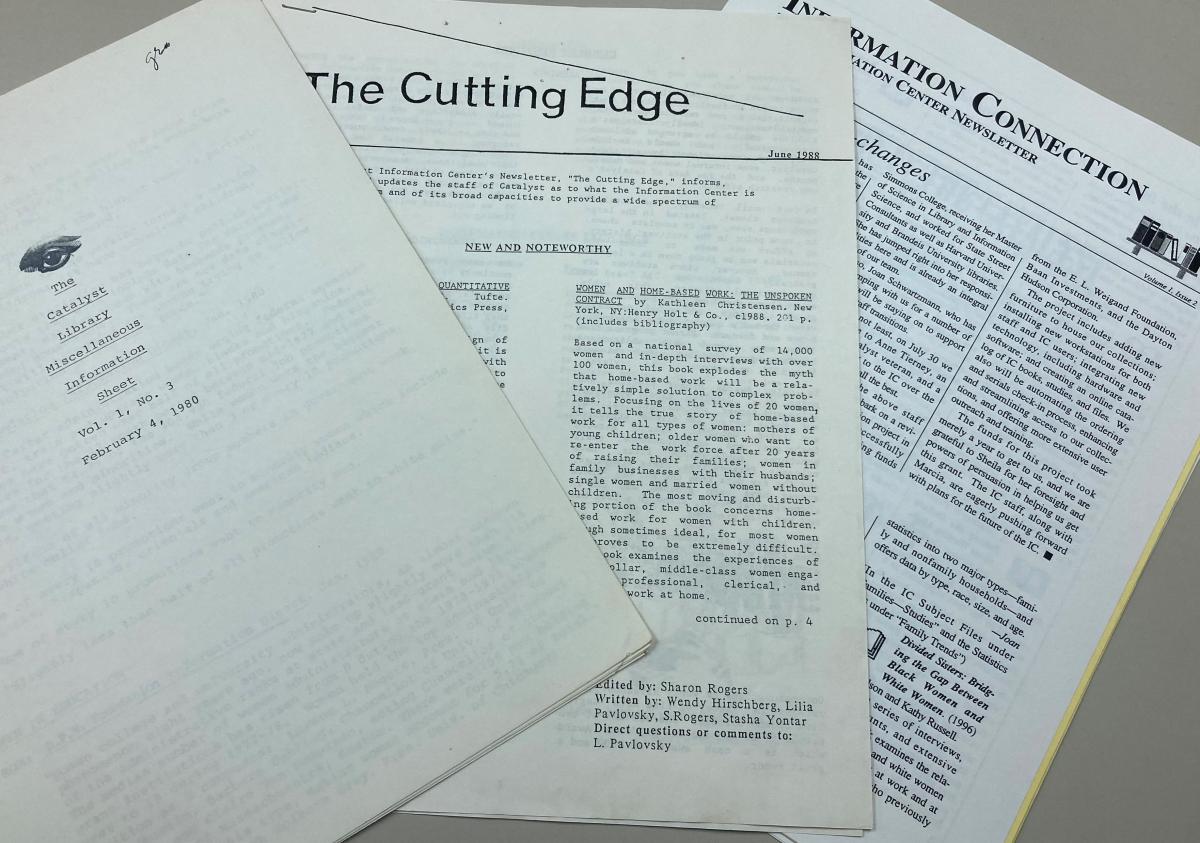 Today, the Information Center continues to be a crucial part of Catalyst's work, with information professionals answering complex custom research questions and creating a variety of knowledge products.
We'll feature more stories from the Catalyst collection as processing work continues. The collection is anticipated to be opened for researchers later in 2022. This year also marks Catalyst's 60th anniversary; learn more about the organization's history and share in the celebration!
Diane E. Bockrath is an archivist at Hagley Museum and Library.