As a nonprofit dedicated to advancing women in the workplace, Catalyst paid close attention to legislation that had the potential to impact working women and their families. One issue that Catalyst was particularly vocal about in the 1980s and 1990s was the importance of parental leave. As parental leave policies garnered increasing attention during the Reagan and Bush administrations, Catalyst contributed to national conversations about the issue and demonstrated their strong support for paid leave initiatives.
In 1986, Catalyst published a groundbreaking Report on a National Study of Parental Leaves, which consolidated "all the information needed to design, modify, and evaluate parental leave policies so that they produce maximum benefits for individual employers and employees."[1] At the time of publication, the Women's Legal Defense Fund (today the National Partnership for Women & Families) was fighting for the passage of the Family and Medical Leave Act (FMLA), a bill that would secure paid parental and medical leave for millions of working Americans. Although proponents of the FMLA gained increasing bipartisan and public support over time, the bill faced stiff opposition. Though Congress finally passed the bill in 1991 and again in 1992, President George H. W. Bush vetoed it both times. Catalyst publicly responded to the 1992 veto by republishing their research on parental leaves and starting a media campaign to raise awareness of the issue.
The media campaign, spearheaded by the Catalyst Marketing Department, promoted Catalyst's new Corporate Guide to Parental Leaves. Catalyst media campaigns included disseminating press releases and pitch letters to publications across the country, arranging meetings and interviews to discuss Catalyst findings, and promoting the issue to media outlets. The media campaign for the Corporate Guide to Parental Leaves explicitly framed Catalyst's decision to republish their research as a response to the Bush administration's veto of the FMLA. In a pitch letter sent to hundreds of contacts, Catalyst's Senior Associate of Public Relations, Jamie Parilla, said: "Unquestionably, companies that have not formulated accessible parental leave policies will be unable to attract and retain women who have or plan to have children. Anticipating the growing importance of this issue, Catalyst has recently updated its Corporate Guide to Parental Leaves."[2]
The efforts of the Women's Legal Defense Fund, organizations like Catalyst, and everyday Americans ultimately paved the way for the passage of the Family and Medical Leave Act in 1993 by President Bill Clinton. Materials related to the Corporate Guide to Parental Leaves media campaign, in addition to many other Catalyst marketing campaigns, will be available to researchers in the forthcoming Catalyst, Inc. Collection. The collection is anticipated to be opened for researchers in 2022.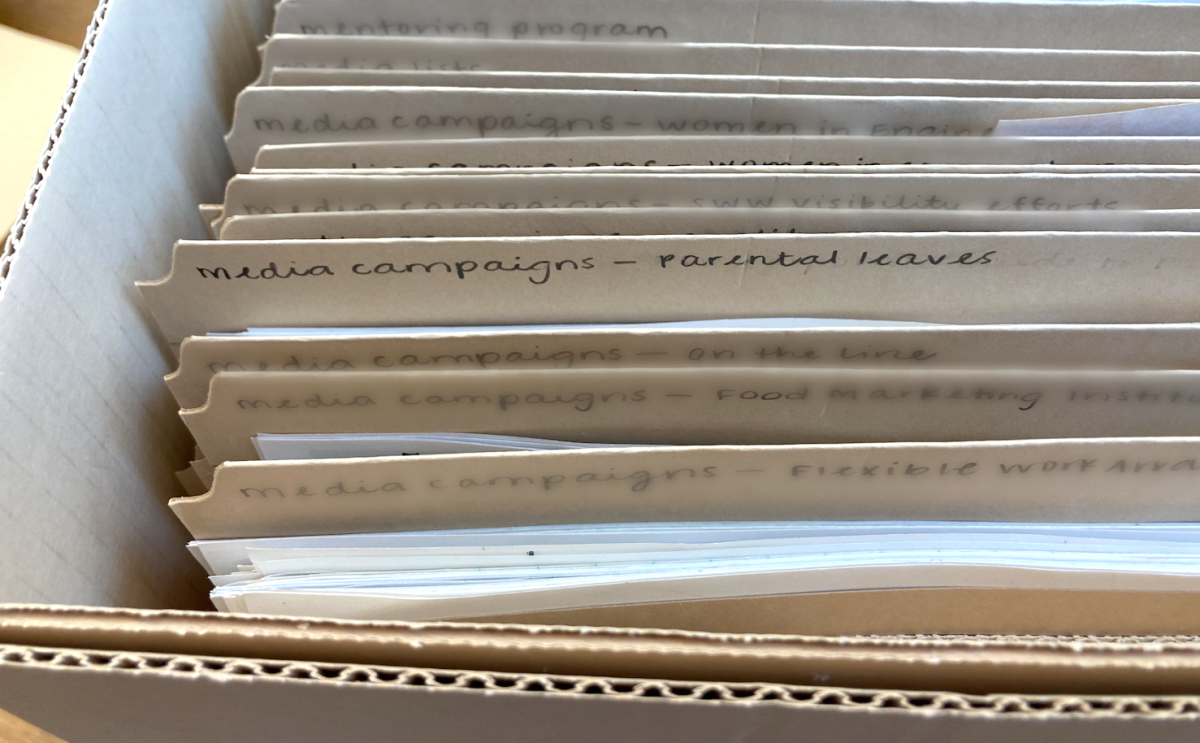 Peyton Cleary is a graduate student at the University of Delaware serving as the 2021-2022 Graduate Assistant for Hagley Library.​