Hagley's archives house many thousands of volumes of business books, ledgers, and stock transaction records. The format, design, and materials of these books are similar, but after a bit of inspection, you find that they have varying decorative flourishes, such as leather embossing and marbled papers.
 After surveying the physical condition of these account books, I became interested in the printers, bookbinders, and stationers who made these blank books. Suppliers for office and business operations of the 19th century had different practices than companies today. Rather than a few national or regional suppliers sending materials long-distance, major metropolitan areas seem to have had their own manufacturers producing for the surrounding business community. Taking in the vast number of books at Hagley, necessary to record the daily records of sales and purchases, credits and debits, and stock transfers, it is no wonder bookmaking was an industry itself. The region from Baltimore to Boston had a significant number of papermakers, printers, publishers, and binders in the late 19th century.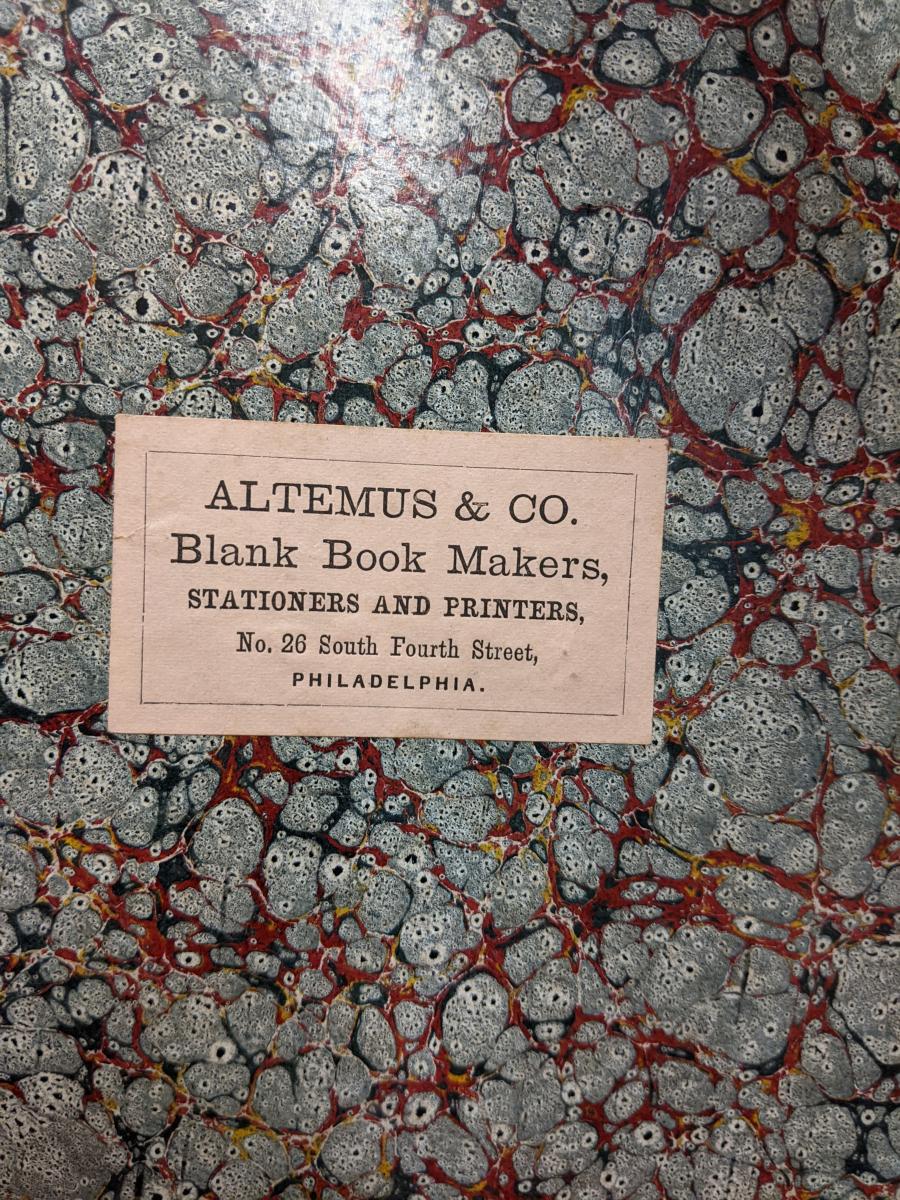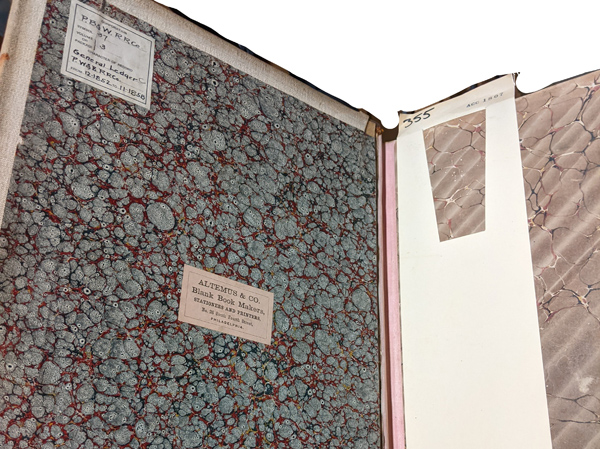 The companies who printed and bound each volume are frequently identified by a paper label adhered inside the front cover. This Altemus & Co. label was located on the inside front cover of a Pennsylvania Railroad volume from the 1850s (Accession 1807). Altemus was located at 26 South Fourth Street, Philadelphia, Pennsylvania, at the time.  Looking more closely, I could see that two types of marbled paper were present in this volume. The piece bearing the label was a later addition, a canvas cloth jacket. The canvas cover was not removed, so it is not known who made the original binding.
According to Henry Altemus.com, the company published literature and children's books and was at the above address in 1880s, about 25 years later than the transactions written inside the ledger. Altemus also printed and bound bibles and scrapbooks, and printed certificates. In business from the 1840s to 1930s, they ventured into children's books and literature around the turn of the century.
Altemus & Company's offerings of 1869 are advertised in the Publisher's and Stationer's Uniform Trade List Directory compiled by Howard Challen of Philadelphia. This directory was a compendium of all the United States publishers and their available titles, from religious to juvenile literature and scientific works. Stationery supplies, including writing instruments, photograph albums, blank record books and journals, and printers and printing supplies, were also described and priced.
Altemus touted its hinge back album with leather hinges to accommodate the turning of the thick pages, designed to hold card mounted photographs of the period. The hinges were made of Turkey Morocco leather, which is made of goatskin, a durable and long-lasting material. Some of these albums were luxury goods, with raised and gilded decorative leather covers.
I look forward to learning about more of the blank book makers and stationery suppliers. Check back with the Hagley Research News for future features.
---
Laura Wahl is the Library Conservator at Hagley Museum and Library.​