As our department continues to process the John Margolies Collection of Travel Ephemera, fascinating items emerge from cartons and binders every day. Scattered among thousands of hotel brochures and road maps are unique items such as an undated, hand-held, jointed fan from Crooked Lake, Indiana; a promotional image of a 1910's Maine bathing beauty screened onto a piece of silk; and a 1933 patent for a California drive-in movie theater.
Sometimes an obscure title challenges me to unpack the meaning of key words before cataloging it appropriately. Burlesque and Side Degree Specialties, Paraphernalia and Costumes: Catalog No. 331 manufactured by De Moulin Bros. & Co. is a case in point.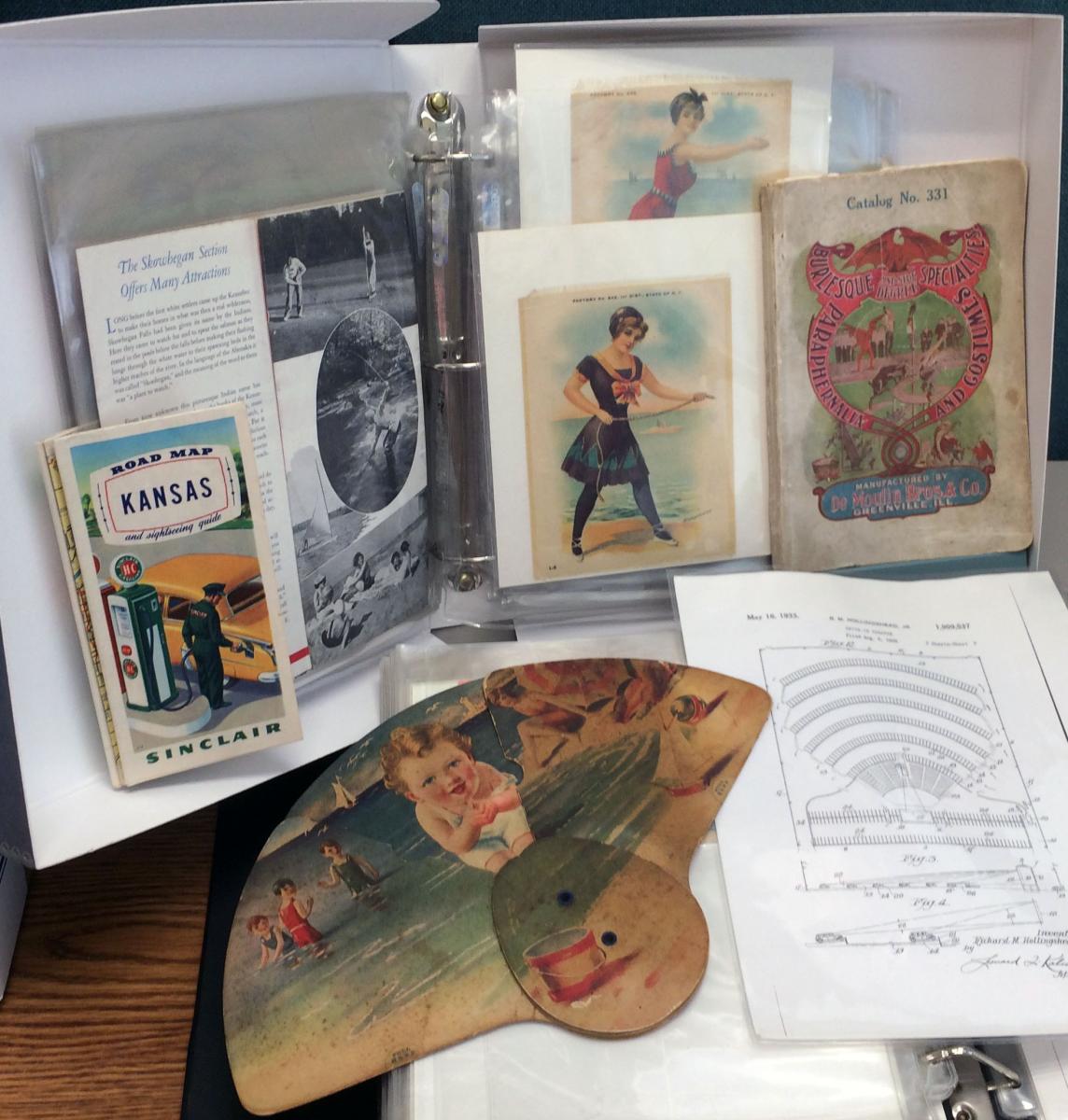 "Burlesque" derives from "burla," the Italian word for a gag. "Side degrees" refer to auxiliary groups of a fraternal order and, by extension, to the hazing activities performed aside official membership rituals. Thus, the De Moulin trade catalog presents itself as a "silent salesman" of equipment and costumes designed for fellowship festivities in 1924, just after the peak popularity of such organizations in the United States.
Along with specifications, testimonials, and prices, Catalog No. 331 provides scripted text for performing each stunt. Typically the drama unfolds after placing a blindfold or hood on the candidate so as to obscure the deceptive nature of the upcoming caper. Members revel while the hoodwinked candidate struggles to prove his fortitude and commitment.
Background information on the DeMoulin brothers and their business enterprise springs from the website of the Greenville, Illinois DeMoulin Museum, founded in 2010. This is just the sort of roadside attraction that caught the attention of John Margolies during his career as a photographer of commercial architecture.
Like Margolies, Ed DeMoulin was a photographer as well as an inventor. Approached by a friend and leader of the Modern Woodmen of America to help boost the local membership, he convinced his older brother Erastus, a blacksmith, to open shop in 1892. That was the same year that Ed received his first patent for a trick camera, one that would squirt a stream of water.
Several years later their younger brother U.S. (Ulysses Sordet) joined them in the production of lodge paraphernalia. Their premier gimmick was a bucking mechanical goat. Ultimately, they were awarded 32 United States patents for initiation devices. Some of them incorporated special effects such as the sound of an exploding cap gun or a burst of electrical shock.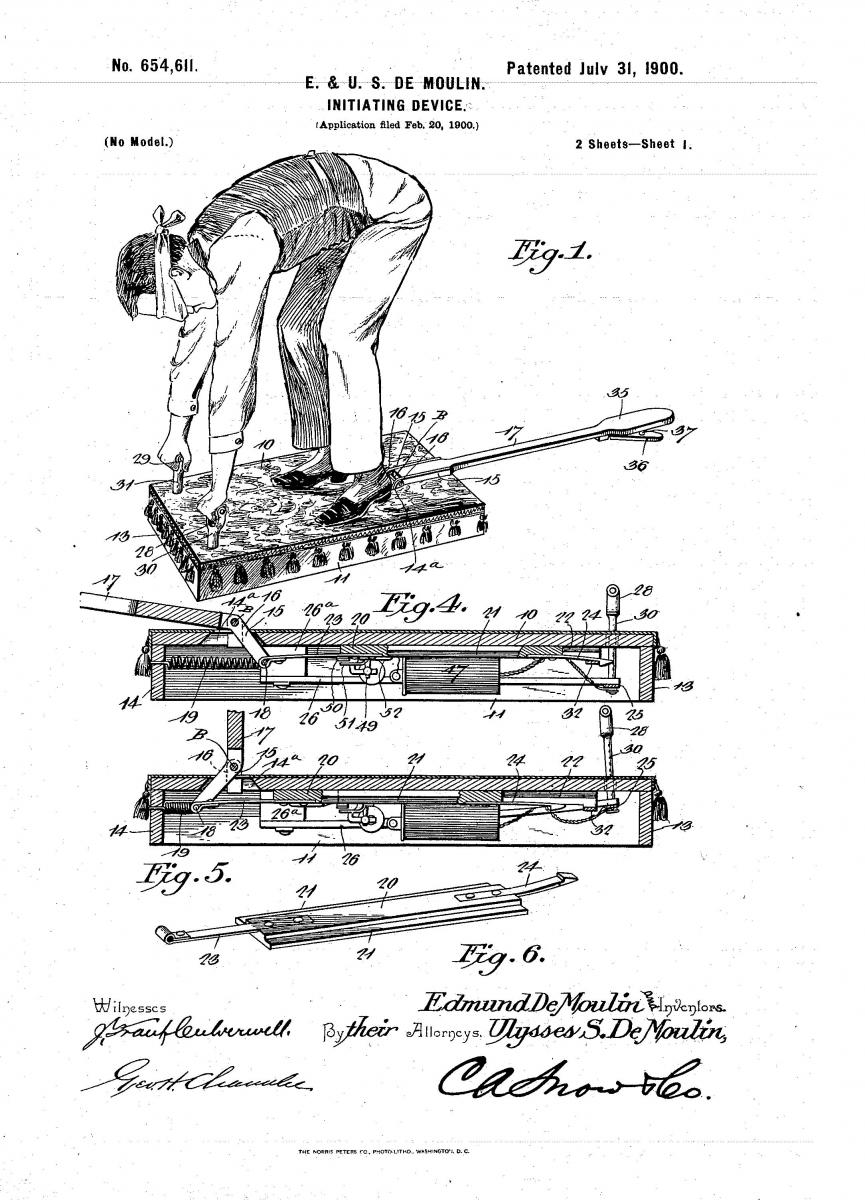 Each of the DeMoulin brothers was also an accomplished musician. In the Greenville town band, Erastus played the tuba, Ed the French horn, and U.S. the baritone. Accordingly, Catalog No. 331 promotes the accouterments for a mock marching band as well as many other noise-making gadgets to make the side-degree scenarios memorable.
Over the decades, De Moulin Bros. & Co. shifted their line from lodge initiation to academic regalia and church vestments. Today, it serves as one of the leading suppliers of legitimate marching band uniforms in the country.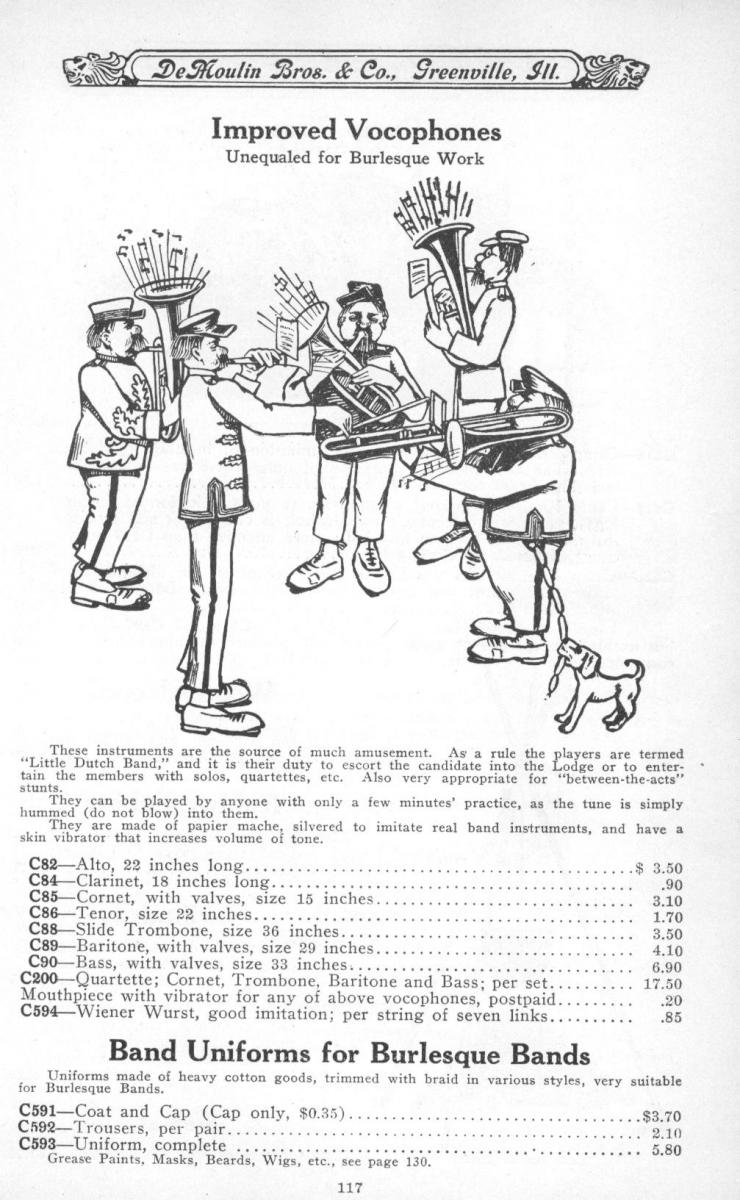 Sources
Rainofhearts. "DeMoulin Museum: Factory History." Demoulinmuseum.org. Accessed August 11, 2018.
RoadsideAmerica.com Team. "Museum of Initiation Pranks: Field Review." RoadsideAmerica.com. Accessed August 11, 2018.
Stroud, Adam. "Supplying Fraternalism: DeMoulin Bros. & Co. and Side Degree Paraphernalia." The Confluence (Spring/Summer 2014): 18-29. Accessed August 13, 2018.
---
Alice H. Hanes is the Technical Services Librarian​ at Hagley Museum and Library.