While our Library paces its re-opening as advised by the state of Delaware, the Published Collections Department seeks fresh ways to engage the public with relevant resources on the business history of America. Until our service for hands-on access to materials is back up to speed, we are focusing on the qualitative improvement of our online catalog. One of our strategies involves remedial cataloging to provide fuller description of existing records, and another one calls for reparative processing to better describe library materials as they relate to race and racism. These motivations have led me to delve into our vertical file, emerging with a momentous find.
You may recognize the vertical file as a cluster of ordinary metal cabinets, packed with folders arranged alphabetically. Each one is labeled with a name or phrase compiled in an index list at the Reference Desk. This tool is the only means we have to lead a potential researcher to any of the related content. Many libraries rely on vertical files to expedite the processing of clippings, pictures and ephemera. For decades Hagley has used this simple system to organize items of low research value, in order to liberate staff for high priority cataloging of titles unique to our library.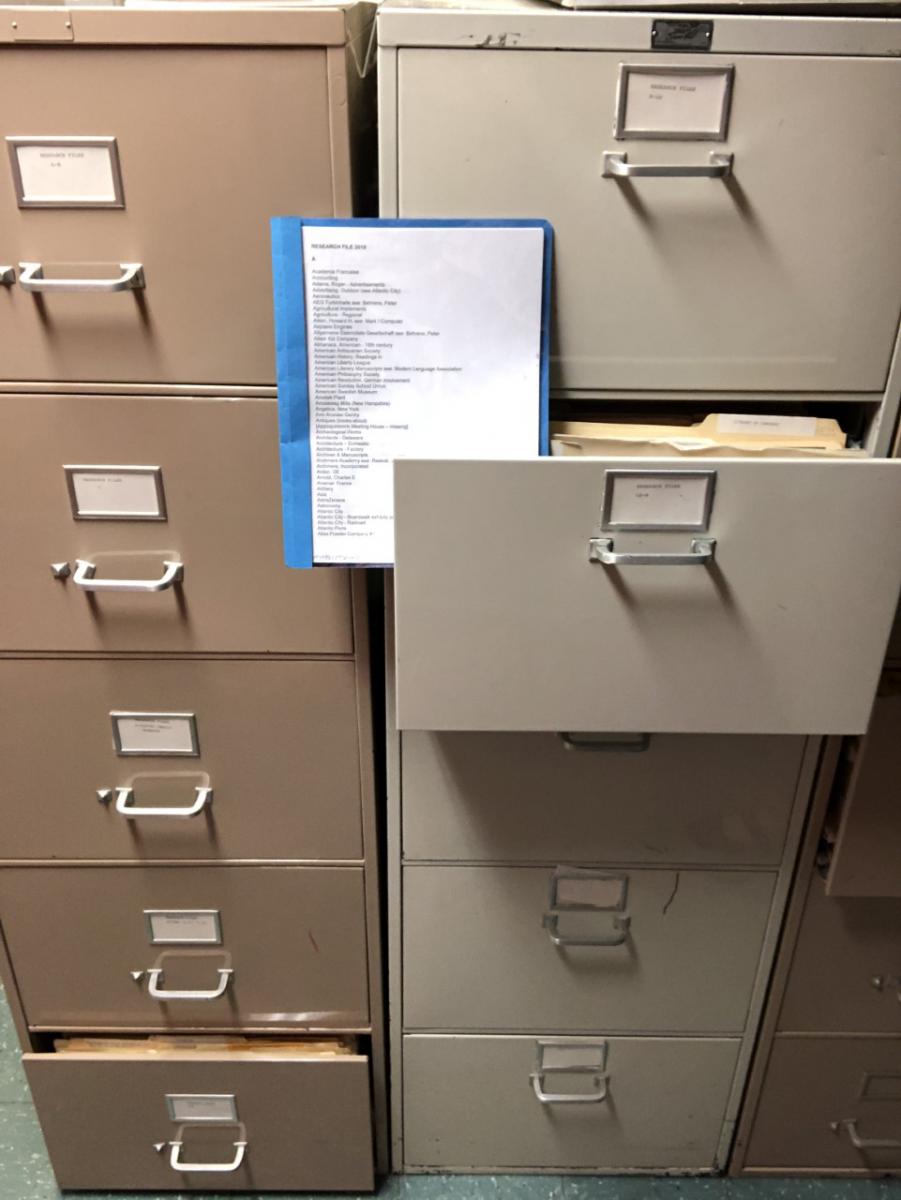 The file marked "New York Southern Society" is a compelling case in point. According to the NYSS Constitution, "the object of this society is to promote friendly relations between Southern men resident or temporarily sojourning in New York City, and to cherish and perpetuate the memories and traditions of the Southern people." The folder contains four programs from the Society's annual banquets held early in the 20th century. To be honest, the provenance of this collection is uncertain. But my search of the WorldCat bibliographic database yields an excellent prospect for copy-cataloging our holdings together on one serial record shared by fourteen other libraries. The MARC record includes access points for title, geographic terms, and Library of Congress Classification scheme in addition to the corporate name. Compared with the vertical file, this approach greatly enhances the discoverability of our booklets by browsers on the World Wide Web.
But as I handle the issue from 1910, I seize the opportunity to heed the hidden voices and "correct past failures to respectfully describe the histories of Black communities." This is one of the aims for editing legacy descriptions advanced by Archives for Black Lives in Philadelphia. Creating an original bibliographic record at the item level exposes critical characteristics of this program from the Twenty-fifth Annual Banquet. Poignant details -- from the cover vignette of stereotypical "Mammy" figures, to the last sheet of racist song lyrics -- connect white men of power (including a future President of the United States) with institutional racism. While "Toasts" presented at this event form part of the Year Book of the New York Southern Society for the Year 1911-12 and may be found on the Web, we invite you to view the full text of the program in our online catalog.
Sources
Eleutherian Mills Historical Library, "Policy Guidelines Derived From 2/04 Discussion of Cataloging Priorities," (Wilmington, DE: EMHL, 1983).
New York Southern Society, Constitution and By-laws and List of Officers and Members, (New York: New York Southern Society, 1899), 7, accessed July 15, 2020, https://babel.hathitrust.org/cgi/pt?id=uva.x000761738&view=1up&seq=11.
Archives for Black Lives in Philadelphia (A4BLiP) Anti-Racist Description Working Group, "Archives for Black Lives in Philadelphia: Anti-Racist Description Resources in Philadelphia October 2019," accessed July 15, 2020, https://archivesforblacklives.files.wordpress.com/2019/10/ardr_final.pdf
Alice Hanes is the Technical Services Librarian at Hagley Museum and Library.