Video of the Month from the Hagley Digital Archives
This month's video is a 1950 production titled "The DuPont Story" produced by the DuPont Company and the Apex Film Corporation.
The feature length film includes a dramatization of the company's history with Hollywood actors and a voiceover narrative spanning the founding of the company into the 1940s.
The film begins and ends with documentary footage summarizing the company's activities as they were in 1950. DuPont executives Walter S. Carpenter, Jr. and Crawford Greenwalt appear in the documentary segments that includes footage of manufacturing facilities and offices in Virginia, West Virginia, and Delaware.
The film premiered in Wilmington, Delaware and was shown to DuPont employees and the general public in city movie houses. The opening of the film included a week long engagement at the Ritz Theater in March 1951. Tickets for the show were distributed for free at the DuPont Building in downtown Wilmington.
It is impossible to quantify how many people saw the film after its premiere in Delaware. A search of newspaper archives finds evidence that the film appeared in theaters alongside Hollywood films and in schools, organizations and clubs. Here is an advertisement from The Star Press in Muncie, Indiana for a showing at a local high school on April 29, 1952: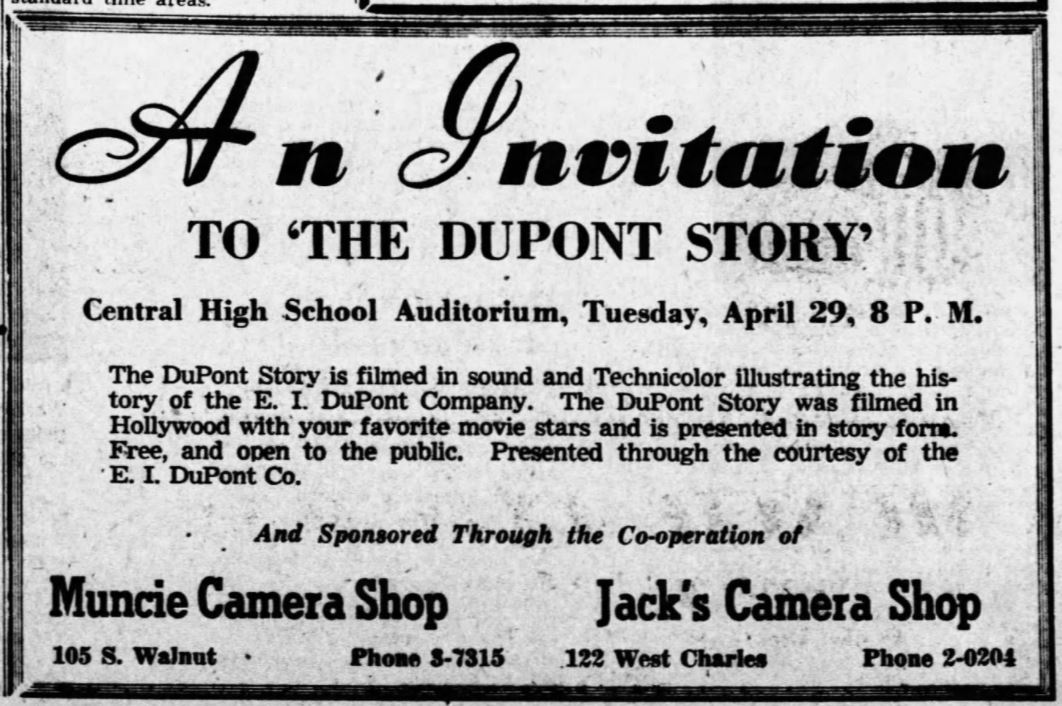 Without further adieu...The DuPont Story:
Sources: Details about the film's premiere and public showings via newspapers.com.
---
Kevin Martin is the Andrew W. Mellon Curator of Audiovisual Collections & Digital Initiatives at Hagley Museum and Library.