Friday, February 24, 2023
At the end of next Friday, Hagley Museum and Library will bid adieu to Max Moeller, Curator of Published Collections and Reference Team Leader.
Max joined the library's curatorial team in February 2007 and, during his tenure, has acquired some of our great assets. Within his first years, Max worked with the library director to acquire the Z. Taylor Vinson Collection of Automobile Advertising; the Litchfield Collection on the History of Fatty Materials; the Litchfield Collection of the History of Salt; and, more recently, the John Margolies Collection of Travel Ephemera, a favorite of staff and researchers alike. But one of Max's greatest loves was collecting business-related graphic novels that businesses and trade associations published to promote their visions.
Not long before the COVID-19 pandemic, the library added a team structure to our existing departments and Max selflessly stepped into the breach to lead the new Reference Team. This took a lot of courage because the library's curatorial staff had been divided by format for decades, and most reference staff primarily worked with materials in their format departments. Max himself was shaped by this division and was far less intimate with the manuscript, audiovisual, and digital collections than with imprints, his domain. So, in stepping forward, Max committed himself not only to develop his knowledge of less-familiar materials but also to bring together a staff of reference specialists who now had to develop a more comprehensive understanding of all our voluminous collections.
His success in doing so can be attributed in part to his personality. As one colleague wrote, "Max is a joy to be around and has been a wonderful mentor… Max merges professionalism with humor and playfulness to create a marvelous work environment." You'll find such sentiments are common among the staff at Hagley. Other comments shared in the past week include, "I consider Max both a colleague and a friend. He is one of the most thoughtful, knowledgeable, and kind people I've ever worked with, who has a fun sense of humor and infinite grace and patience." And one of his direct reports writes, "Max has always been a very caring and responsive manager. He usually made me cry at our annual review with his thoughtful and complimentary comments."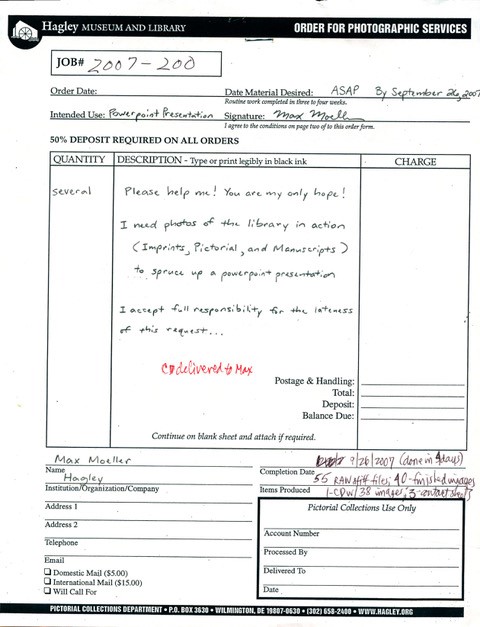 Another colleague illuminated the broader impact that Max had on us, which ranged beyond tasks-at-hand:
"As a supervisor, Max Moeller is a beacon, always pointing my way toward the bright side. Technically, he sparks my descriptive cataloging skills in ways that illuminate hidden gems in our collection, such as rare books and publications with non-Roman scripts. Socially, he encourages me to align my outreach with underserved populations and to form new connections with colleagues. Professionally, Max kindles a niche interest in promotional comic books and board games. And personally, Max offers the wittiest of exchanges and warmest of conversation … I know for sure that I am glad to have shared these years together with him at Hagley, for they have been a blast!"
My own work with Max has made me grateful for his calm demeanor in working through new and sometimes difficult situations, his creativity in developing and proposing solutions, his humor, and—as others have noted—his transcendent kindness. We will all miss him, and we wish him much success in his future endeavors.
Erik Rau is the Director of Library Services at Hagley Museum and Library.