Here at the Hagley Library, the processing is well underway on one of our recent major acquisitions, the Catalyst, Inc. records. This collection documents the history of Catalyst, a global nonprofit dedicated to supporting the advancement of women in the workplace.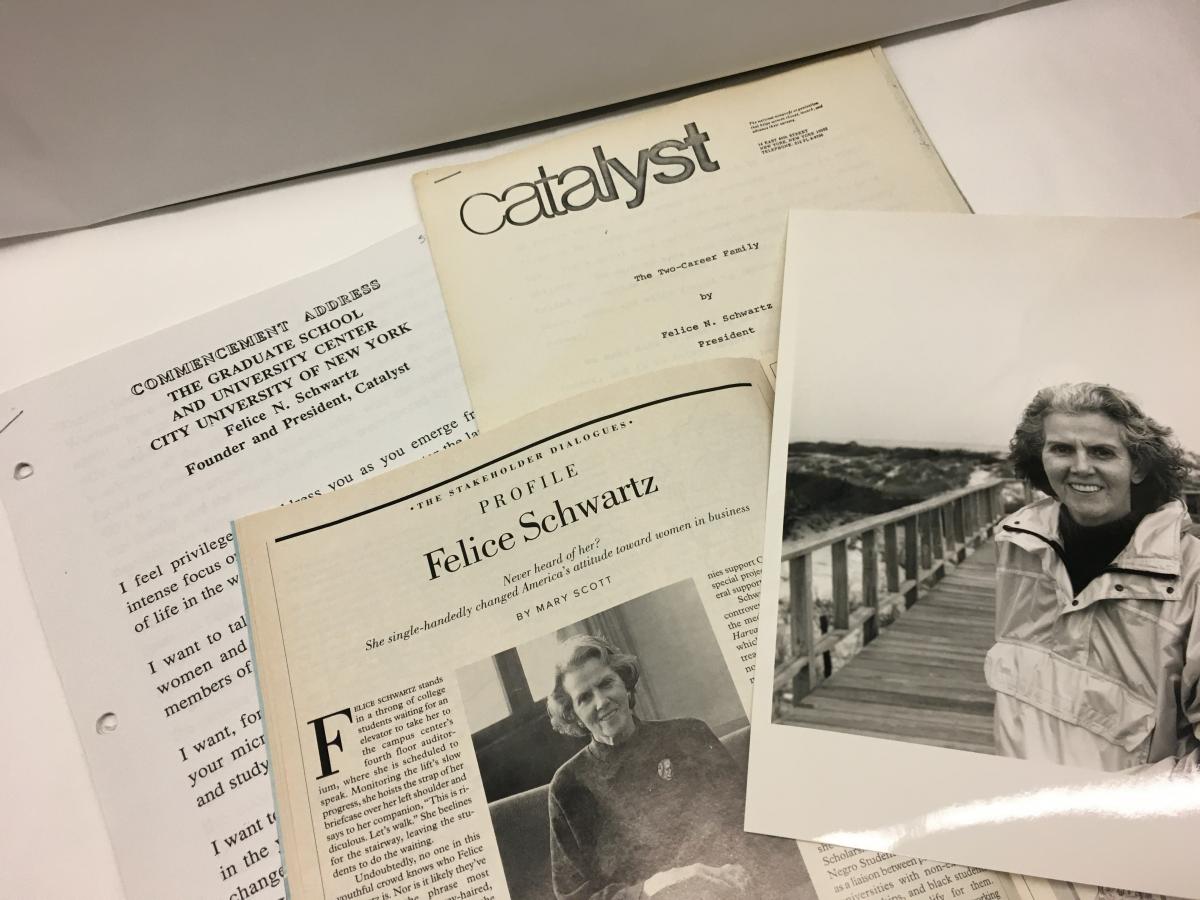 The organization was founded in 1962 by Felice N. Schwartz, who first became involved in social causes while still a Smith undergraduate, founding the National Scholarship Service and Fund for Negro Students in 1945. This organization lobbied colleges and universities to open their doors to students of color and helped link students with scholarships and financial aid. Her impetus for founding Catalyst came after she and her brother took over their father's manufacturing business after his death in 1951, and she felt the frustrations of being taken seriously as a woman in business, and then later, after raising three children at home, the frustrations of reentering the workplace and balancing work with family.
Schwartz understood her vision in very practical terms, articulating Catalyst's mission to be "a nation-wide agency to bring to our country's needs the unused capacities of intelligent women who want to combine family and work."[1] Her effectiveness in advancing her agenda perhaps lies in the fact that she identified a need from a business perspective and offered a way to fill it: American workplaces were losing out on good talent. The solution? Open the doors for women to enter the workforce and make those workplaces work for women.
During its first decade, Catalyst rapidly expanded, and by 1973 it had moved to larger office space and hired five additional staff members. That year, it provided services to 22,150 women and boasted 110 job centers in its Catalyst National Network. A grant of $200,000 was received from the Andrew W. Mellon Foundation to establish a research department and comprehensive Information Center. Publications and resources were produced for both women and employers, and stories about Catalyst were featured in press outlets ranging from the Wall Street Journal to Good Housekeeping. Barbara Mikulski, then just a Baltimore City Councilwoman before embarking on her legendary Senate career, was among those elected to the Board of Directors.
In a President's report in 1974, Schwartz declared herself to be "well satisfied" with the accomplishments of the year and went on to say, "I think our function is unique and our perimeter clearly delineated by our concern with women and work."[2] She went on to lead Catalyst for twenty more years, retiring in 1993.
We'll feature more stories from the Catalyst collection as work continues. The collection is anticipated to be opened for researchers in 2022.
Diane E. Bockrath is an archivist at Hagley Museum and Library.