Several of us at Hagley noticed a recently released film called "Green Book."  It caught our attention because of a rare published work recently acquired in our library.    According to Wikipedia, the film's plot concerns "a tour of the Deep South in the 1960s by African-American classical pianist Don Shirley (Mahershala Ali) and Tony Vallelonga (Viggo Mortensen), a white Italian-American bouncer who served as Shirley's driver and security."  The body guard is given a copy of the "Green Book" to locate safe havens for food and lodging throughout the segregated South.
The movie reflects a dark period of Jim Crow-era America, when the open road was not open to all.  Choices of lodging, restaurants and even gas stations were limited for black people in many places.  
In 1936, a postal worker and World War I veteran from New Jersey named Victor Green set out to create a guide that would help black travelers travel safely, compiling resources "to give the Negro traveler information that will keep him from running into difficulties, embarrassments and to make his trip more enjoyable."
What he ended up publishing was the "Negro Motorist Green Book."   
From 1936 to 1966 (with only a pause for WWII), Green published the title under various names: "The Negro Motorist Green Book," "The Negro Travelers' Green Book," or "The Travelers' Green Book."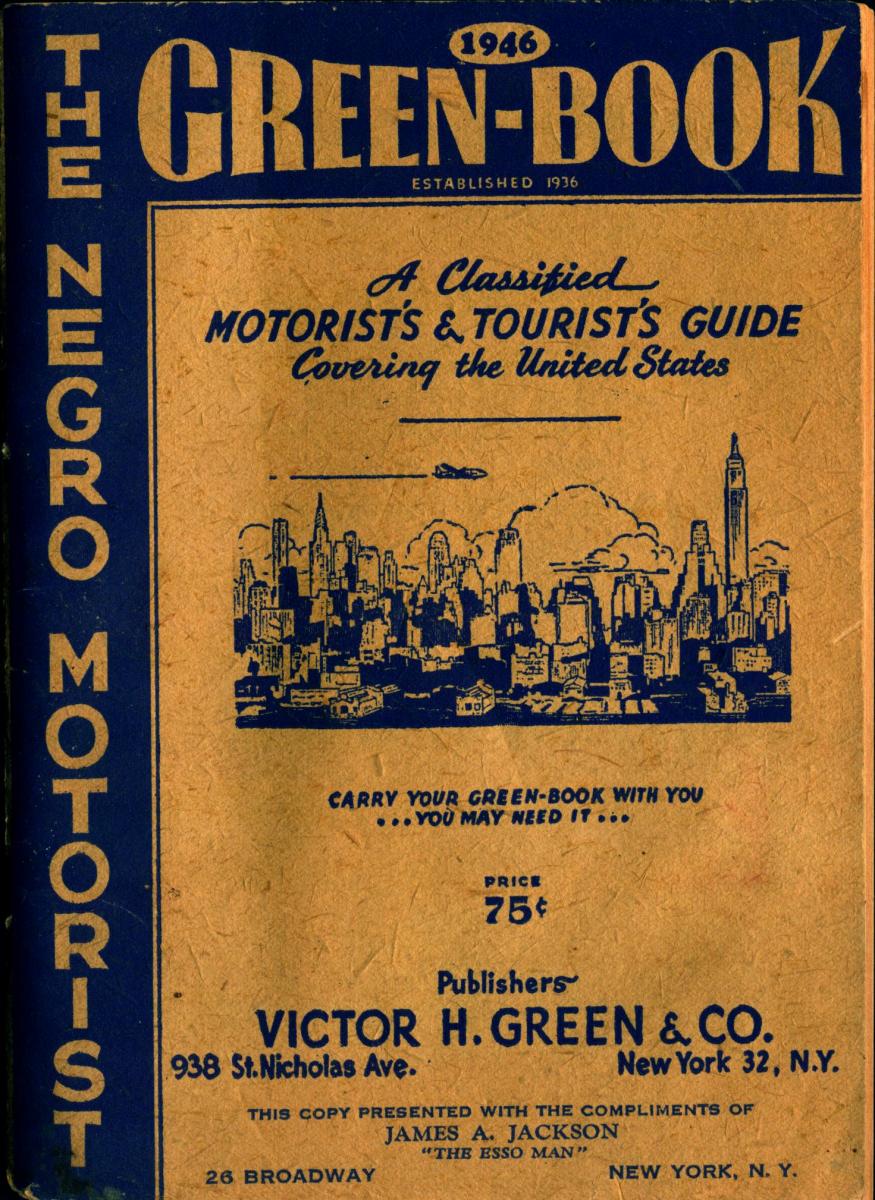 The listings featured hotels, restaurants, beauty salons, nightclubs, bars, gas stations, even private homes where black travelers would be welcome.   They were arranged by state and subdivided by city, giving the name and address of each business.
The original publication focused on New York City, but the coverage eventually spread nationwide, and later editions even had international listings.  The first edition had 10 pages and sold for 25 cents.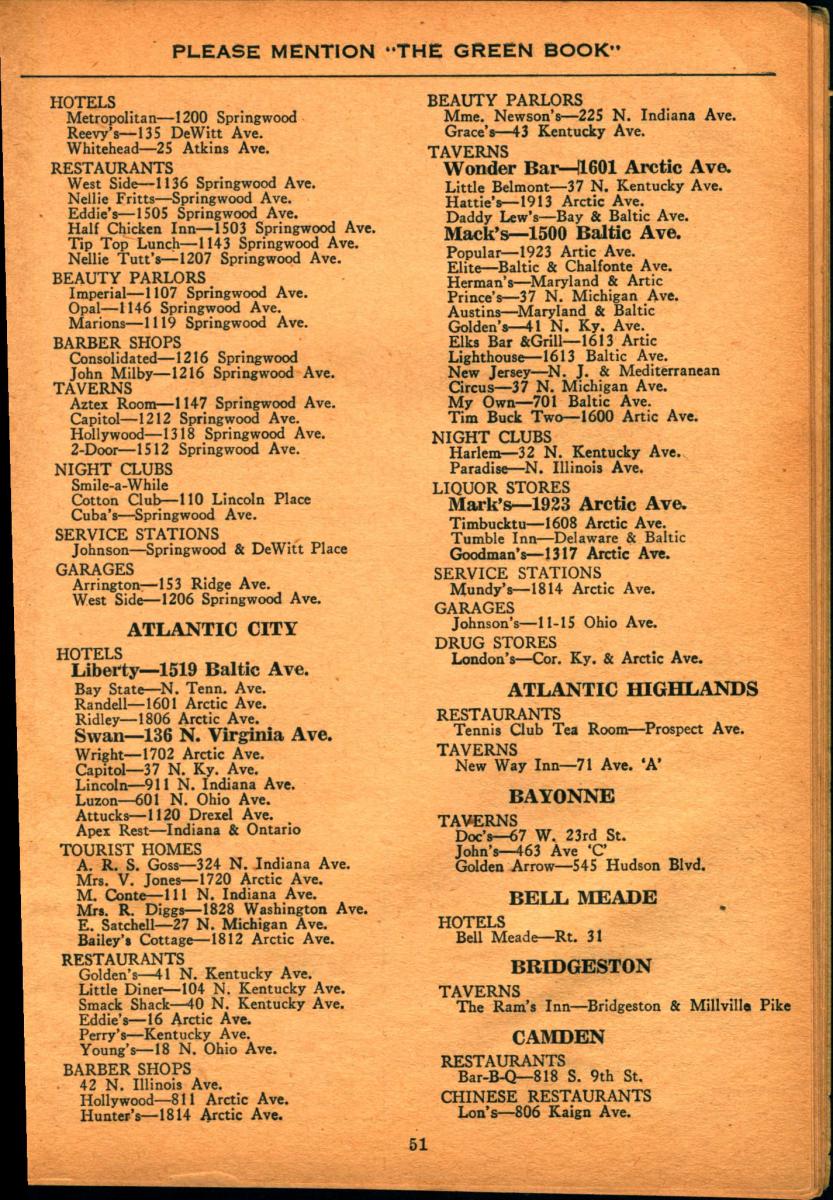 As the book became successful, Green retired from the post office and hired a small publishing staff that operated in Harlem.  In 1947, Green also opened up a travel agency. By 1949, the book was more than 80 pages, including advertisements. 
The guide was sold through mail order, and at service stations. Esso, in particular, was one of the few oil companies willing to sell franchises to African-Americans.  A deal with the Esso chain allowed Green to distribute his guide more widely so that by 1962 there were reportedly 2 million copies in circulation!
Later editions of the Green Book contained an introduction with this optimistic passage:
"There will be a day sometime in the near future when this guide will not have to be published. That is when we as a race will have equal opportunities and privileges in the United States. It will be a great day for us to suspend this publication for then we can go wherever we please and without embarrassment. But until that time comes we shall continue to publish this information for your convenience each year."
The 1966 edition was the last to be published after the Civil Rights Act of 1964 outlawed racial discrimination in public accommodations
At Hagley, our published collections department held only a few facsimile copies of Green's directory.  In 2018, we received an original copy of the 1946 edition, when Hagley became home to the John Margolies Collection of Travel Ephemera. 
John Margolies (1940-2016) was an architectural critic, photographer, and author who was noted for celebrating vernacular and novelty architecture in the United States, particularly those designed as roadside attractions.
Mr. Margolies passed away in 2016 at the age of 76.  The John Margolies Roadside America Photograph Archive is now housed at the Library of Congress.  Sixty boxes of original postcards, brochures of hotels, motels and roadside attractions, maps, and much more, came to Hagley including the rare Green Book.
Hagley Museum and Library Resources:
The negro motorist green-book. New York: Victor H. Green & Co., 1946.  [John Margolies Collection of Travel Ephemera.]  Click here to view the original
The negro motorist green-book / Prepared in cooperation with The United States Travel Bureau. New York City: Victor H. Green Co., 1940.  [Facsimile edition. Camarillo, California, 2016.]
The Negro travelers' green book: the guide to travel and vacations.  New York City : Victor H. Green, 1953.  [Facsimile edition. Camarillo, California, 2017.]
Travelers' green book: international edition 1963-1964 : for vacation without aggravation.  New York, N.Y. : Victor H. Green Co., 1963. .  [Facsimile edition. Camarillo, California, 2017.]
The John Margolies Collection of Travel Ephemera is currently being processed by the Published Collections Department.  The John Margolies collection of travel photographs and postcards has already been processed by the Audiovisual Collections and Digital Initiatives Department and is open for research.  The finding aid can be found here.
Additional digital copies:
---
Linda Gross is a Reference Librarian at Hagley Museum and Library.