Tuesday, November 21, 2023
Hagley Museum and Library's newest addition to its Digital Archive features selections from our Inter-Society Color Council records (Accession 2188) and Inter-Society Color Council photographs (Accession 2003.228). This digital resource is an entryway into exploring how various disciplines and industries have approached the subject of color.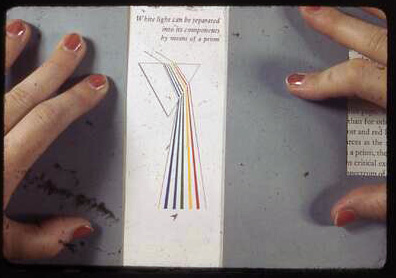 The Inter-Society Color Council (ISCC) was founded on February 26, 1931 for the purpose of internationally coordinating the fields of science, art, and industry when it came to the description, specification, and standardization of color and its practical applications. This work brought together a diverse array of individuals and organizations under a shared interest. Members of the ISCC were interested in the use of color in consumer safety and in civilian defense; the technological development of optical instruments and tools designed for use in agriculture, aerospace engineering, and other fields; fashion and interior decoration; consumer goods marketing; standardizing uniform color codes for industrial manufacturing; art and industrial design, art history, academic linguistics studies, and more! 
This range of approaches to the subject of color is also seen in the lives and work of two of the most frequently featured names in the collection, Margaret Hayden Rorke (1883-1969) and Dorothy Nickerson (1900-1985). Prior to becoming the nation's most influential "color forecaster" of the 1920s and '30s, Margaret Hayden Rorke—daughter of the prominent theatrical producer William Richardson Hayden—lived a public life as a stage actress and activist on behalf of women's suffrage.
In 1918, Rorke was hired as the managing director of the Textile Color Card Association of the United States. Over the next forty years, Rorke rose in the ranks of the company while working to standardize color in American textile manufacturing and to advise the industry in identifying, marketing, and capitalizing on trends in color for fashion and consumer goods. This career led her to assist in the founding of the Inter-Society Color Council, with the Textile Color Card Association as an early organizational member.
The Council proved a valuable resource in the years to follow, as Rorke became an in-demand consultant to costumers in the film industry while motion pictures shifted to color film, and productions needed her expertise to advise on which hues would reproduce best using emerging color film technologies. Working out of New York City, Rorke employed "style spies," like the Paris-based Chicago Tribune foreign correspondent Bettina Bedwell (1889-1947), to send her dispatches detailing color trends seen in daily travels and in the couture houses of the city, replete with fabric swatches.
In addition to following trends, Rorke also worked to set them. Her branding and marketing of "First Lady Pink," launched in response to First Lady Mamie Eisenhower's 1953 Inaugural Ball gown (see right), was not only a commercial success, but has frequently been cited as significantly contributing to postwar trends that reframed and reversed gender associations for the colors blue and pink.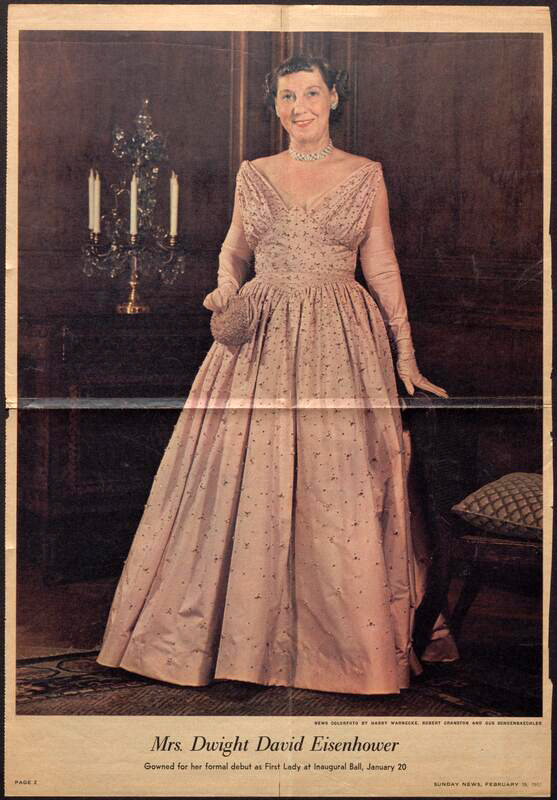 Shortly after this coup, Rorke retired in 1953, and left New York City and the ISCC for Hollywood, California to be closer to her son, the actor Hayden Rorke (1910-1987). She continued to make the papers in her retirement as she cultivated friendships and connections with celebrities like Lucille Ball, Ida Lupino, and various industry executives. Her death on March 2, 1969 at the age of 85 was reported in newspapers nationwide.
Rorke's counterpart in this collection, Dorothy Nickerson, was also a founding member of the ISCC and the organization's first individual member. Nickerson, however, remained active in the organization until her death in 1985 (at the age of 85 like Rorke), which permanently interrupted her ongoing research into relationships among color planes in the Ostwald color classification system. Her speech to the ISCC's 50th annual meeting in 1982 noted her long-standing tenure in the organization, as she was one of the few people present in the room who also attended the Council's pre-organizational meetings in 1930.
Nickerson's professional work in the field of color was as a technologist, and began in 1921 when she joined the Munsell Color Company, a firm that aimed to standardize color through a color order system and sold teaching tools to learn how to use this system for the purposes of artistic endeavors and the study of color. She left the company in 1927 for a job as a technologist in the United States Department of Agriculture, where she did work like establishing standards and methodology to rate color quality of cotton and other agricultural products, but continued to advocate for its study and use. She became a trustee of the Munsell Color Foundation in 1942, and continued to be active in the Foundation for the rest of her life.
Her ongoing work with the Munsell color system led to her creating the world's first color difference formula for industrial use, while her presence in the ISCC engaged her in the study of color tolerance for lighting and the design of lighting equipment for workers in the field of color, leading to membership in the Illuminating Engineering Society of North America, as well as the study of colorimetry and technology, bringing membership in the Optical Society of America. Nickerson's long-running collaborations with color scientist Deane B. Judd (1900-1972) and others at the U.S. Bureau of Standards created a body of work and legacy that, by the time of her death, "covered virtually the entire basis of color technology".
Unlike Rorke, Nickerson was not well-known outside of her professional circle. Her parents were the descendants of "early American whalers from Cape Cod" and she never married or had children. Her appearances in news media were few, far between, and always in passing, and the papers she left behind betray little about her personal life or personality. Searching for those details in the collections proved so fruitless that the discovery of slightly chipped and ill-maintained red fingernail polish in a collection of teaching slides she created and used felt like a revelation.
But her professional circle was a large one. Her obituary, written by and distributed to her peers in the ISCC via private correspondence and industry newsletters, noted an impressive 155 papers published over the course of a lifetime, and described a institutional figure that was well known abroad and at home to friends and strangers in the field alike, famed for both her expertise and her willingness to provide advice, cooperative assistance, and encouragement to those that sought it. 
To explore the work of Nickerson, Rorke, and the Inter-Society Color Council on your own, visit our selections from these collections online in the Hagley Digital Archive.
Skylar Harris is the Digitization and Metadata Coordinator at Hagley Museum and Library