Wednesday, January 29, 2014
​A particularly interesting map has been found in the archives at Hagley Library. The 4.5' x 5.1' map was drawn by John Harlan who notated "A map of surveys taken the 1st, 2nd, 3rd, and 4th month of 1795 when Sam Sharp was learning the art of surveying. Several of them being for examples for him as this of the road was one."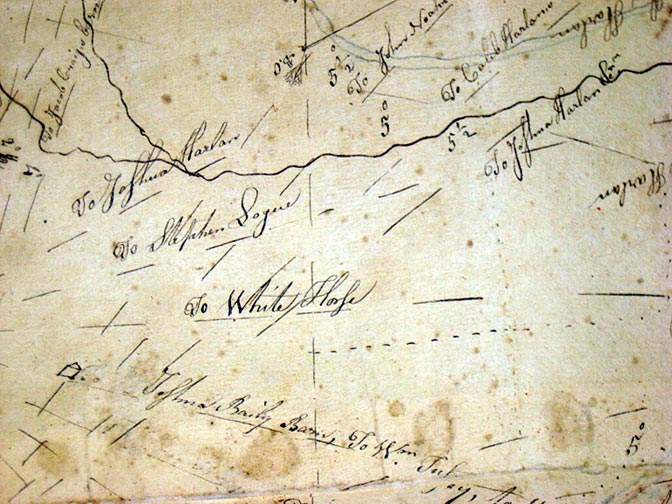 Kennett Square is clearly listed on the western edge, while portions of Centreville, Delaware are on the eastern edge showing land owned by Isaac Mendenhall. The fork of the Brandywine is on the northern edge and Red Clay Creek the southern edge. Numerous properties, meeting houses and taverns are named.
It's possible this John Harlan is related to the famed John Harlan where the Stargazers Stone is located. You know the story. Charles Mason and Jeremiah Dixon used the stone to mark where their observatory stood to settle the border conflict between Pennsylvania and Maryland. Mason and Dixon used the Harlan Farm as a base camp in January of 1764 through the duration of their 4 ½ year survey. However, there could be a Delaware connection: a John Harlan served as a Class 1 Senator under Governor Charles Polk, Jr. from 1828-1829.
Reading Alpheus H. Harlan's 1914 History and Genealogy of the Harlan Family and Particularly of the Descendants of George and Michael Harlan who settled in Chester County, Pa., 1687, what I have found so far is Mary Flower, a 5th generation Harlan, was born October 14, 1729 in London Grove Township. Her first husband Isaac Starr died in 1754. She then married Samuel Sharp, born August 30, 1734, in 1757. Is this the surveyor Sam Sharp? Census records list a Samuel Sharp living in Chester County, Londongrove Township in 1790, but no mention of a John Harlan.
The archivist at Longwood Gardens has confirmed that Hannah Peirce (1782) married a Joseph Harlan in 1816 in Chester County Pennsylvania. Hannah's father, Caleb, was a brother of Joshua and Samuel Peirce who planted the arboretum at Peirce's Park which later became Longwood Gardens.
Louis R. Harlan states in his Harlan Family in America: A Brief History most of Harlans are descendants of two English brothers, George and Michael Harlan, who arrived in 1687 at New Castle, Delaware, then part of the colony of Pennsylvania, and of a third brother, Thomas, who never came to America but some of his sons did fifty years later.
So…who are John and Sam? Why was this map of such importance that it has been lined with Japanese paper to preserve it through the years? And who is E.B.P. - who in 1881 (86 years after it was drawn) wrote this short poem on the map:
Fold it up neatly and up it away
It may be of use in some future day
And quietly bless the poor old soul
Who thoughtfully labored with heart so whole
Marsha Mills is an Archival Specialist in the Manuscripts and Archives Department at Hagley Library.