Friday, September 18, 2020
While working remotely during the pandemic, staff in the Archives Department identified older collections that may benefit from a closer look and a bit of reinterpretation. The Huston-Lukens family papers, Accession 1441, warranted such an examination.
The collection was amassed by Stewart Huston (1898-1971). Huston began working for the family business, Lukens Steel Company, in 1923 as a metallurgist. He was a corporate secretary from 1928 to 1963, and vice president from 1951 until his death in 1971. This small collection of family material is rich in genealogical material. It also includes records related to the 1840's political campaigns of the 'new' two-party system, a few letters written in Savannah, Georgia during the Civil War, and an intriguing set of legal documents from Cherokee County, Georgia.
In the wake of the Indian Removal Act signed into law by President Andrew Jackson in 1830, the Cherokee Nation had their tribal land in Georgia formally taken by the United States on December 26, 1831. The land was renamed Cherokee County, Georgia. Within a year, on December 3, 1832, another law was passed that divided the old Cherokee territory into 160 acre lots. This is known as the Cherokee Land Lottery and was the first in a series of government acts against the Cherokee that led to The Trail of Tears.
Francis H. Wellman [Welman], a distant relative of Stewart Huston, was born in 1781 Bermuda to English parents. Francis married Ruth Eirick [Irick] on June 1, 1807 in Chatham County, Georgia, where they were merchants. He then served in the Georgia Militia during the War of 1812. At the onset of a land lottery, he applied for and was granted 160 acres of Cherokee land in the 'newly formed Cherokee County'. The transaction took nine years to finalize, allowing Francis 20 years of landownership before his death on July 1, 1861. Here is the document related to the land: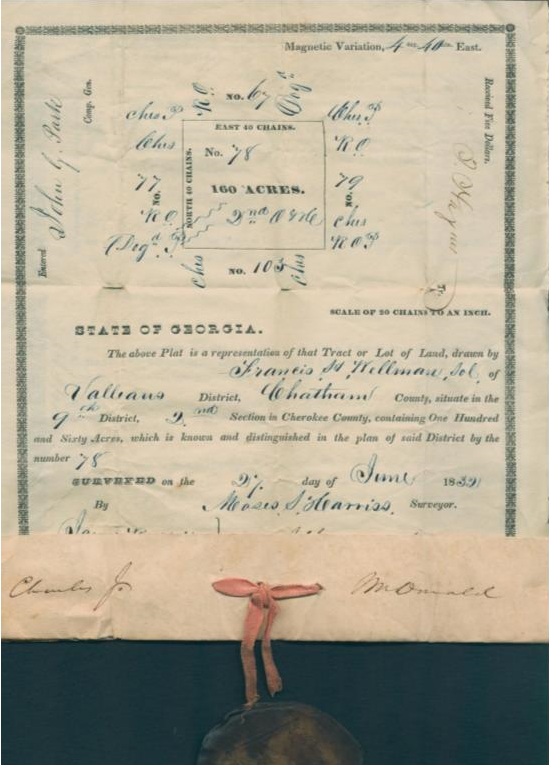 Other documents of note in the collection include a typescript of Rebecca Luken's autobiography as well as her work agreements and contracts at Brandywine Iron Works. Also in the collection are Charles Lukens Huston's patents for improvements to the manufacture of boilerplates at Luken's Steel Company. Check out the revised edition of the finding aid here: https://findingaids.hagley.org/xtf/view?docId=ead/1441.xml
---
Marsha Mills is the Foundation Archivist at Hagley Museum and Library.