Do you know who the Guinness Book of World records lists as the first self-made American woman millionaire? 
Madam C. J. Walker (1867-1919) was "the first Black woman millionaire in America" and made her fortune thanks to her homemade line of hair care products for African American women. There is a current series streaming on Netflix called "Self Made," which was "inspired" by Madam Walker's life and achievements. The series is not a documentary, and there has been some discussion about how accurately her story was portrayed, but the controversy has stirred interest in the real Walker.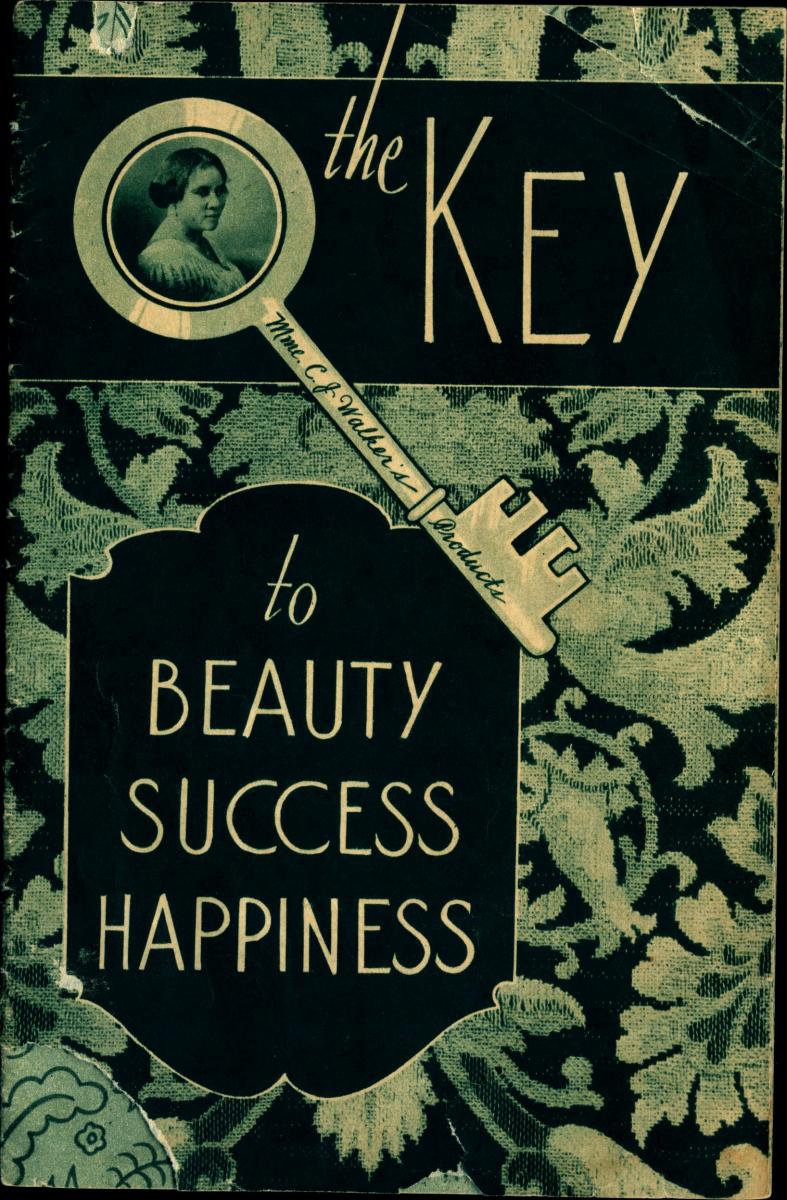 Madam Walker's success story really does illustrate the phrase "Self Made." 
Sarah Breedlove Walker was born in 1867 to former slaves on a Louisiana cotton plantation. When she was seven, a yellow fever epidemic took hundreds of lives, including her parents. Sarah and her sister moved to Vicksburg, Mississippi to live with her brother.  Sarah married at age fourteen to have a home of her own, and at seventeen gave birth to a daughter, A'Lelia. Two years later, her husband died, leaving her a widow and single mother by age twenty. 
In 1888, Sarah headed north by riverboat to St. Louis, a bustling metropolis with a large Black community. She worked hard taking in laundry, scrubbing clothes by hand in large wooden tubs. After years of scrimping and saving, she saved enough money to send her daughter to college. Sarah married again but divorced by the time that A'Lelia graduated from high school. 
During the 1890s, Sarah began to suffer from a scalp condition that caused her hair to fall out. She experimented with many products with little success, including those made by Annie Turnbo Malone, an African American hair care entrepreneur and owner of the Poro Company. Sarah became a sales agent for the Poro company. 
Sarah had the idea that if she could make a product that really worked for her, she could go into business for herself. Because she didn't want to compete with the Poro Company, Sarah moved to Denver, Colorado. She continued to take in laundry, and worked as a cook, working on her formulas at night. 
Sarah married her third husband, Charles Joseph Walker, a St. Louis newspaperman, and an old friend. 
After changing her name to "Madam" C. J. Walker, she founded her own business and began selling Madam Walker's Wonderful Hair Grower, a scalp conditioning and healing formula, which she claimed had been revealed to her in a dream. 
Madam Walker's other original products were Temple Salve, Tetter Salve, Vegetable Shampoo and Glossine. She ran ads in the Denver Black newspaper and made sales calls to potential customers. Using her own image as testimony with "before and after" pictures almost always led to a sale.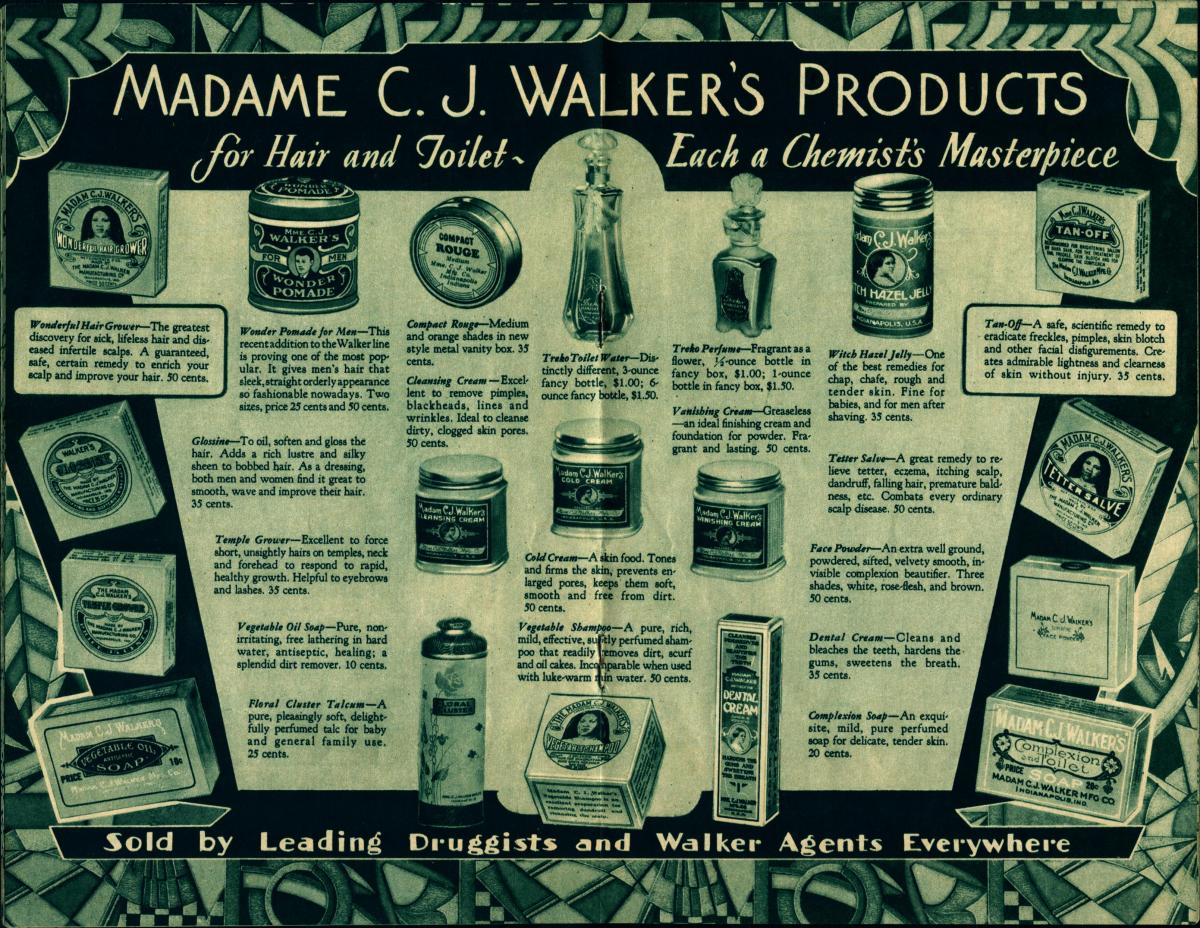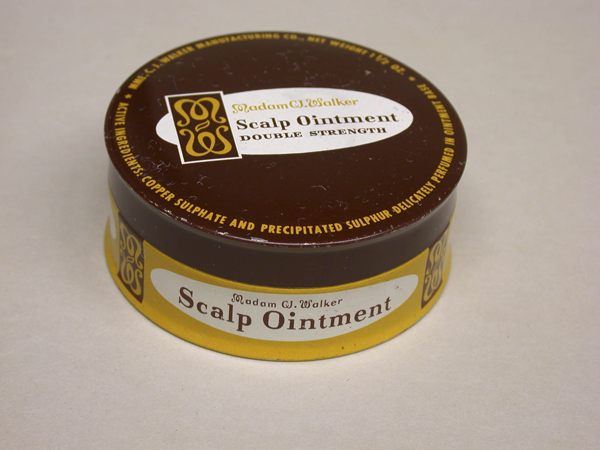 She traveled throughout the South and Southeast, demonstrating her scalp treatments in churches, and selling her products door to door. 
By early 1910, Madam Walker had settled in Indianapolis, where she built a factory, hair and manicure salon, and another training school. Soon after, she incorporated the Madam C.J. Walker Manufacturing Company and began recruiting sales agents (known as "Walker Agents") in major cities across the nation. In addition to training in sales and grooming, Walker showed other Black women how to budget, build their own businesses, and encouraged them to become financially independent.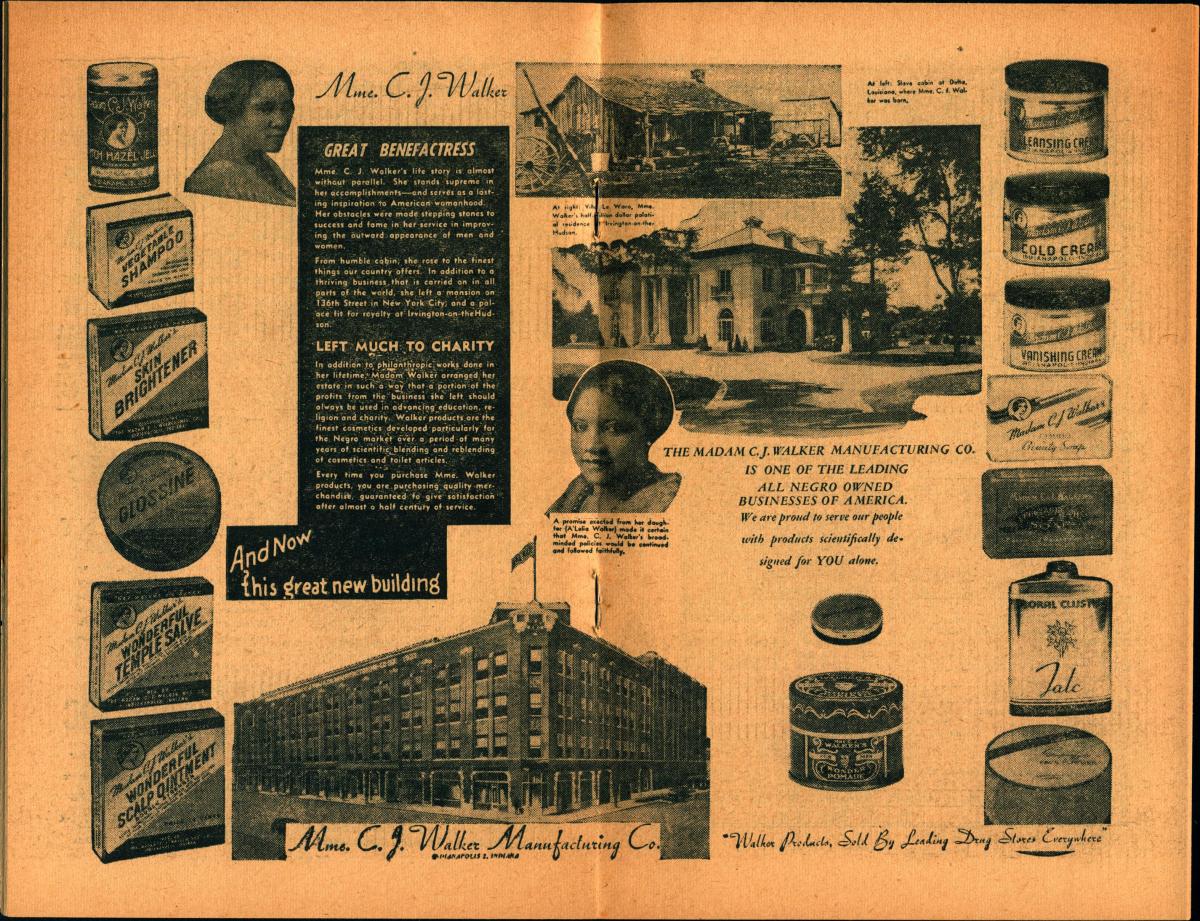 Walker began organizing her sales agents into state and local clubs. The result was the establishment of the National Beauty Culturists and Benevolent Association of Madam C. J. Walker Agents. The first annual conference convened in Philadelphia in 1917, among the first national gatherings of women entrepreneurs to discuss business and commerce. 
Walker was also a dedicated activist and philanthropist. Profits from her business allowed Walker to make contributions to her political and philanthropic interests. She donated funds to numerous institutions supporting the Black community. She delivered lectures on political, economic, and social issues at conventions sponsored by powerful Black institutions. 
Walker died on May 25, 1919, at the age of 51 of kidney failure, and other complications of hypertension. Her daughter A'Lelia became the president of the Madam C. J. Walker Manufacturing Company. 
Madam Walker's philanthropic legacy continued long after her death. Her will directed that two-thirds of future net profits of her estate to charity. Her company is considered the most widely known and financially successful African American owned business of the early twentieth century. 
The company carried on after A'Lelia's death in 1931, continuing for decades until it eventually closed in 1981. The building where the company was last housed in Indianapolis has since become a designated historical landmark and renamed the Madam Walker Legacy Center. 
In 2013, Sundial Brands purchased Madam C.J. Walker Enterprises, and relaunched the brand as Madam C.J. Walker Beauty Culture, selling items like shampoos, conditioners, and hair masks, still available today at Sephora retailers. 
The answer to the title of the pamphlet above can be found inside it, "The key to happiness and success is a good appearance. You are often judged by how you look." Madam Walker has left a legacy of helping others feel good about their appearance in order to have the confidence needed to be successful.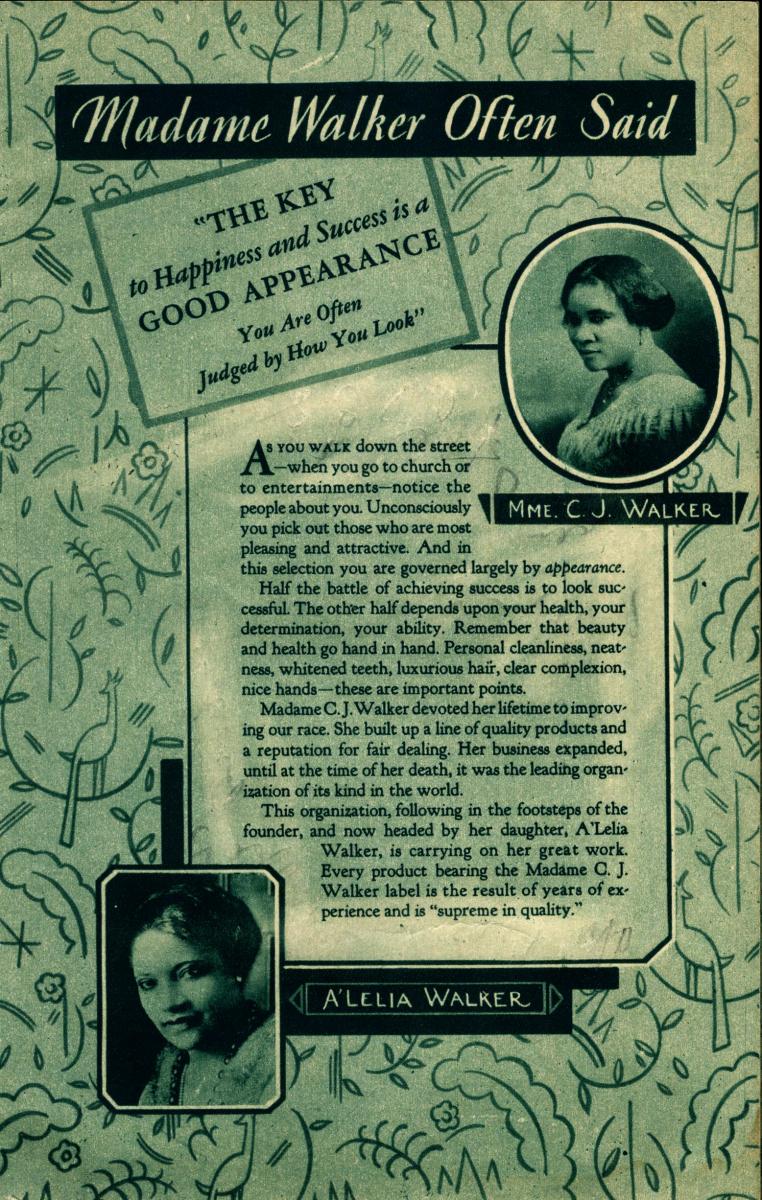 To learn more about Madam Walker:
"Madam Walker Essay" from www.madamcjwalker.com by A'Lelia Bundles, Walker's great-great-granddaughter and biographer
On Her Own Ground : The Life and Times of Madam C.J. Walker by A'Lelia Bundles. New York : Scribner, c2001
The Key to Beauty, Success, Happiness. [Indianapolis, Ind. : C.J. Walker Manufacturing Co., 1940?]
The Walker 1949 Almanac : A Personal Guide to Health, Wealth and Romance. [Indianapolis, Ind. : C.J. Walker Manufacturing Co., 1949]
The Madam Walker papers are located at the Indiana Historical Society Library in Indianapolis.
Linda Gross is the Reference Librarian in the Published Collections Department at Hagley Museum and Library.