A new baseball season is upon us, which heralds warmer weather, spring flowers, and hot dogs and ice cream at the ballpark. In Philadelphia, Phillies fans have a renewed optimism for this year's team following the signing of Bryce Harper in the offseason. Harper, one of the game's elite players, has already lit a spark underneath the franchise during the season's first few weeks, leading the Phillies to first place in the division standings.
Along with a new baseball season comes new promotional events to lure fans to the ballpark. Historically, baseball has had a rich tradition of instituting promotional stunts ranging from Scrap Metal Day at the Polo Grounds of the New York Giants in 1942, to the cringe-worthy "Wet T-shirt Night" inadvertently held at the Atlanta Braves' stadium in 1977. Perhaps the most infamous promotion in baseball history was 10-cent Beer Night held at Municipal Stadium in Cleveland in 1974. Predictably, the game resulted in a forfeit when a barrage of drunken fans stormed the field and pelted the opposing team's players with any nearby object they could find. 
With a number of notable (and other less extraordinary) promotional stunts implemented by Major League organizations throughout the years, it was not uncommon for teams to share information on what promotions proved successful and unsuccessful. Fortunately, some of this activity can be discovered in Hagley's collections. Amidst plans to build a new multi-purpose sports stadium in Philadelphia in the mid-1960s, Phillies management petitioned nearly every ball club in the Major Leagues over fresh ideas for promotional events, and ideas rolled in from numerous teams. C. Joseph Bride, Jr., Public Relations Director of the Baltimore Orioles, stated that Bat Day was by far the organization's most successful promotion, wherein "every youngster 14 and under…is entitled to receive an authentic Louisville Slugger." Second to Bat Day was Bethlehem Steel Night. The steel company purchased about 20,000 seats at a $0.25 reduction per seat, and in turn sold them to employees at two for the price of one.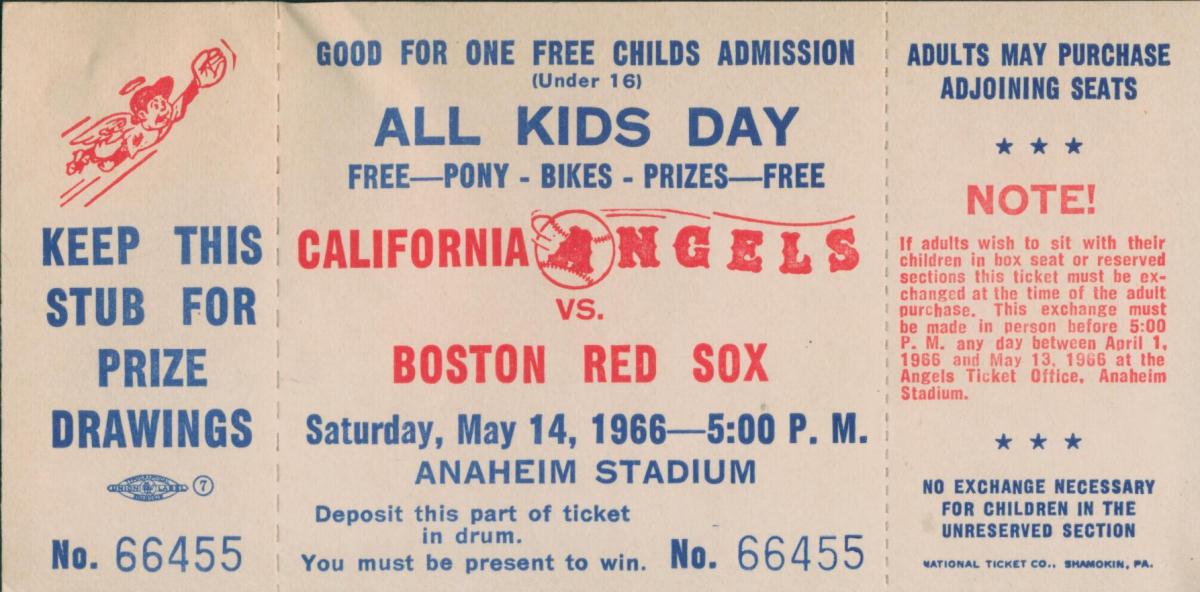 Many teams confirmed promotional giveaways as their most successful events. Others, however, identified more unique ways to attract fans. The Houston Astros cited "Louisiana Weekend" as one of their best promotional events. According to Astros Business Manager H. B. "Spec" Richardson, the program featured the "famous hillbilly star" Eddie Arnold and Sharkey Bonano and his band from Bourbon Street in New Orleans. As a result, the team drew 73,000 fans for a day-night doubleheader. The California Angels held an event called KPMC Playboy Bunnies Ball Game, where, according to Assistant General Manager Marvin Milkes, their radio station advertised the game with the disc jockeys playing in a "hilarious pre-game three-inning contest against the beautiful Bunny girls from the Hollywood Playboy Club."
Although many of these promotional events were unique to individual teams and cities, Phillies management nonetheless took note. Team officials suggested several new promotions, including the appearance of Miss America, a parachute jump, the dropping of baseballs from a plane or helicopter on the field to players of both teams before game time, an automobile giveaway, and even days honoring nearby communities such as Reading, Wilkes-Barre, Trenton, and Allentown. Additionally, Phillies Secretary George A. Fletcher attempted to market the new stadium's amenities toward women, highlighting special promotions that he believed "can be slanted to interest" female fans. These comprised articles in the society columns, television and radio programs that included commentary from the players' wives, and giving flowers to a certain number of women in attendance.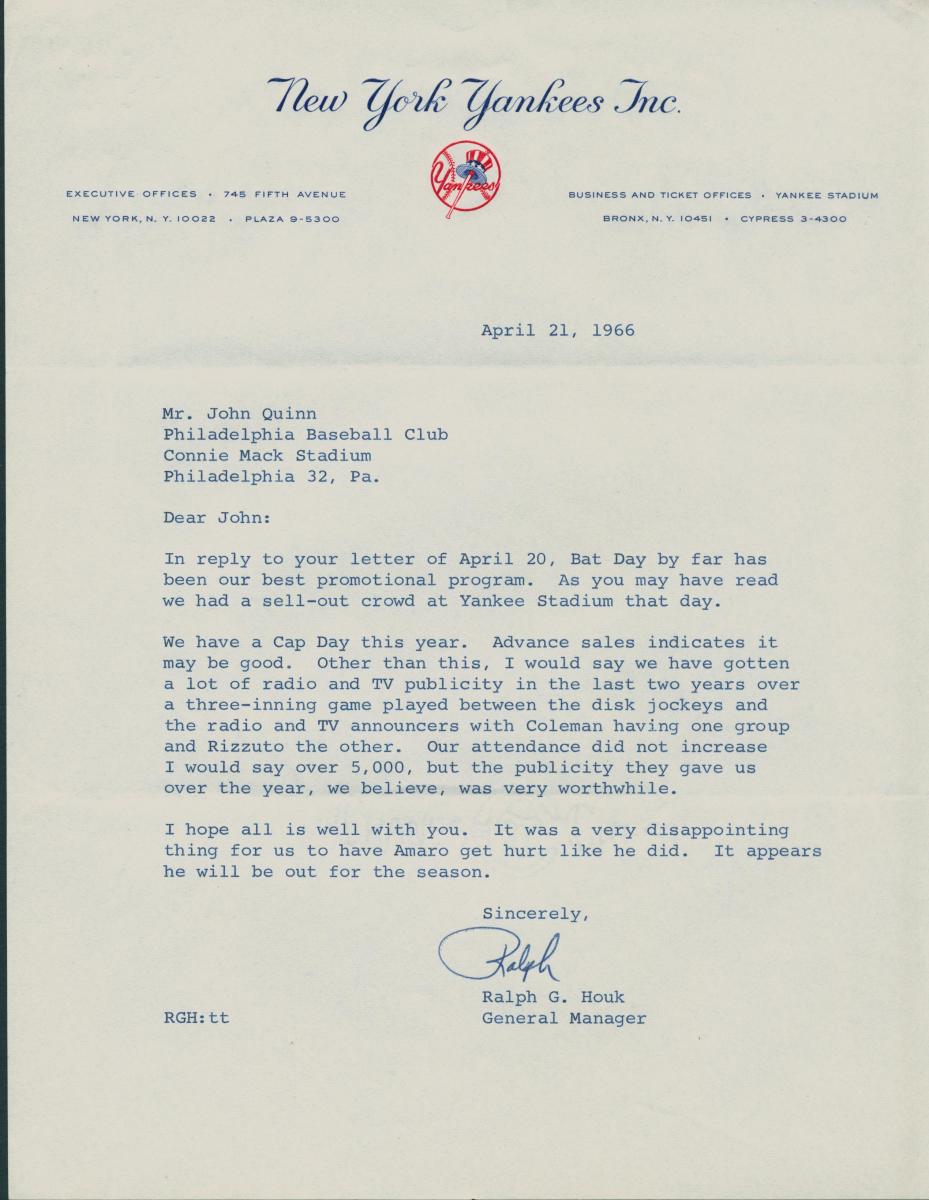 Correspondence regarding the aforementioned promotional events and other archival material related to the Philadelphia Phillies organization may be found in a collection held in the Manuscripts & Archives Department. The records cover the tenure of team president and owner Bob Carpenter (1915-1990) and his son, R. R. M. Carpenter III, who succeeded his father as team president in 1972. Along with records of the Phillies organization, the collection includes material from both the National League and Major League Baseball in general and mostly covers the period between 1950 and 1975.
Finding aid for the Philadelphia Phillies records at the Hagley Library
For more information, please contact askhagley@hagley.org.
---
Clayton Ruminski is the Managing Archivist in the Manuscript & Archives Department at Hagley Museum and Library.