Monday, December 19, 2016
So many times, history focuses upon the wealthiest, most powerful individuals, as well as those who pushed for and achieved significant social and political change.
Fittingly, most archives and special collections represent these individuals or corporations who have made significant impacts on the course of history through the acquisition of their personal papers and corporate records. The voices of the working class, however, are often lost and largely unrepresented. Collections rarely document the background of a bus driver in Chester, Pennsylvania, in the 1950s, or that of a streetcar operator in Wilmington, Delaware, during the First World War, for example. In fact, any such personnel records are usually destroyed when a company goes out of business, largely for legal and privacy reasons. Thus, it is rare that an archives receives employee records from large corporate collections, and accident and injury reports are even more elusive.
The Delaware Coach Company records (Acc. 1685)–now open for research–is one of these rare and rather diverse collections. Originally established in 1864 as the Wilmington City Railway Co., the company began Wilmington's first horse-drawn street railway and eventually transitioned to electric streetcars. New street railway companies emerged throughout northern Delaware in the late nineteenth and early twentieth centuries, and many were consolidated under numerous corporate buyouts and mergers. By 1942, the company shed its streetcar operations in favor of bus services, while also changing its name to Delaware Coach Co. What remain of the company's records document nearly all facets of Delaware Coach's bus operations, as well as its streetcar predecessors.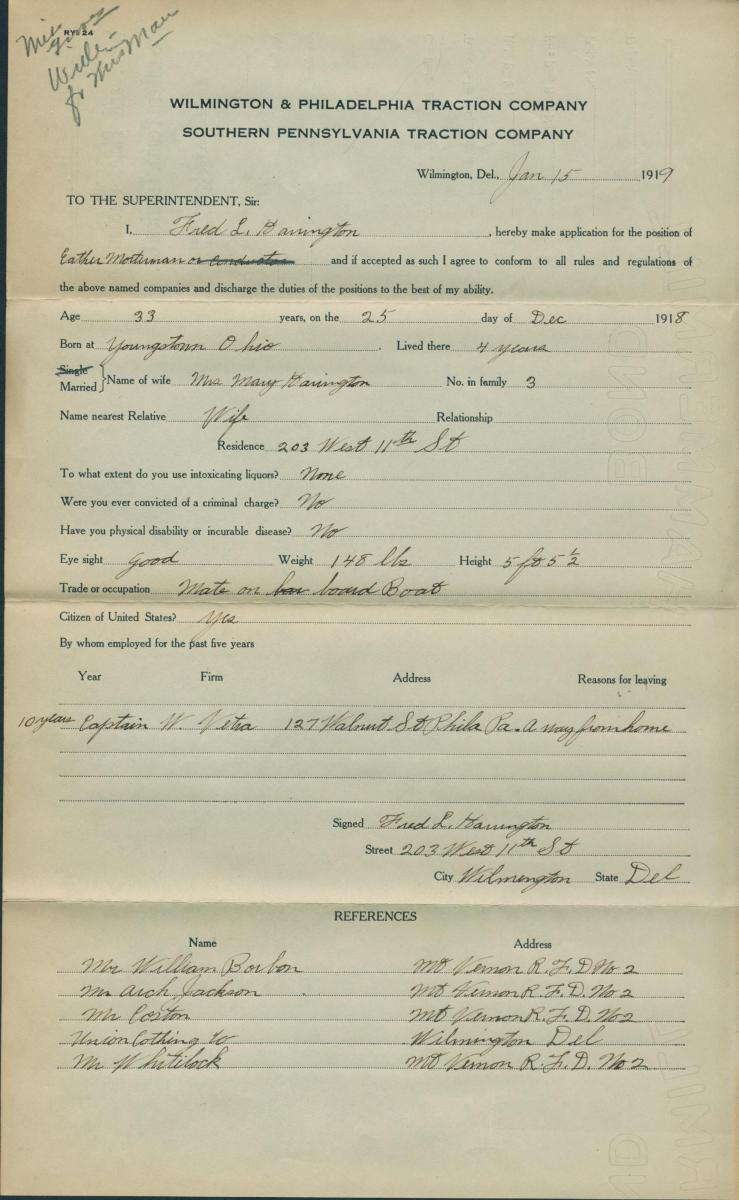 Fred L. Harrington's 1919 job application for a motorman position at the Wilmington & Philadelphia Traction Company.​
A rather unique aspect of this collection, however, is its ability to tell the stories of its workers rather than only the corporate, financial, and operating end of the business. In one tragic example, Fred L. Harrington, a Youngstown, Ohio, native who moved to Wilmington and became a streetcar motorman for the Wilmington & Philadelphia Traction Co. in 1918, was fired by the company for suddenly leaving work for days without giving notice. In a letter dated March 25, 1920, Harrington explains:
I have just come back from Youngstown, Ohio where I just buried both my mother and father . . . I received a Telegram that afternoon that my father would not live for 24 hours longer and to come at once. I did not have enough money to take me and I had to turn my badge in to get enough money to go there. I was not able to see you for you was not at the Office and I had to leave right away. If you are hiring any more men will you Please let me know or if you don't need any one will you Please send me a reffrence [sic] if my record is good enough for one.
The company was sympathetic to Harrington and reappointed him the next day. Harrington, however, accumulated a rather extensive accident and discipline record over the next nine years with the company. His record includes numerous derailments, hitting automobiles and wagons, and not showing up to work sixteen different times between 1920 and 1926. Harrington ultimately resigned on May 1, 1929.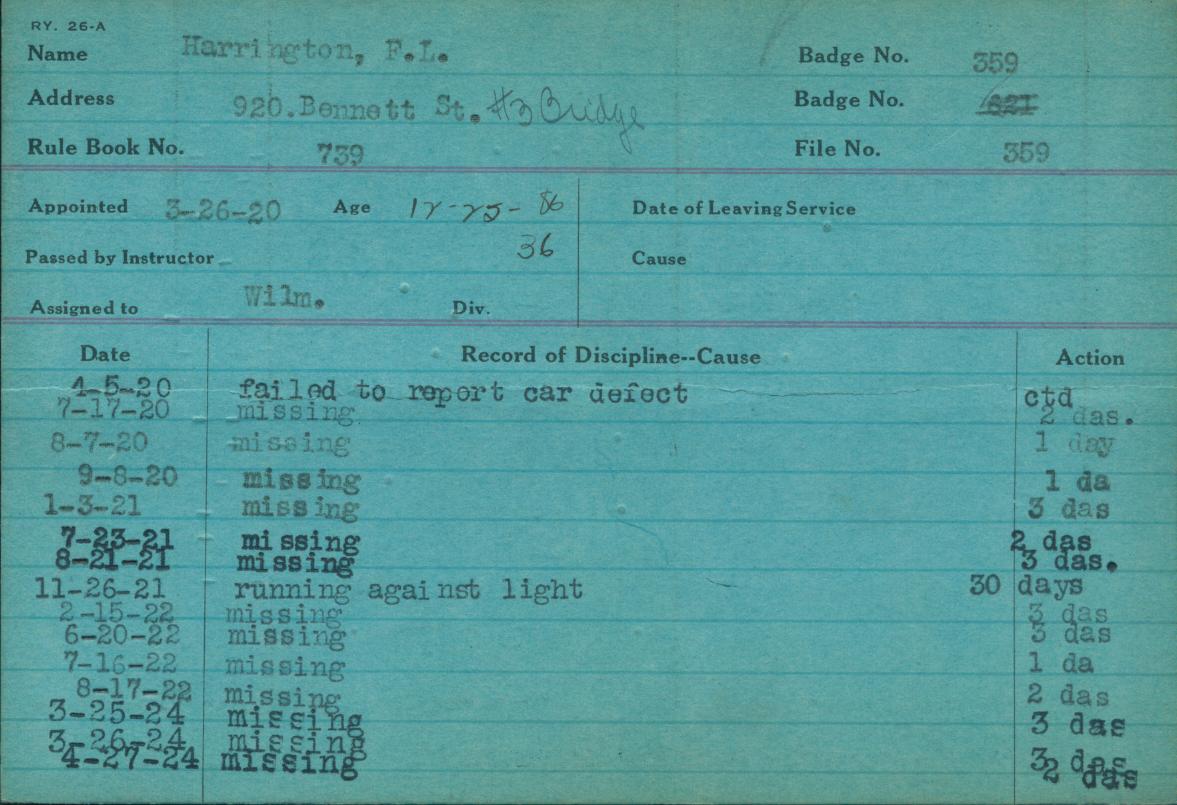 Harrington's discipline record, 1920s.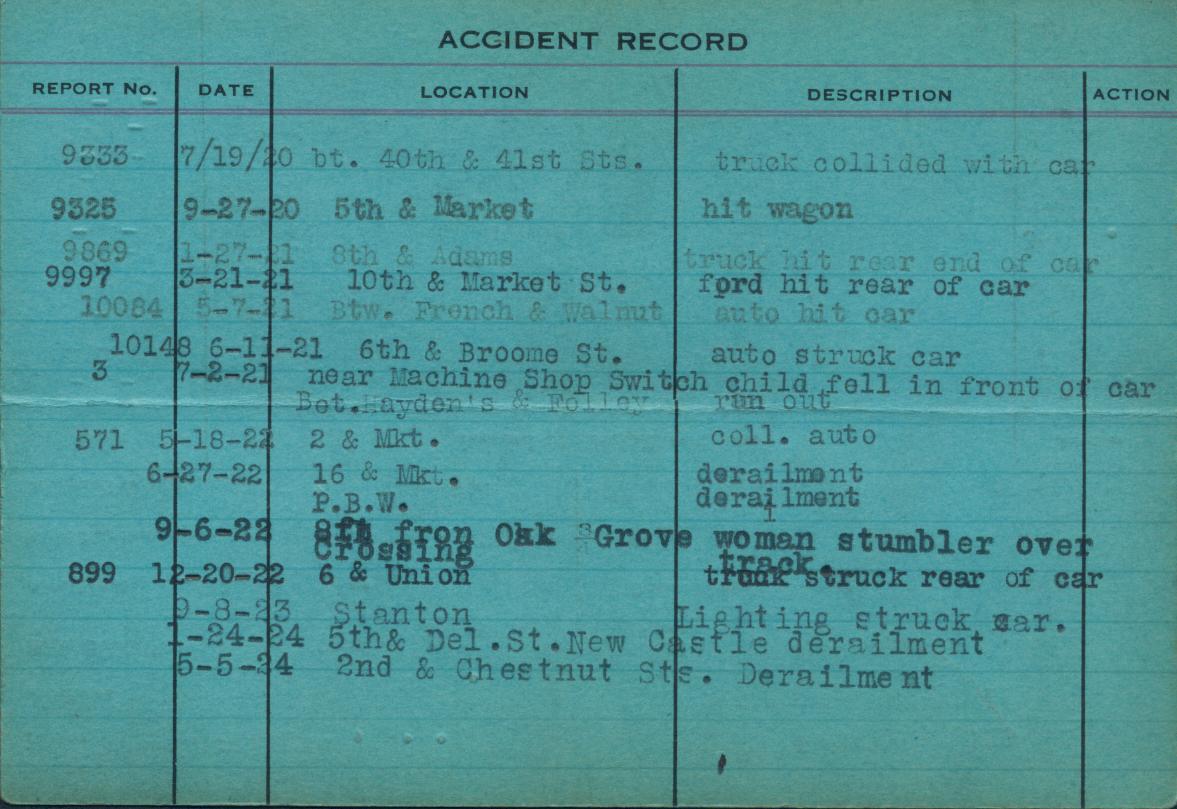 Harrington's accident record, 1920s.
Stories of workers and their personal lives are rarely heard. They can help paint a larger picture of how a company operated outside of their corporate offices and give insight into the lives of working class Americans. Harrington's story, as well as the story of hundreds of other streetcar operators and bus drivers may be found in this collection alongside the thousands of other documents that chronicle the rise and fall of public transit in Delaware and southeastern Pennsylvania. For more information on the collection, please contact askhagley@hagley.org.
---
Clayton Ruminski is the Archival Specialist in the Manuscript and Archives Department at Hagley Library.