Monday, February 22, 2016
As I write this, news about the Hagley acquisition of the Rothschild Patent Model Collection has just been announced to the public to great fanfare.  Inspired by E. I. du Pont's 1804 patent and those that followed, the museum began seeking patent models for the collection in the late 1950s.  In particular, nineteenth-century DuPont patent models are still sought after since none have ever been located.  
Hagley's collecting of patent models began in 1961 with the acquisition of E. Tunnicliff Fox's collection totaling around 800 models.  Fox, a New York insurance executive, purchased his collection from American Patent Models, Inc. which went bankrupt in 1940.  Some of his models had been on display at the 1939 New York World's Fair.
Instantly, both staff and visitors were captivated by these small one-of-a-kind nineteenth-century United States Patent Office models of inventions.  Over the years, after four large successful temporary exhibits and other acquisitions, the collection rose to 870 models. 
With my interest in patent models, it didn't take long to learn about the Rothschild Patent Model Collection in New York.   After visiting the collection, I could only dream about adding those models to Hagley's collection, and it finally happened!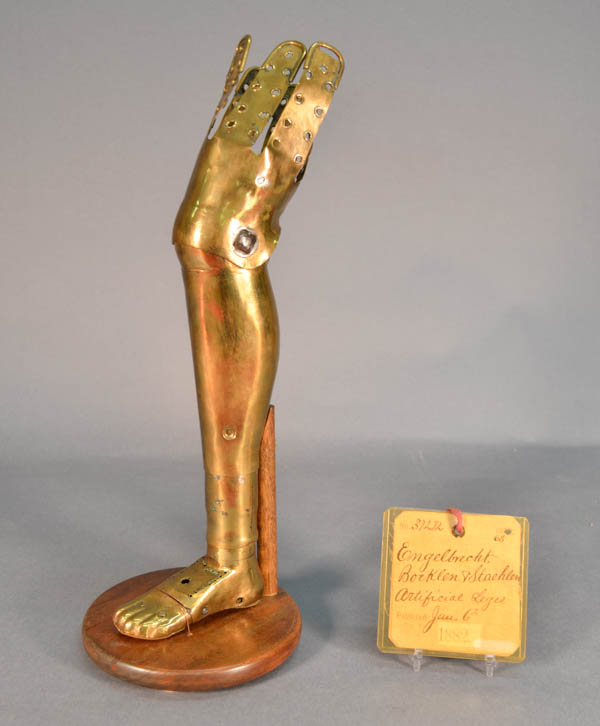 With the addition of this collection, the number of patent models in Hagley's collection now totals almost 5,000!  Its diversity is staggering.  For example, whereas we had one patent model of an artificial leg, we now have more than ten – all with different solutions to achieving a more natural prosthetic leg.
Image: Patent Model – Improvement in Artificial Legs. Patent #37,282; January 6, 1863. Patentees: Theodore Engelbrecht (NY, NY), Reinhold Boeklen & William Staehelm (Brooklyn, NY). Rothschild Patent Model Collection (2015.14.414a,b)
But there is much work to do to process the entire collection.  Caroline Western has been hired to photograph and catalog the collection over the next three years.  So far, since the collection was received, more than 100 models have been processed and entered into our Vernon Collection Management System.  Later this month when the museum collection goes online, patent models will be prominently featured.
---
Here's a look at the large collection of boxes that are waiting to be unpacked:
---
Many people have come up to me and said that it looked like we have an enormous amount of work to do in the coming years.  My response has been that it simply can't be considered to be work if it is so much fun!
Although it will take time for the museum curatorial staff to gain intellectual control over the whole collection, we are able to answer questions about it.  If you would like more information, please contact me at dhughes@hagley.org or by phone at (302) 658-2400.
Debra Hughes is the Museum Curator of Collections and Exhibits at Hagley.