Wednesday, March 16, 2022
In preparation for an upcoming refresh of Hagley's car exhibit, the museum's curatorial team has been digging deeper into the history of the cars in the collection. One car in particular, the 1928 DuPont Motors Phaeton, sent us down a deep research rabbit hole that we only recently emerged.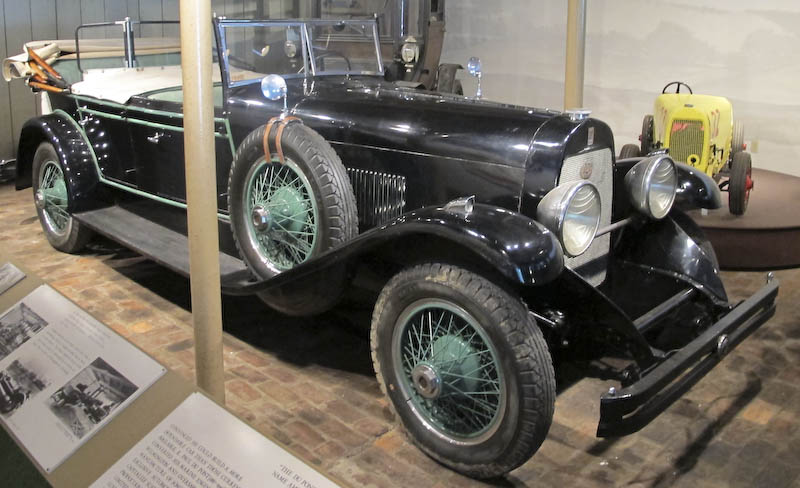 DuPont Motors was founded by E. Paul du Pont in 1919 to manufacture high-end automobiles in Wilmington, Delaware. Instead of utilizing a production line, DuPont Motors hand-built each of their automobiles; a fact that they took great pride in. Their cars were produced with such care and high-quality materials that DuPont Motors only produced a total of 547 automobiles during its 12 years of operation.
The first DuPont Motors car, the Model A, was introduced to a high-profile public audience at the 1919 International Salon at the Commodore Hotel in New York City. DuPont Motors would eventually create eight models total – Model A through Model H – with various bodies available, including phaetons, sedans, roadsters, coupes, and convertibles. 
Hagley's DuPont Motors, Inc. car is a 1928 Model G Phaeton. It was the first Model G to be produced and was manufactured for E. Paul du Pont himself. E. Paul used the car as his personal vehicle but also used the Model G to test new parts that he was thinking of using for later models. Each DuPont Motors automobile came with a build sheet, which included specs, paint colors, and the owner's information.
This is part of the build sheet (below) for Hagley's Model G. Notice anything strange? This says that at the time of manufacture, the car was not painted black as it is today, but "Sea Fog Grey", "Vendome Grey", and "Cape Smoke".  These names refer to specific DuPont Duco paint colors. But what did these colors look like?
The search was on. Cape Smoke was relatively easy to find. However, we only have this digital version to go off of. And we knew that Vendome Grey was a purple-ish grey due to an oral history about E. Paul and the car. But we haven't been able to find a reference or a sample of the Vendome Grey color anywhere!

With Sea Fog Grey – we hit the jackpot! Collections Manager Sarah Snyder tracked down a sample for sale on eBay, and we purchased it for the museum's collection. To say we were excited is an understatement!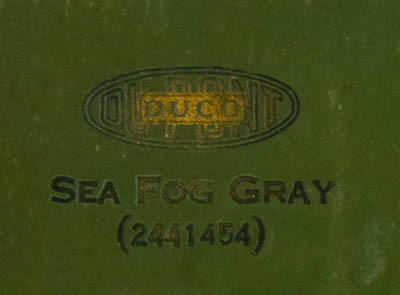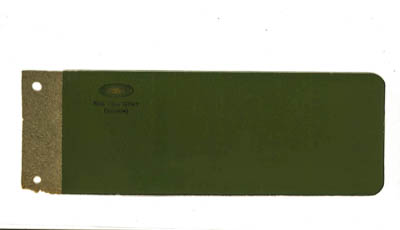 As you can gather, the original paint on this car was, essentially, purple and green. It must have been quite a sight! Rumor has it that E. Paul received so much flack for the original color choices that he decided to paint it black just a few months later.
We are still on the search for Vendome Grey. In the meantime, be on the lookout for more interesting tidbits of DuPont Motors history, as well as some more background on the other transportation-related objects in our collection, such as our 1912 Detroit Electric Automobile. There are some exciting things coming down the road here at Hagley.
---
Caroline Western is the Museum's Curator of Collections​ at Hagley Museum and Library.