As I go about unpacking and cataloging the Rothschild Patent Model Collection, I get excited when I recognize a familiar name or place.  The patent models in the collection represent inventors from all over the United States – even the world. However, just last week I unpacked a model from Hagley's very own backyard!
Henry C. Keyes and James L. Smith were granted a patent on June 24, 1879 for an Improvement in Indicators for Trains. Keyes is listed as being from Philadelphia, but Smith is from Wilmington, Delaware! The duo describe their invention as:
"…a series of rotating slats pivoted to a suitable frame, and provided with toothed wheels, said frame having a groove, into which the wheels project. The slats have painted or otherwise marked upon them the names of stations of a railroad and other information, whereby the names of stations at which the next train is to stop, specialties of the train, or the names of stations of an expected arriving train are readily indicated and announced. The faces of the slats are changeable, according to circumstances, without the slats disturbing or being disturbed by each other, and the groove of the frame permits the application of, and serves to guide, a wand or stick, whereby the slats may be readily rotated"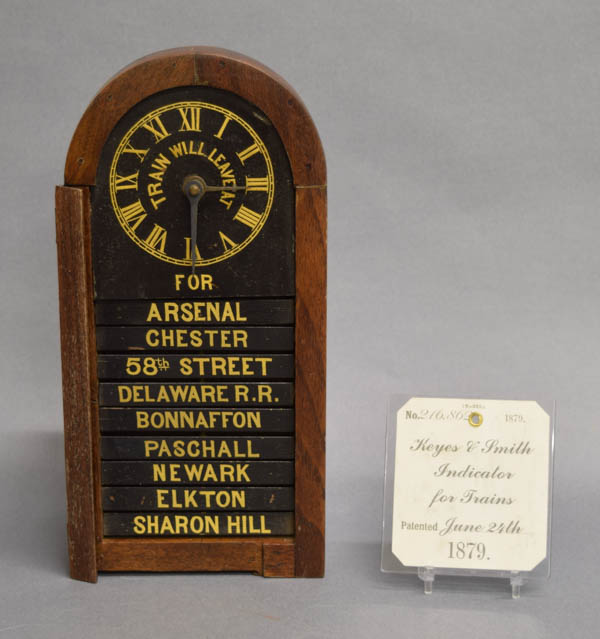 2015.14.2918a,b; Patent Model – Improvement in Indicators for Trains, Patent No. 216,862.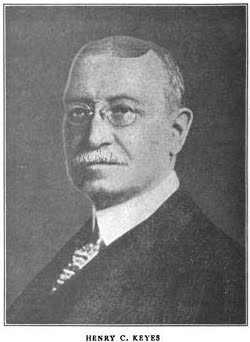 Unfortunately, little to no information is available online about James L. Smith. However, we do know that in 1870 Henry C. Keyes began work in Philadelphia as the Chief of Telegraph Operators for the Philadelphia, Wilmington and Baltimore Railroad (PW&B) (See his earlier Patent No. 166,616, Improvement in Electric Train-Telegraphs). In 1881, Keyes moved on to become the Chief Clerk of the Philadelphia, Baltimore and Washington Railroad at Wilmington. It is possible that Keyes and Smith met professionally before embarking on their patent together.
Delaware's railroads were incredibly important to the economies of Wilmington, New Castle County, and eventually Kent and Sussex counties. Wilmington, because of its central location, became home to big name manufactories pertaining to the railroad industry, such as Diamond State Iron. Keyes and Smith's patent is exemplary evidence of the railroad industry in Delaware and the surrounding areas. The place names on the model only begin to demonstrate the area in and around Wilmington covered by railway lines in the late 1800s.
For more information on Delaware's Railroads check out this DelDOT publication.
---
Caroline Western is the Special Projects Cataloger at Hagley Museum and Library.