Monday, February 20, 2017
In 2013, through a generous donation, a treasure trove of industrial design ideas and sketches from Lunt Silversmiths arrived at Hagley Museum and Library. Lunt Silversmiths was incorporated in Greenfield, Massachusetts in 1901. Their clientele ranged from high-end retail stores such as Tiffany & Co. and Neiman-Marcus to the United States government.
The collection includes hundreds of sketches and final drawings for silverware patterns, coffee and tea sets, personal vanity sets, children's wares, ecclesiastical, and specialty items. Stamped blanks and molds of forks, spoons and knives add a 3-dimensional component to this archive.
The origins of Lunt Silversmiths can be traced back to the middle of the nineteenth century. Anthony Francis Towle was a designer and silver engraver in Massachusetts who, along with William P. Jones, took ownership of a silversmith company in 1857 forming Towle & Jones.
Edward B. Towle, Anthony's son, joined the business in 1873 and the name was changed to A. F. Towle & Son. During the economic downturn of 1893 the company went bankrupt. In 1902 the defunct company's assets were purchased by former Towle employees and associates George C. Lunt, George E. Rogers and William C. Bowlen.
All three founders of the newly minted Rogers, Lunt, and Bowlen Company hailed from New England. George C. Lunt (1864-1952) began as an engraver with N&T Foster Jewelers. In 1882, he joined A. F. Towle & Son. George E. Roger (1849-1915) began his career with the Langdon Mitre Box Company, a firm owned by his father. In 1890, he helped raise $10,000 to build a new factory for the business, and ensured its move to Greenfield, Massachusetts. William Caldwell Bowlen (1868-1934) was born in Newburyport, Massachusetts and began working for Anthony Towle in 1892. Bowlen was a skilled etcher and talented artist whose works are still prized at today's auction houses. After the formation of Rogers, Lunt and Bowlen Company, Bowlen became the company's vice-president and supervisor of manufacturing until retiring in 1929.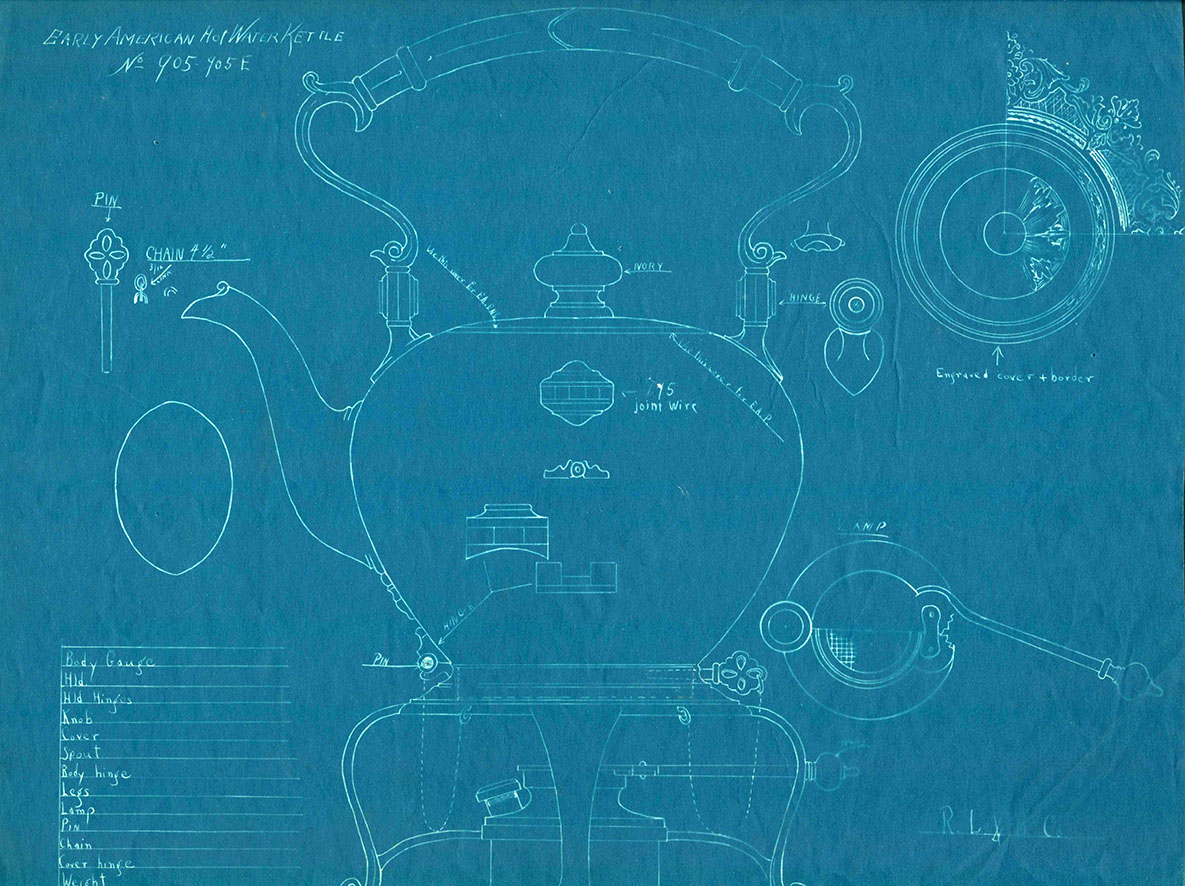 In 1935, with a worldwide reputation for producing high quality silverware, the Rogers, Lunt and Bowlen Company changed its name to Lunt Silversmiths. After the Second World War, tea and coffee sets, ecclesiastic pieces, and giftware designs complemented the company's well-known silverware patterns. In 1999, Chef, cookbook author and artist, Jacques Pepin entered into a multiyear licensing agreement with Lunt to produce a line of kitchen tools and tableware.
Lunt Silversmiths remained in the Lunt family until 2009 when the name and inventory was sold to a competitor: Reed & Barton. In early 2010 Lunt filed for bankruptcy protection, with all remaining manufacturing and inventory assets at the factory in Greenfield, Massachusetts sold at auction.
The collection is open for research. The finding aid can be found here.
Further questions? Please contact askhagley@hagley.org.