Jell-O.  It's me.
It's summer time!  Burgers on the grill, potato salad, corn on the cob, and Jell-O salad!  At least that's the way it was in my family growing up in the 1960s!  Any summer occasion featured a beautiful lime Jell-O mold with cottage cheese, grated carrots and canned pineapple!
I was reminded of this culinary treat recently when I attended a lunch hosted by the "Ladies Auxiliary" of a Volunteer Fire Department, and discovered Jell-O salad similar to the one my mother made!
I checked Hagley's online catalog to see if we had any trade catalogs of Jell-O recipes. In fact, I found that we had several of them!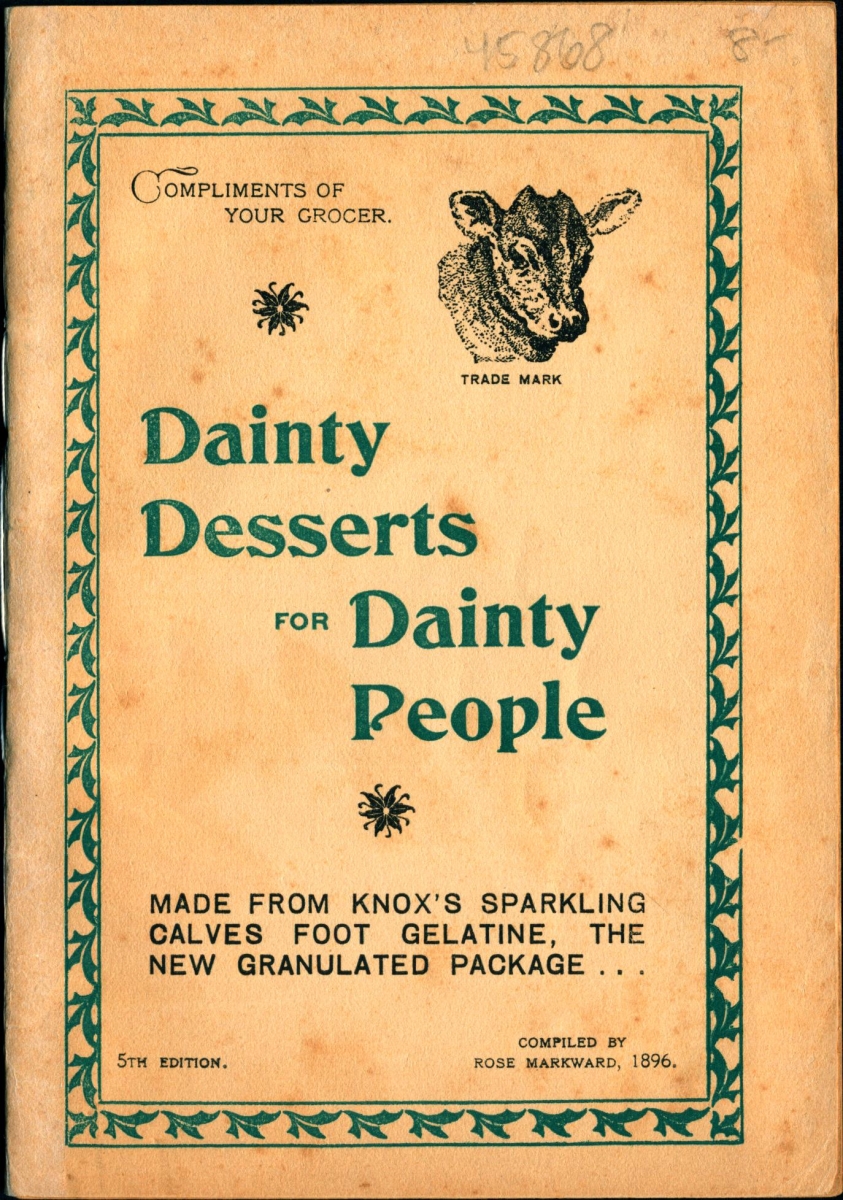 Gelatin consists of partially hydrolyzed collagen, a protein found in animal tissues such as bone and skin. Before gelatin became widely available as a commercial product, the most typical gelatin dessert was called "calf's foot jelly".
In 1894, Charles Knox developed the world's first pre-granulated gelatin. Knox packaged dried sheets of gelatin and then hired salesmen to travel door-to-door to show women how to add liquid to the sheets and use it to make aspics, molds, and desserts.
Dainty Desserts for Dainty People, Made from Knox's Sparkling Calves Foot Gelatine. Johnstown, N.Y. : Charles B. Knox, 1896. 
Click on the image to see the recipes!
In 1895, Pearl B. Wait, a cough-syrup manufacturer, and his wife, experimented with adding fruit syrups to gelatin, and called the product Jell-O.  
In 1899, Orator Francis Woodward, purchased the Jell-O name and the business for $450. By 1902, Woodward launched the advertising campaign, "America's Most Favorite Dessert."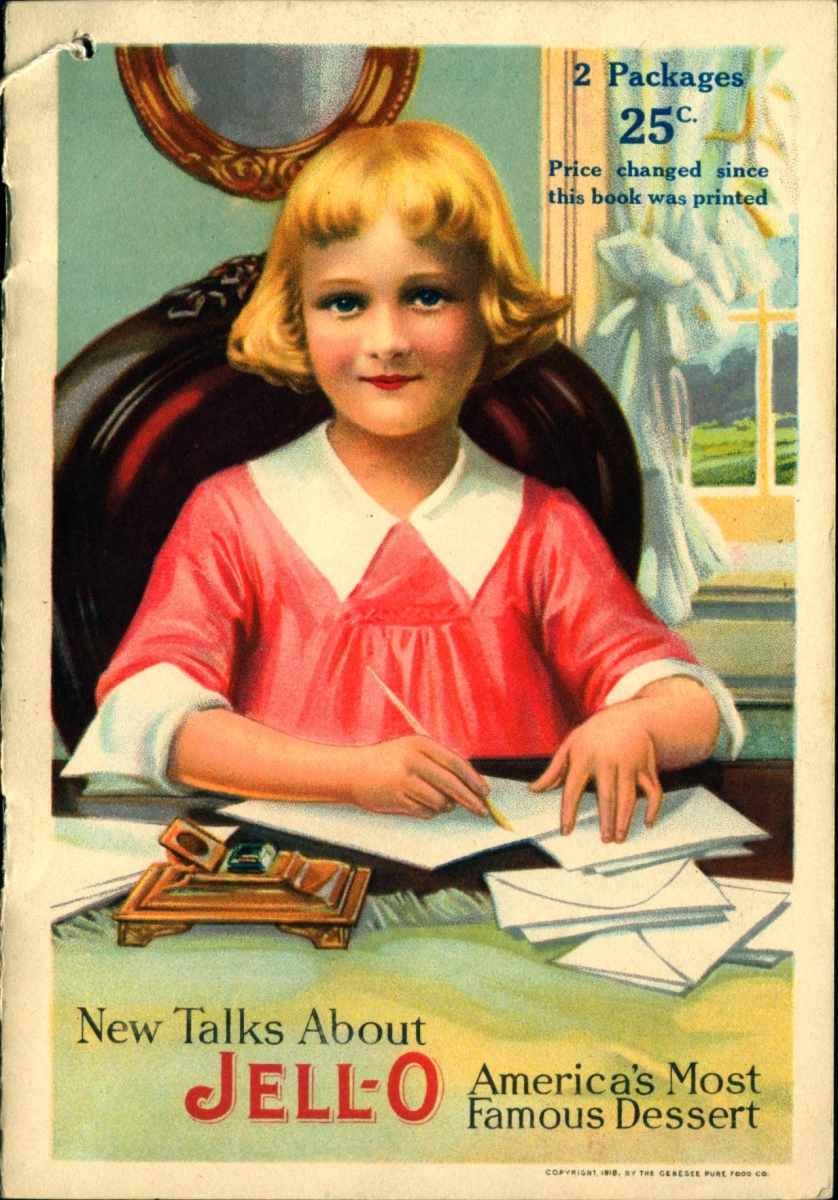 As billboards and magazines featured ads with that slogan, and booklets filled with Jell-O recipes were distributed around the country, Jell-O sales began to soar. 
A booth at the 1904 St. Louis World's Fair helped make Knox gelatin a household name. In 1905, Mrs. John Cooke of New Castle, Pennsylvania, won third prize, a $100 sewing machine, in a contest sponsored by Knox. She called her concoction "Perfection Salad," a molded aspic filled with finely chopped cabbage, celery, and red pepper. Mrs. Cooke's victory apparently "unleashed a demand for congealed salads."   
New talks about Jell-O : America's most famous dessert. Le Roy, N.Y. : Genesee Pure Food Co., c1918.
Jell-O salad (also called gelatin salad, jelly salad, congealed salad, or molded salad) is a food product made with flavored gelatin, fruit, and sometimes vegetables, such as shredded carrots, or even savory ingredients such as mayonnaise or shrimp!
Woodward's Genesee Pure Food Company was renamed Jell-O Company in 1923, and in 1925 merged with Postum Cereal, Inc, eventually becoming General Foods Corporation. Today Jell-O is owned and manufactured by Kraft Foods.
If you love Jell-O, and you want some vintage inspiration for your summer picnics, click on the images to see the recipe booklets in Hagley's collection.
Quick, easy Jell-O wonder dishes: entrees, relishes, salads, desserts. Le Roy, N.Y.: General Foods Corporation, c1930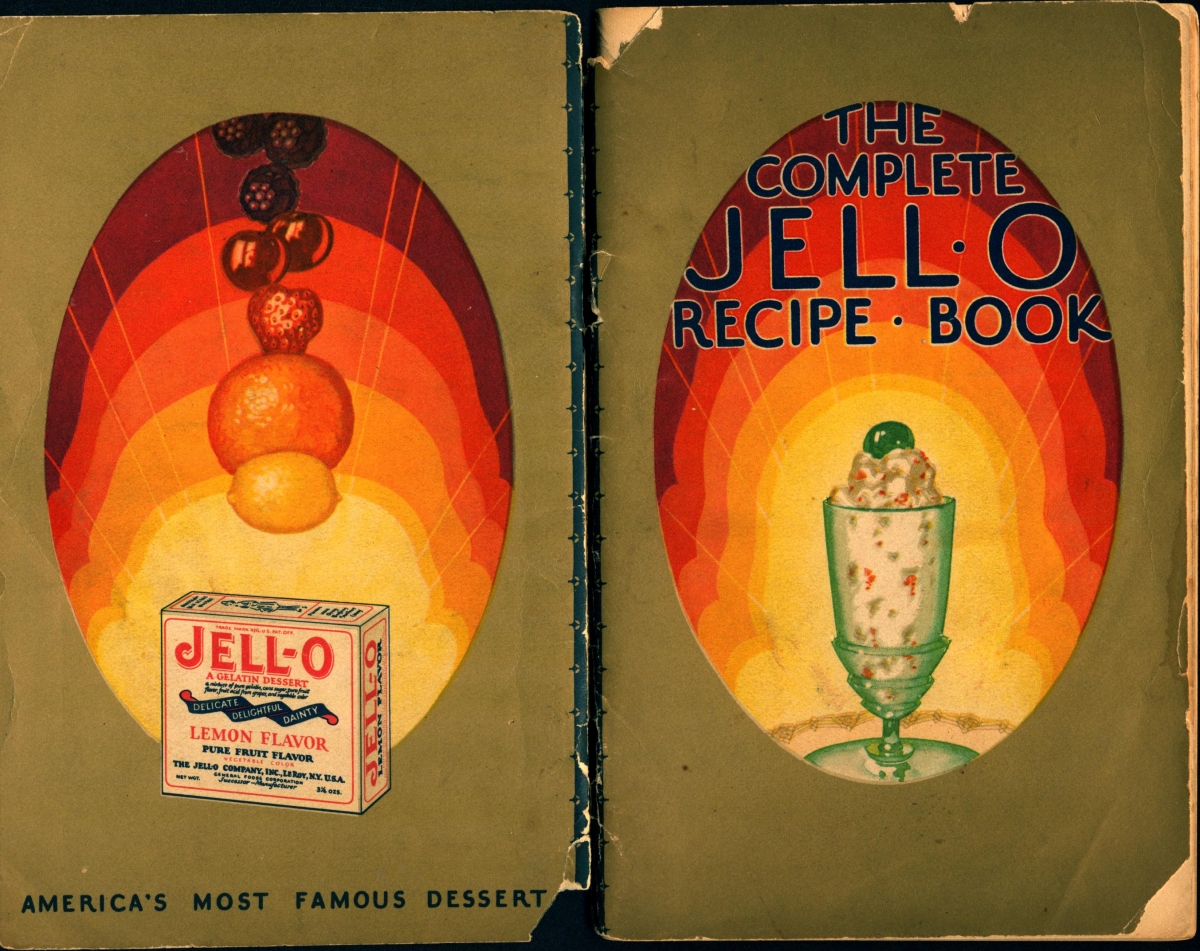 The complete Jell-O recipe book.  Le Roy, N.Y.: The Jell-O Company, 1929.
Linda Gross is the Reference Librarian, Published Collections Department, at Hagley.