A recent visit with relatives in North Carolina took me to the village of Pinehurst, a National Historic Landmark well-known to golf enthusiasts. Originally envisioned as a spa, it was actually built in 1895 as a resort where people from the north could pursue outdoor sports during the extended temperate seasons of the southern sand hills. James Walker Tufts (1835-1902) of Boston purchased 5,000 acres of land and engaged the landscape architecture firm of Frederick Law Olmsted to plan the town. He later hired Donald Ross to design its signature golf course. Exhibits at the Givens Memorial Library informed me that Tufts made his fortune through the patenting and manufacture of soda fountain equipment and silver plate ware. A brief viewing of artifacts in the Tufts Archives made me yearn to learn more about the business through which its namesake prospered. A search of the Hagley online catalog with the subject heading "soda fountains" yielded a variety of unique resources which assisted in satisfying my thirst and trace the development of this facet of the beverage industry.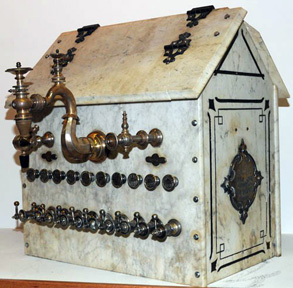 During the eighteenth-century in England and Europe, a variety of mineral waters had been synthesized and marketed for medicinal use. By the early nineteenth century Americans had acquired a taste for carbonated water, also known as seltzer or soda water (Riley 1958). Sixteen-year-old James Tufts became an apprentice to an apothecary in Charlestown, Massachusetts during a time when soda fountains had become "a focus of attention, sitting like ornate jewels on drugstore counters and dispensing as many as fifty flavors, including celery, crabapple, rose and pistachio." (Gale and Gale, 15) Tufts opened his own pharmacy in Somerville and eventually built a chain of drug stores in Massachusetts. After he invented and patented the Arctic soda fountain in 1863, his business flourished through trade catalogs marketing a line of fountains and related equipment such as syrup, recipes, silver-plated serving pieces, and dish washers. He became the first president of the American Soda Fountain Company through a merger in 1891.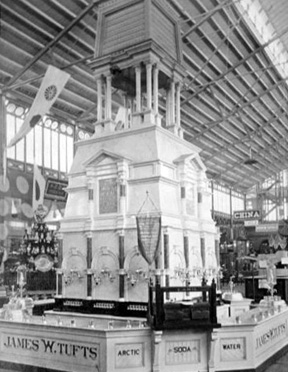 One invaluable means of promoting the soda fountain proved to be the 1876 Centennial Exhibition held in Philadelphia. Tufts bought the rights for serving soda water at the fair and as the summer temperatures soared, so did demand for refreshment. Upon their return, satisfied customers encouraged drug store owners in their home towns to install soda fountains, and this led to increased sales for Tufts. Shown here are one example of a popular counter-top model, and the grandest of the fountains in service at the Centennial. Thirty-three feet tall, the gleaming white marble structure created an imposing presence in the main exhibit hall and may be viewed in this context via the Hagley Digital Archives.
Alice Hanes is the Technical Services Librarian at Hagley Library.