Jane Austen's Emma, first published in the United States over 200 years ago, remains a beloved classic to this day. It was this novel that brought me to Hagley in a quest to uncover how nineteenth-century Americans read and understood Austen's work.
My search began by tracking down copies of a rare edition of Emma, printed in two volumes in 1816 by Matthew Carey, a Philadelphia publisher and the leading American printer of the day. Only four copies were known to Austen bibliographer David Gilson, but my research turned up two others: one at Dartmouth, and the other at at the Winterthur Library once owned by E. I. du Pont.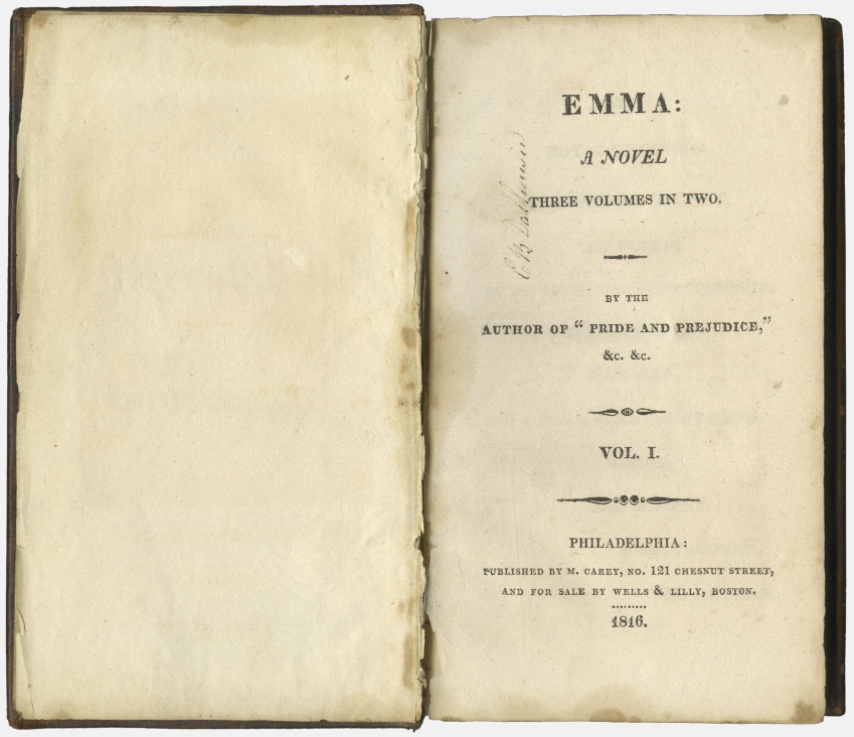 What was E. I. du Pont doing with a copy of the only Austen novel published in the United States during the author's lifetime? 
Did he or anyone else in his family read it, and, if so, what did they think? The copy itself holds no obvious clues. It bears no annotations, aside from E. I.'s signatures on the title pages of both volumes and the name "Du Pont" written on the facing flyleaf.
While there are a couple of features distinguishing this copy from others—a three-cent U.S. postage stamp adhered to a page and a 24-page catalogue of Carey's publications from October 1816 bound into the back—there is little to suggest how or even if any du Pont read this copy of Emma.
To learn more, I visited Hagley's rare book collection to examine other novels from the period bearing du Pont family signatures. I found the name of "V. E. Bauduy" (E. I.'s eldest daughter Victorine du Pont Bauduy), and a dedication from "Sophie" to "Victorine E. Foster," dated 1878 (that is, from E. I.'s youngest daughter to one of her nieces), in some of these books.
Did the absence of these marks of ownership in the copy of Emma suggest that the du Pont sisters did not care for it?
It was beginning to seem that way. Max Moeller, Hagley's curator of Published Collections, pointed me to an unpublished article by Ewald Rink on the du Pont book collection. Via one of Rink's references, I found a 1976 master's thesis by Jacqueline Hinsley on the reading tastes of E. I.'s daughters. With Betty-Bright Low, Hinsley co-authored a book of Sophie's caricature drawings and private writings, which established the cultural context in which the sisters read.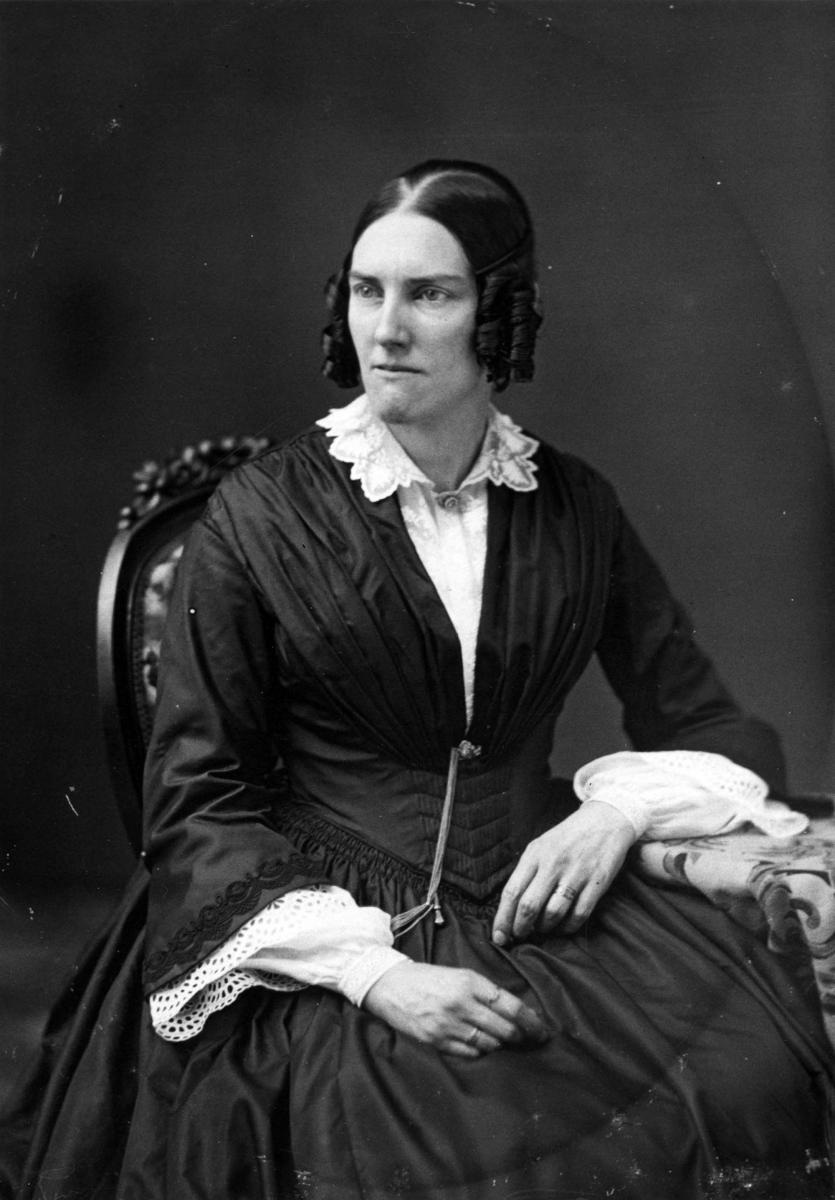 Did any du Pont read Emma? Apparently, alas, no. While Victorine did read Austen's Mansfield Park later in her life, according to an 1857 list of titles she compiled, there is no evidence to suggest that this edition of Emma was a beloved novel for the du Ponts. Nonetheless, the fact that only six copies of this edition survive means that the book was valuable enough to them to retain, even if it sat on the shelf.
To learn more about Emma and its bicentennial, and to browse a digital copy of the 1816 Carey edition held at Goucher College, visit http://www.emmainamerica.org/.
---
Juliette Wells is associate professor of English at Goucher College in Baltimore.  She is the author of Everybody's Jane: Austen in the Popular Imagination and Reading Austen in America.