Thursday, December 10, 2015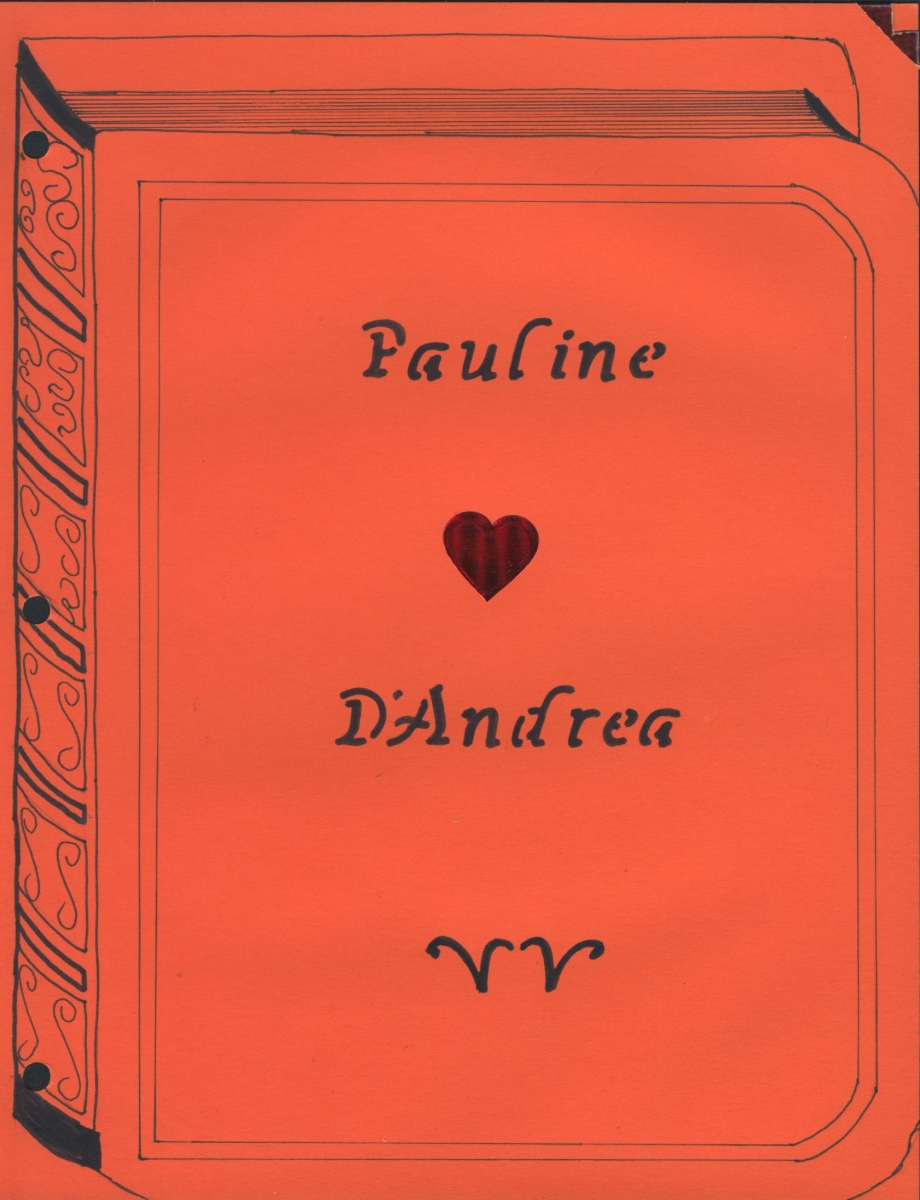 There are many different methods for researchers to learn about work. Along with the usual methods of combing through internal correspondence, company newsletters, and employee files there are less conventional sources from which we can glean this information. One such case can be found in the David Sarnoff Library collection in the form of an assembly worker's retirement scrapbook.
After subject cataloguing boxes of technical reports on radar, printed wiring boards, linear integrated circuits, tactical communications, and signal processing I was given the task to process a one folder collection containing a unique item. Upon opening the folder and examining the materials inside it was simple to determine that this was a scrapbook created upon a RCA employee's retirement. As I turned the pages of this hand-made gift, I found myself laughing at some of the one-of-a-kind messages left inside and intrigued by the fashions of the times. But the more time I spent looking through this scrapbook I began to think about what could be learned from this rich and distinct object and how researchers could use it to learn more about RCA.
Made for Pauline D'Andrea upon her retirement from RCA Solid State Division in Bridgewater, New Jersey, where she worked there for almost twenty-five years, this scrapbook can tell us not only about the work community at RCA, but also about the tools that were used and the procedures that were followed. Although we are unsure of the person, or people, who put together this scrapbook for D'Andrea it can be assumed that it was done by a friend, colleague, or family member. The scrapbook includes notes from friends, family members, and co-workers along with the guest list for her retirement party. Also included is the menu from the party with each course having a job-related title such as "stabilized sirloin steak" and "epoxy baked halibut." The scrapbook also contains photographs of D'Andrea performing her work and enjoying a holiday party at the Somerville plant in 1970. Studied together with the other images of D'Andrea and her colleagues, observations can be made about the popular fashions of the time and the gender make-up of certain divisions within RCA.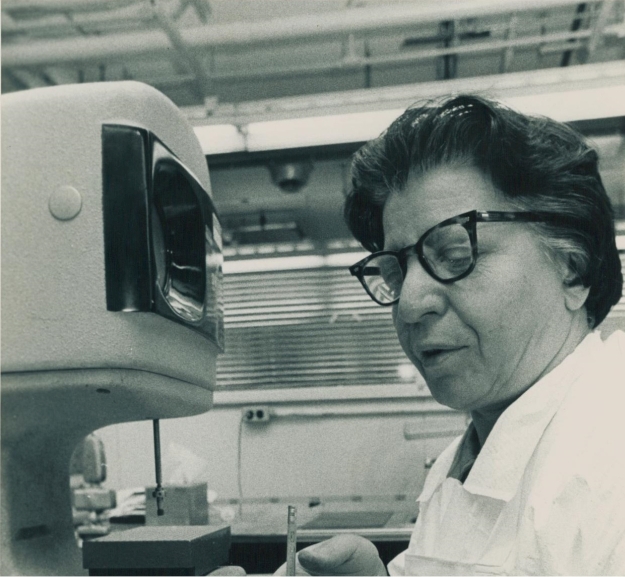 Pauline D'Andrea at work at RCA Solid State Division in Bridgewater, New Jersey.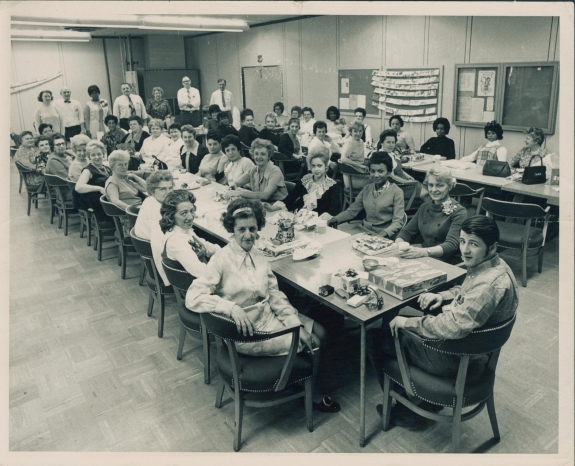 Photograph from a holiday gathering at RCA Somerville circa 1970. D'Andrea can be seen towards the back of the table on the left. 
What I find most interesting in the scrapbook is the section in which D'Andrea's working tools wish her a happy retirement. With puns and object-related jokes, her tools are personified surely bringing laughs to those attending the retirement party and reading the scrapbook. D'Andrea's wrist strap states that she was closer to her than anyone else at RCA and wishes her the best of luck. The bond pods say that they will miss her "tender touch." Her time sheet and project card let her know that they will miss her. This section of personified tools wishing D'Andrea good luck in her retirement is not only a memento of her time at RCA, but is also an object that offers a glimpse into the work and procedures at the plant.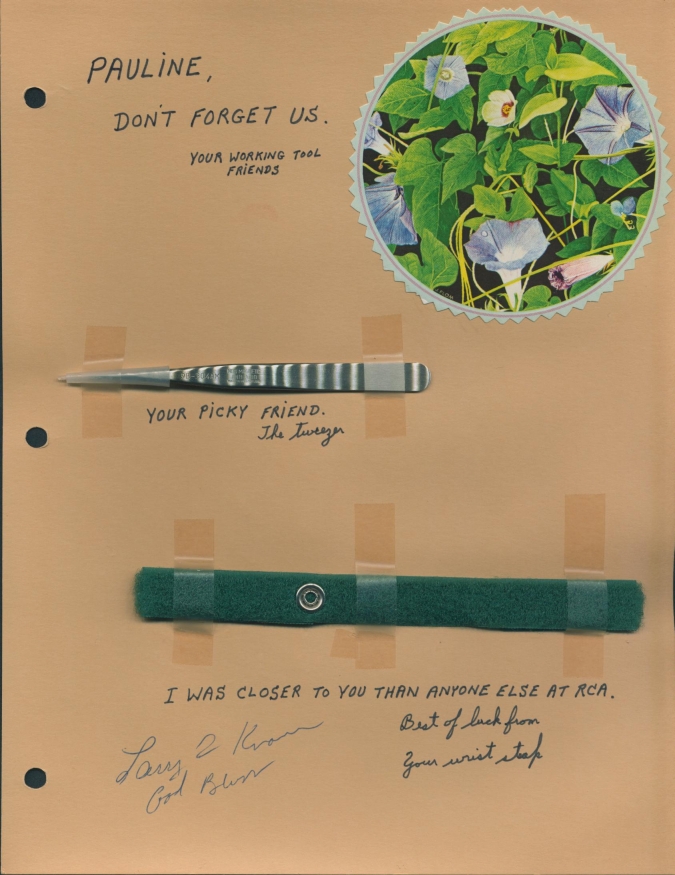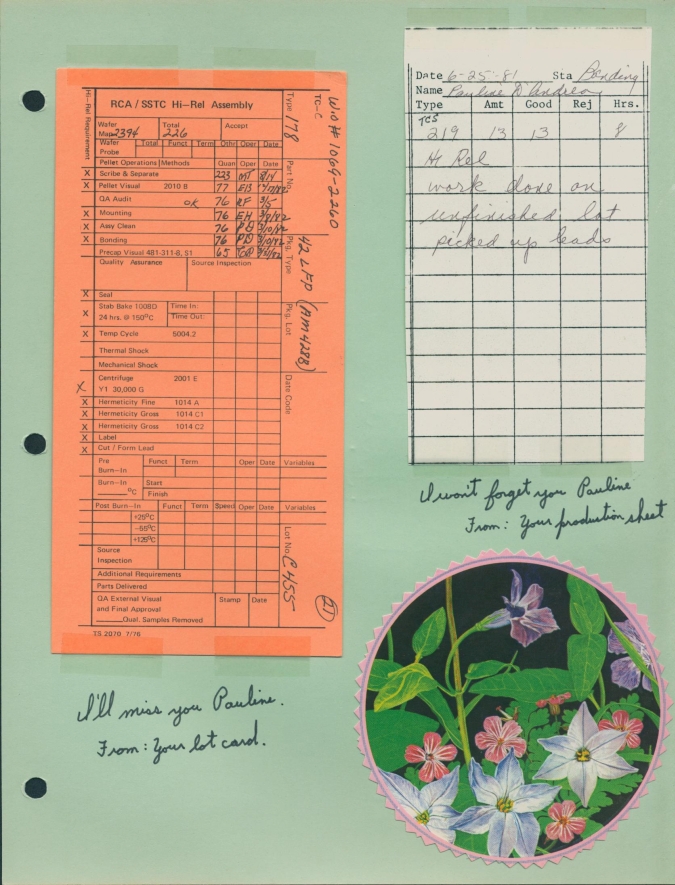 By examining these pages alongside other historical sources on assembly workers at RCA much can be learned about their daily procedures and tasks. Upon further inspection of one of D'Andrea's lot cards and production sheets, researchers can learn the different jobs involved in Hi-Reliability Assembly such as mounting, bonding, and separating as well as the time it took to complete certain tasks. The procedural documents within the scrapbook can also give us some insight into the organization and actual practices followed within RCA divisions. Although various administrative and technical books present information on best practices and how records should be kept, by examining completed forms actual procedures can be examined. Finally, the photographs of D'Andrea and her colleagues working (below) along with the physical working tools within the scrapbook can present researchers with information on the work environment and equipment used by assembly workers at RCA Solid State Division.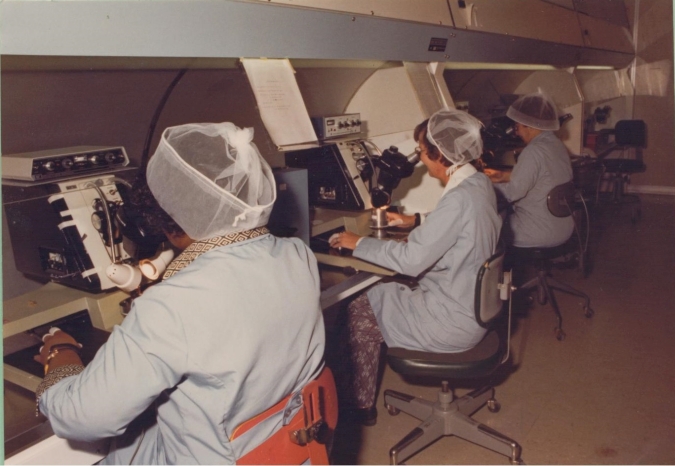 D'Andrea's retirement scrapbook is a unique item for another reason. This scrapbook is one of the few items in this collection for an RCA employee that is a female hourly-paid assembly worker. Although the collection contains other scrapbooks, those commemorating male researchers or scientists, this one provides a different perspective of working at RCA. Pauline D'Andrea's retirement scrapbook on its own can't tell us everything about the procedures, duties, and conditions of working at RCA but in conjunction with other sources it offers a unique look into the community, tools, procedures, and relationships within RCA Solid State Division in Bridgewater, New Jersey. By examining a memento given upon retirement, interesting information can be learned about work.
Ashley Giordano is the 2015-2016 David Sarnoff Library collection processing intern in Manuscripts and Archives. Ashley has a B.A. in history from Saginaw Valley State University and is currently a M.A. student and Hagley fellow in the History Department at the University of Delaware.