David Sarnoff's service in the U.S. Army Signal Corps, particularly during the Second World War, is documented in a blog post I wrote last year, but only after becoming better acquainted with all of the materials that make up the David Sarnoff Library collection, did I discover that in later years he also played an important role helping the United States fight the Cold War. Here and there, among the many images of Sarnoff attending swanky award ceremonies or receiving honorary degrees, I found photographs of him visiting military bases, meeting with high government officials, or engaged in patriotic activities. A good example of this is a 1950 photo of Sarnoff attending a Radio Free Europe event in Germany.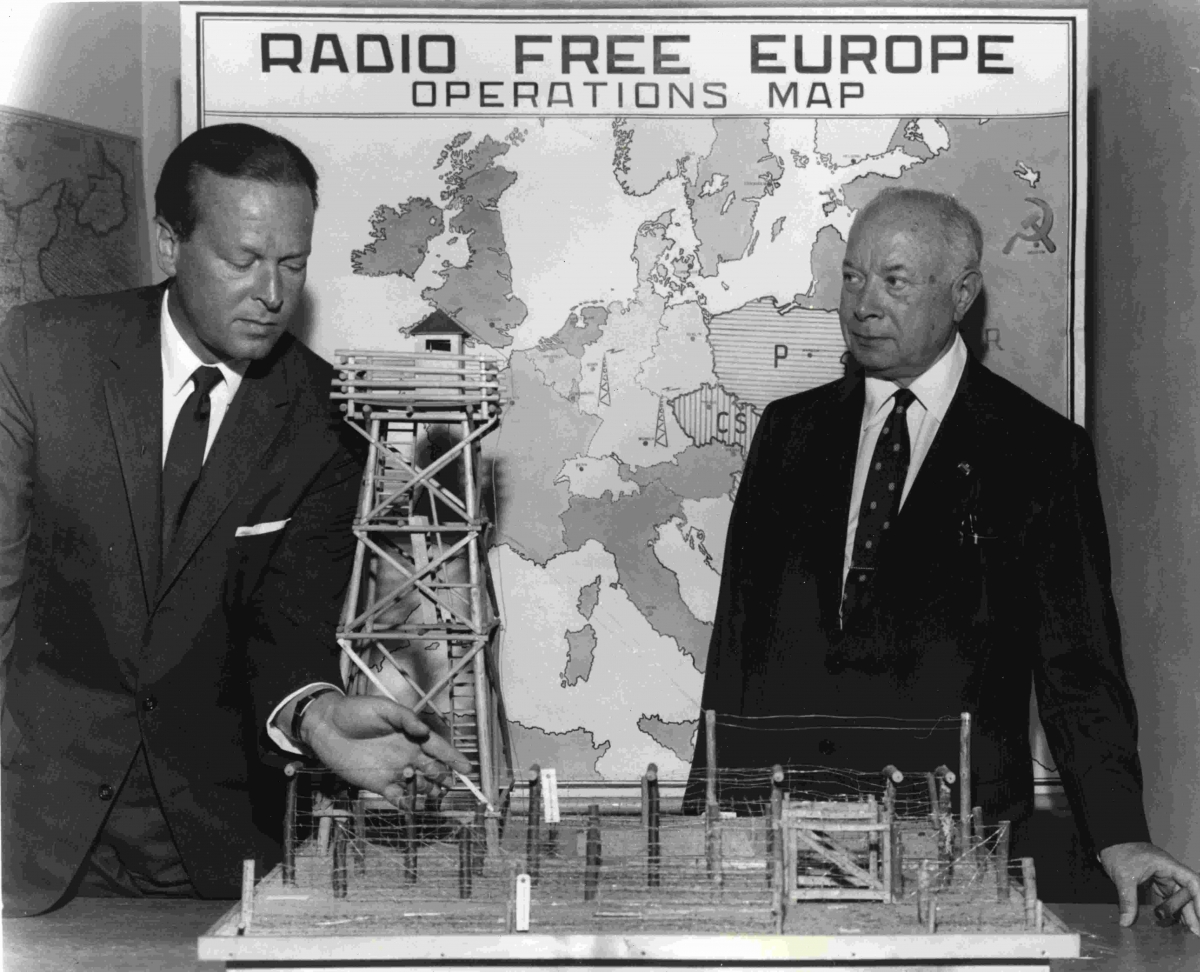 David Sarnoff is briefed on Radio Free Europe operations by Erik Hazelhoff, on August 7, 1950. Munich, Germany.
RCA issued a press release to go with this photograph, which read in part:
"General Sarnoff has supported and participated personally in both Voice of America and Radio Free Europe activities for many years, and is a Corporate Member and former Chairman of the Greater New York Committee of Crusade for Freedom, RFE's fund-raising organization. He holds a Citation from the United Nations for his support of Freedom to Listen and Freedom to Look as fundamental expressions of Freedom of Information."
David Sarnoff was involved with a variety of patriotic causes connected to fighting the Cold War, but his continued association with the U.S. Army's Signal Corps is particularly well represented in Hagley's collection. Discovered in a photo album that mostly documents Sarnoff's military career prior to and including the Second World War, are a handful of photographs from the 1950s. One example of these is a photograph titled, "Meeting in office of Chief Signal Officer, Washington, D.C., August 2, 1950."
Sarnoff, seated and second from the right, attending a meeting at the office of the Chief Signal Officer.
The agenda for the meeting isn't described, but Sarnoff was still serving in the reserves in 1950 and perhaps the other men wearing civilian clothing are veterans as well. The same album contains a letter from the Army Chief of Staff, dated May 24, 1951, that thanks Sarnoff for his service and congratulates him on becoming a member of the "Honorary Reserve." It's noteworthy that Sarnoff continues to voluntarily serve his country in a variety of capacities, despite no longer having any obligation to do so. One example of this can be seen in a photo album presented to General Sarnoff by the "officers and men of the 160th Signal Group, Seventh U.S. Army."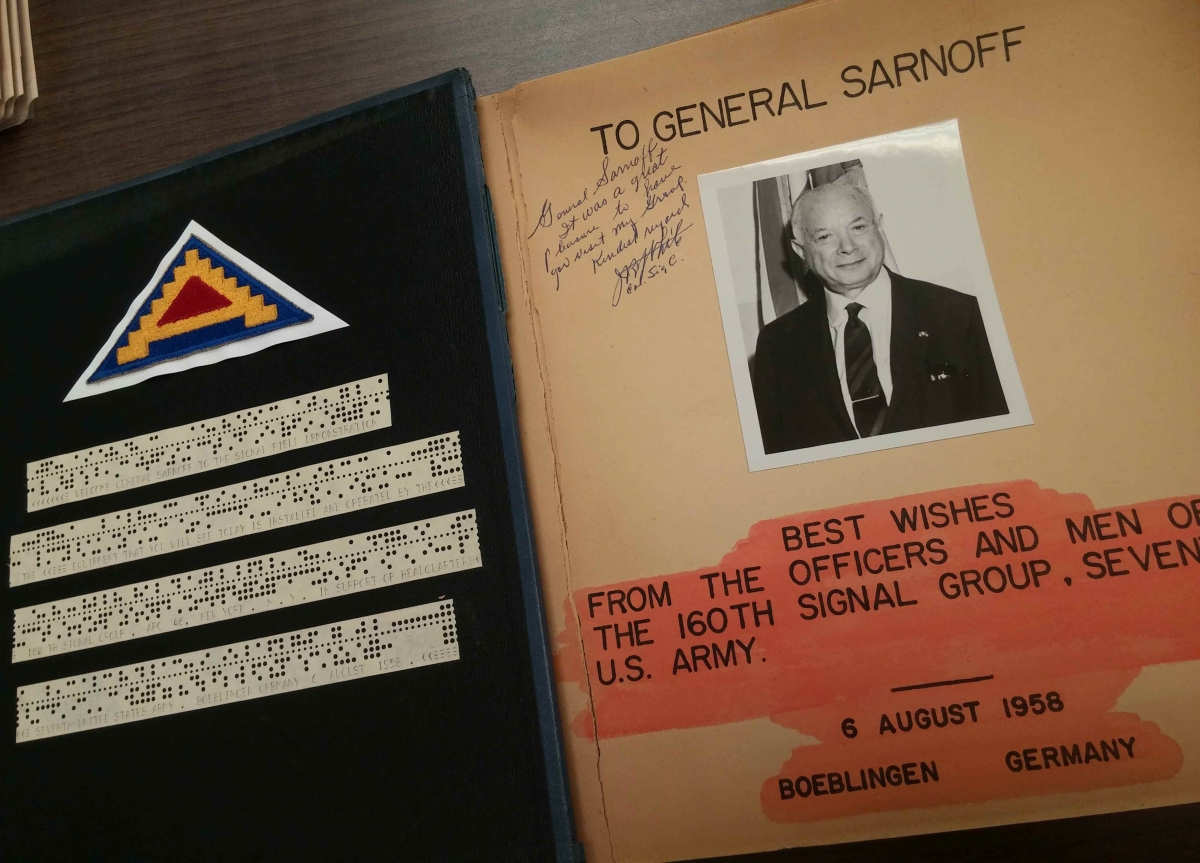 Seen here is the inside cover of the album presented to Sarnoff
The album commemorates a visit by Sarnoff to Boeblingen, Germany, on August 6, 1958, and documents his inspection of the communication capabilities of the U.S. Army's 160th Signal Group. Most of the albums 34 photographs show Sarnoff meeting with Signal Corps personnel and touring installations, but also included is a document illustrating why American soldiers are in Germany, with a troop disposition map. Inclusion of these items with the photo album drives home the Cold War atmosphere of Sarnoff's visit.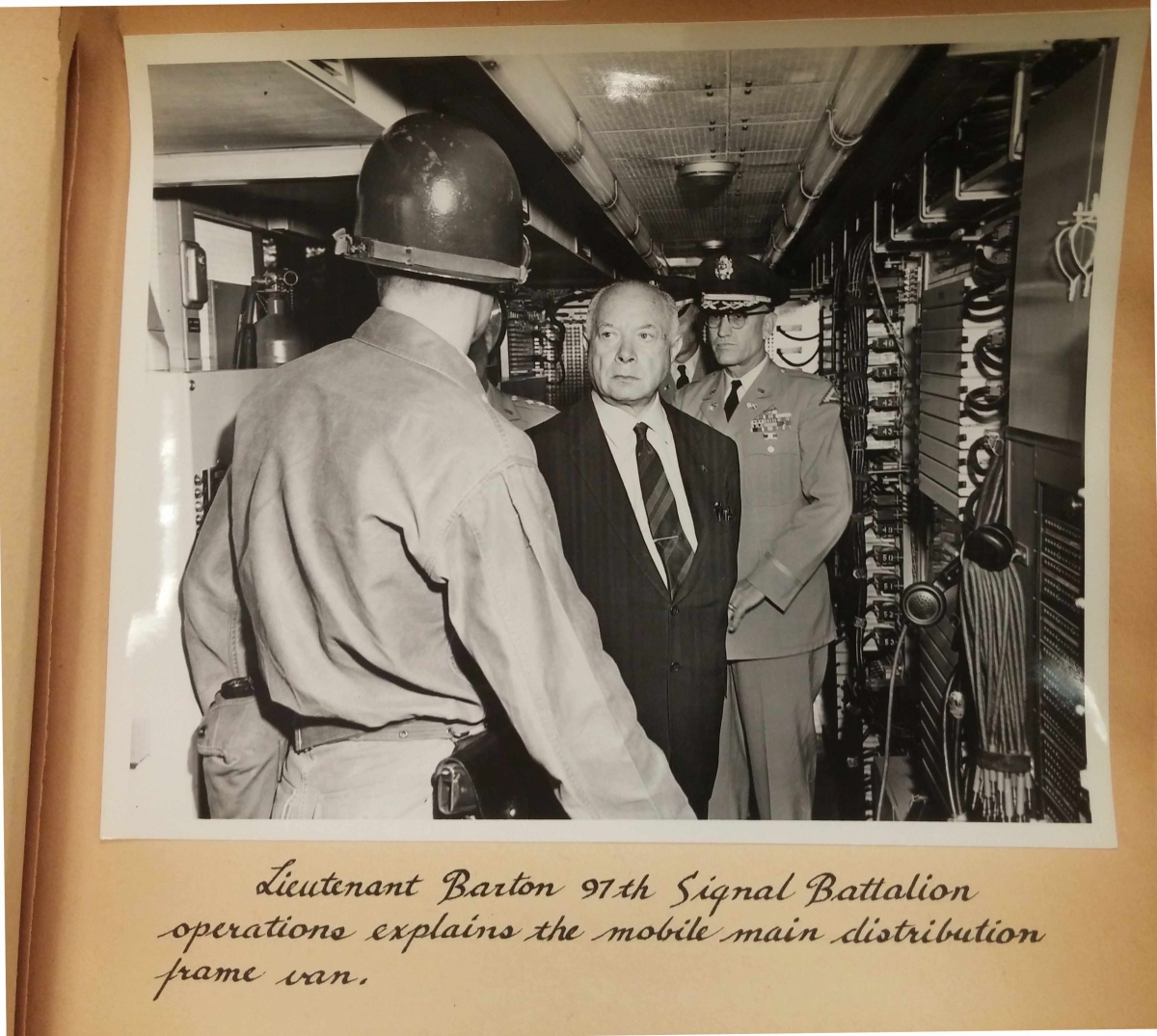 David Sarnoff on a tour of the Signal Battalion operations, Boeblingen, Germany, August 6, 1958
Included with the album, this map and illustration underscores the Cold War reality of 1958
Many examples of Sarnoff's desire to help his country win the Cold War can be found, including when he was appointed by President Eisenhower in 1955 to be the chairman of the National Security Training Commission. While short lived, the commission marked a relatively successful effort to bolster enlistment in the reserve forces of the U.S. military. However, it could be argued that none of Sarnoff's efforts to help win the Cold War demonstrate his commitment more than his willingness to participate in Project SHAMROCK.
The origins of the project began during the Second World War, when American communications companies cooperated with the government to help gather intelligence on our enemies. With the end of the war however, American intelligence officials continued these operations as Project SHAMROCK, whereby companies such as RCA, Western Union, and IT&T, willingly forwarded communications to the National Security Agency (and its precursors) for analysis. Project SHAMROCK continued until 1975, when it was shut down after it came to light during the Church Committee hearings that investigated U.S. intelligence gathering activities. Sarnoff's acquiescence to RCA's participation in this program is described by his biographer, Kenneth Bilby, as being an example of Sarnoff's eagerness to use any resources at his disposal in support of a patriotic cause.
Kenneth Cleary is the Sarnoff Project Archivist in the Audiovisual and Digital Initiatives Department.