Tuesday, December 15, 2015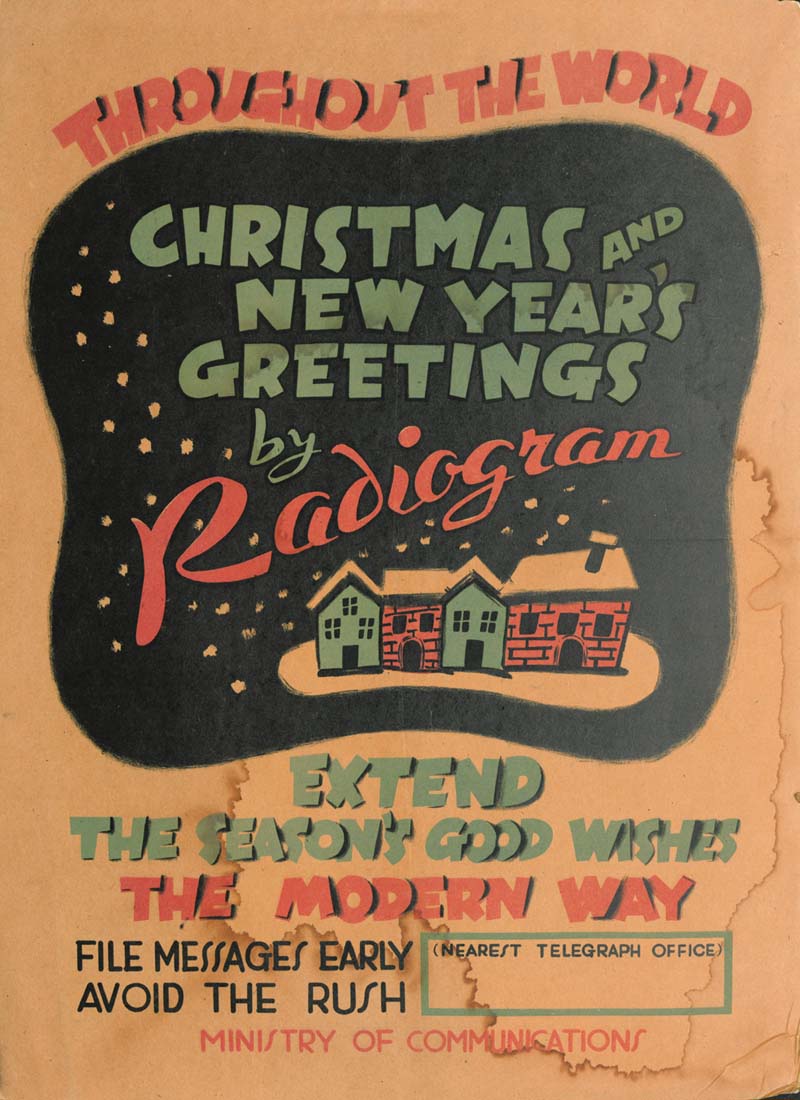 "Extend the season's good wishes the modern way!"
Posters bedecked with turkeys, hearts, Santa Clauses, and other familiar holiday imagery greeted Americans serving in Japan during the Occupation, encouraging them to send telegrams, radiograms, and to make telephone calls home during the holidays.
Ostensibly a morale boosting campaign, the images formed part of a calculated effort to stimulate domestic and international telecommunications traffic and thus increase revenue for the Ministry of Communications, the Japanese communications operating entity. These colorful posters, from the Charles B. Jennings collection at Hagley, highlight important themes in the history of postwar Japanese telecommunications and its international relationships with American companies. Jennings wrote about these posters in his manuscript on the history of Japanese telecommunications, which can also be found in the collection.
After World War II, General Headquarters/Supreme Commander for the Allied Powers (GHQ/SCAP) of the Far Eastern Commission under General Douglas MacArthur, took over all aspects of the Occupation, including issues of communications.
Representatives of RCA and other foreign carriers, who had had ties with Japan before the war, soon arrived as technical observers. GHQ/SCAP quickly issued orders that these representatives would not be authorized to facilitate commercial activity that would favor one carrier over another. The policy would remain in place well after the Occupation ended.
The no-commercial policy led to creative methods of stimulating communications traffic to all carriers without favoring an individual carrier. Officials at GHQ/SCAP realized they had a huge potential revenue stream for Japan in the thousands of foreign civilian and military personnel who may want to send messages home to family and friends via telegram, radiogram, or telephone. Encouraging this practice would have the joint benefits of boosting personnel morale and stimulating revenue for the Ministry of Communications and foreign carriers.
In 1945 or 1946, the Civil Information and Education Section (CI&E) of GHQ Far Eastern Commission produced a poster directed at American and British personnel in Japan. The poster reminds the viewers that they are "Never really far from home," and it includes an image of a Morse telegraph key with telegraph lines leading to a woman receiving a telegram with a large smile on her face, while the text informs personnel that they can send personal radiograms overseas or send telegrams within Japan.
Because it was non-carrier specific and simply informed the viewer of the location of the nearest telegraph office, the poster circumvented the ban on foreign carriers from direct advertising. After this poster was released, the Ministry of Communications began to produce similar advertising throughout the year.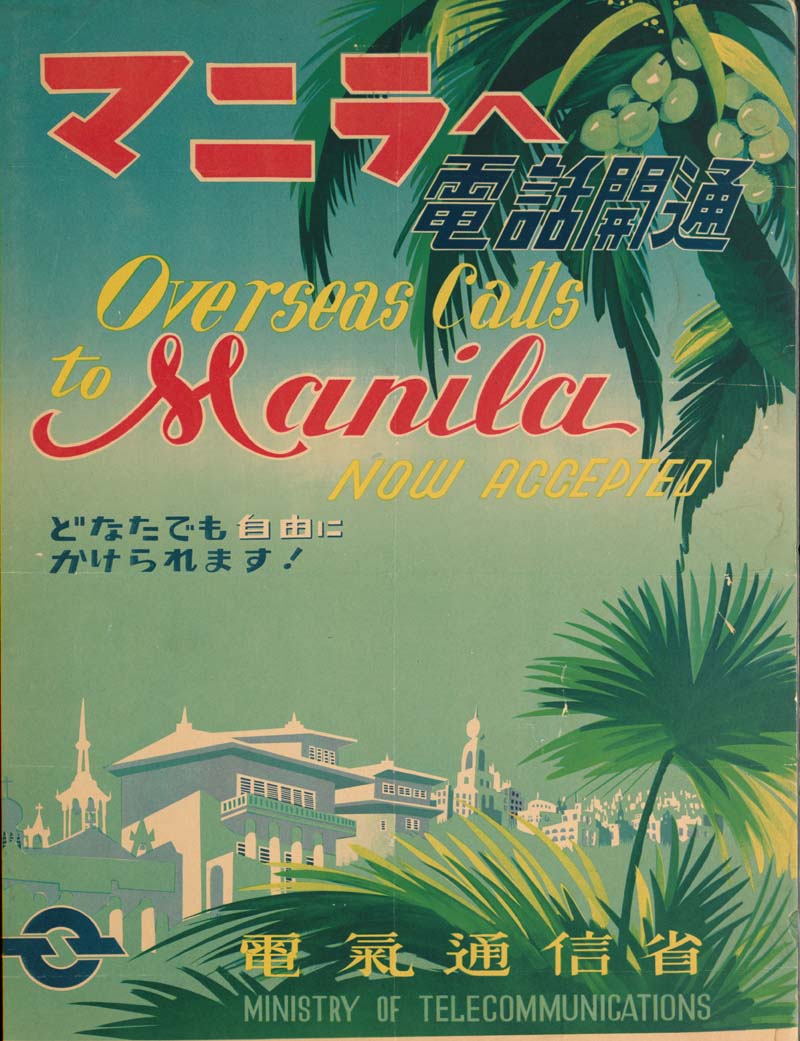 To create effective marketing, a representative of the Ministry, Yoshiharu Kuroda, consulted with US carriers to find out the holidays during which personnel would most likely want to send messages home. The Ministry arranged the artwork and consulted with US carriers to decide the text. The posters were plastered in telegraph offices and any place foreign personnel might gather: hotels and other billeting locations as well as soldiers,' NCO's and officers clubs.
Americans in Japan during the Occupation thus could see new posters throughout the year to remind them to send greetings home for Valentine's Day, Easter, Mother's Day, Father's Day, Thanksgiving Day, and Christmas. Christmas service was so popular that new advertising was created to remind readers to post messages weeks in advance to ensure delivery by Christmas. Other posters announced new service arrangements, such as telephone service to Manila, while others noted that service was available to ships at sea and British Commonwealth points. The campaign quickly became a success and continued until the end of the Occupation in 1952.
Finding aid for Charles B. Jennings photographs, scrapbook boards, and other materials at the Hagley Library.
Angela Schad was the graduate assistant in the Audiovisual Collections and Digital Initiatives Department for the Sarnoff Library Project at Hagley in the summer of 2014. Angela recently completed her MA with a Certificate in Museum Studies from the Winterthur Program in American Material Culture at the University of Delaware. She previously earned a BS in chemistry and a BA in history from the University of Notre Dame. Angela has completed an archival internship at the Carnegie Institution for Science in Washington, DC. She has also collaborated with fellow graduate students to write a processing plan for the photograph collections at Cecil County Historical Society in Elkton, Maryland.