A little less than nine months ago I began my graduate assistantship as the David Sarnoff Library collection processing intern in Manuscripts and Archives. Having little experience working in archives and knowing only the basics about RCA, I was unsure of what this next nine months would have in store for me. Along with learning the basics of archival processing, throughout my time here I have also gained experience in other areas as well. Through the subject cataloguing of numerous technical reports on topics including lasers, superconductors, electroplating, and holograms, working in Manuscripts and Archives has given me the necessary skills to teach myself about topics that I know little about. My time processing in the David Sarnoff Library collection has also allowed me to work with some pretty unique and intriguing collections.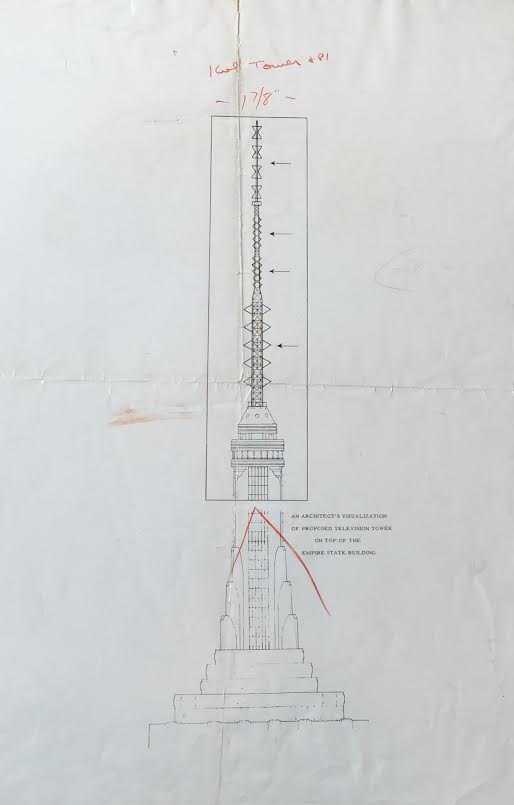 One of the most memorable collections that I processed was the Joseph Giardina NBC collection. Along with being fascinating in terms of its content, it was also interesting for another reason. Found by Joseph Giardina in the 1980s while working atop the Empire State Building, this collection includes abandoned RCA and NBC papers relating to the broadcasting tower on top of the Empire State Building. Along with correspondence, invoices, patents, and schematics the collection also includes a sketch of the proposed Empire State Building television tower (picture, right). These once abandoned papers have since been processed and now provide resources for researchers to examine the modifications made to the tower from the 1930s to the 1950s, the technologies and operations of the broadcasting tower, and disputes over the use of the tower including Armstrong v. RCA & NBC.
Finally, one of my favorite collections to process was the Alexander Magoun advertising collection. Collected by the former Executive Director of the David Sarnoff Library, this collection includes advertisements for consumer electronics including radios, televisions, and home appliances from 1889 to 1989. Although most of the collection is focused on RCA advertisements and products, it also contains advertising from companies including Motorola, Bendix Radio, Columbia Records, Edison Phonograph, and Victor Talking Machine. The collection taken as a whole not only demonstrates the wide array of products that RCA developed and produced, but also provides a way to literally see how the company and consumer electronics have changed over time.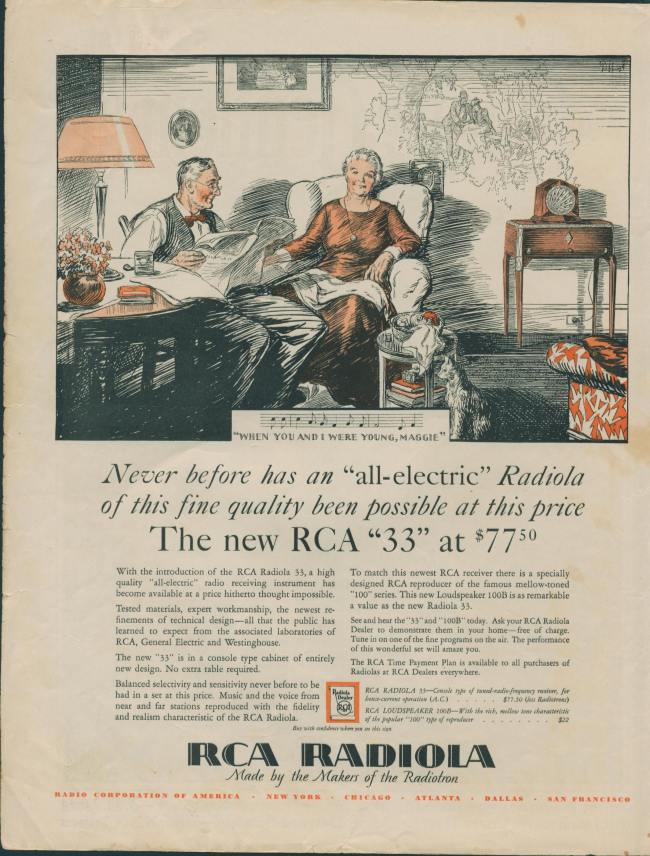 RCA Radiola advertisement in The Country Gentleman, June 1929
Overall this experience has give me the opportunity to gain skills in archival processing, to learn about RCA and its employees, and to develop confidence in my ability to take on topics of which I have little background knowledge. Through the processing of various scientists' papers, employee records, and departmental correspondence my time in Manuscripts and Archives has provided me with a large array of experiences that I can't wait to share with the public about the important work that archives do as well as the extraordinary information that can learned through the examination of primary sources.
Ashley Giordano is the 2015-2016 David Sarnoff Library collection processing intern in Manuscripts and Archives. Ashley has a B.A. in history from Saginaw Valley State University and is currently a M.A. student and Hagley fellow in the History Department at the University of Delaware.