Summer is here, school is out, is your family planning a road trip?! 
Early in the 1930s, Frank Redford, a banana importer from Kentucky, bought an ice cream cone at the "Tee Pee Barbecue" stand in Long Beach, California. Redford thought the structure would be a great draw for motorists back home.
He built a similar structure in Horse Cave, Kentucky in 1933 and added six smaller units to serve as guest rooms. Redford apparently disliked the word "teepee," so his property became known as Wigwam Village No. 1.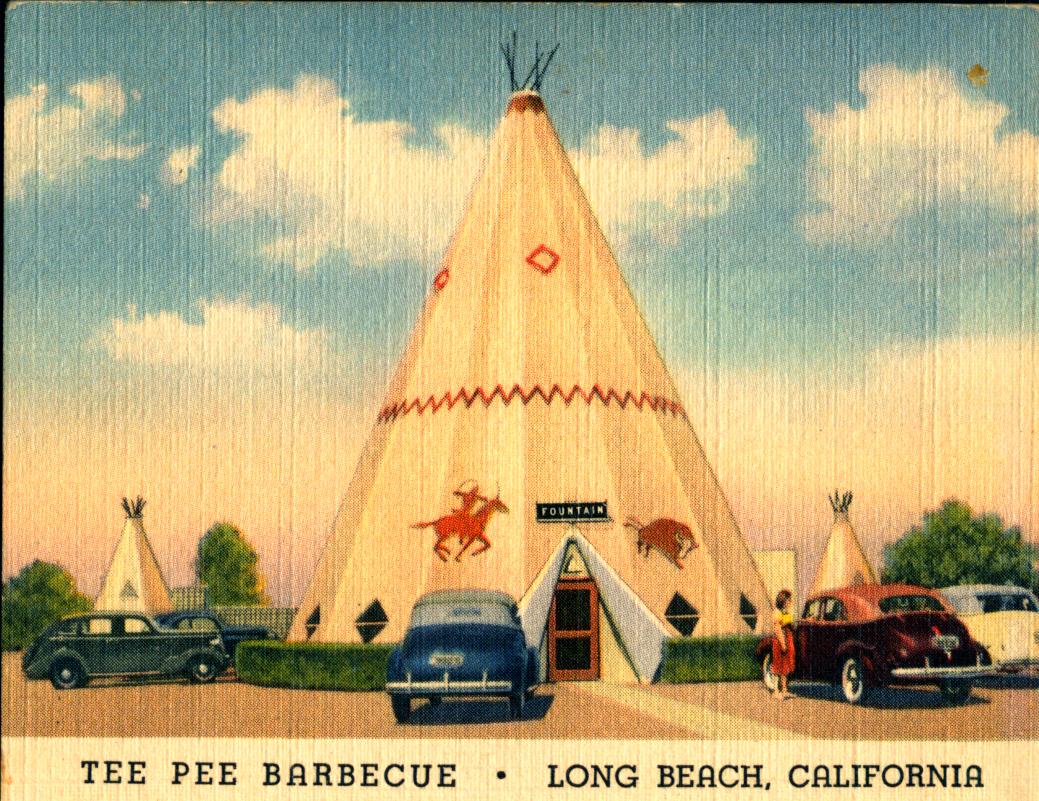 Redford applied for a patent on the ornamental design of the buildings on December 17, 1935, and was granted Design Patent 98,617 on February 18, 1936.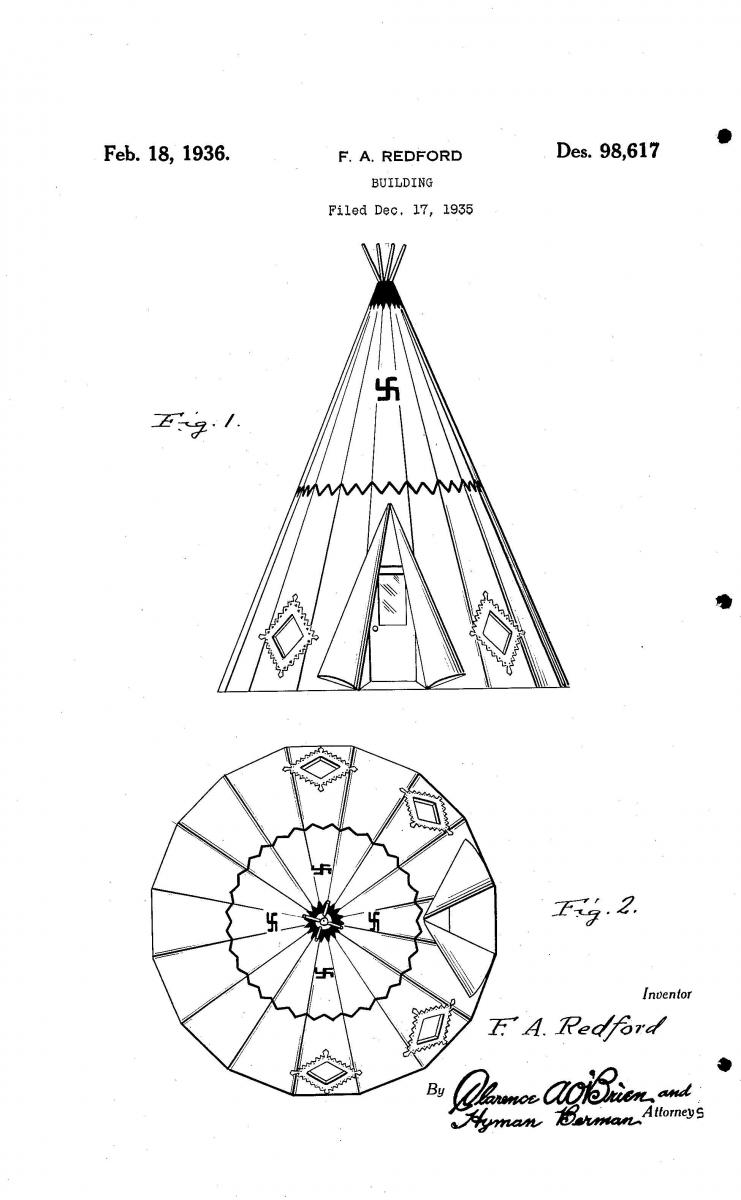 In 1937, Redford opened an expanded Wigwam Village No. 2 in Cave City, Kentucky, close to Mammoth Cave National Park and a few miles south of the original Wigwam Village.
The centerpiece of the motel was a 52-foot tepee called "the Big Wigwam," a structure of 38 tons of concrete and 13 tons of steel that served as a dining room. Fifteen smaller rooms for guests were arranged in a crescent, and each featured a small bedroom and private bath. 

In 1940, Wigwam Village No. 3 opened in Metairie, a suburb of New Orleans, Louisiana. A postcard dated 1941 reads: "Offers you unique tourist accommodations with modern comfort. Eat and Sleep in a Wigwam." The site included wigwam sleeping units, a restaurant, cocktail bar, an Esso service station, and a souvenir shop. It closed in 1954.
Wigwam Village No. 4 was built in the late 1940s along the Orange Blossom Trail, in Orlando, Florida. This large wigwam village consisted of "thirty-one modern Tepees" placed in a horseshoe shape. The large wigwam at the front of the property featured a restaurant, and a pool was located in the middle of the lot. This village was promoted as "Orlando's largest and finest Motel." This site was torn down in 1974.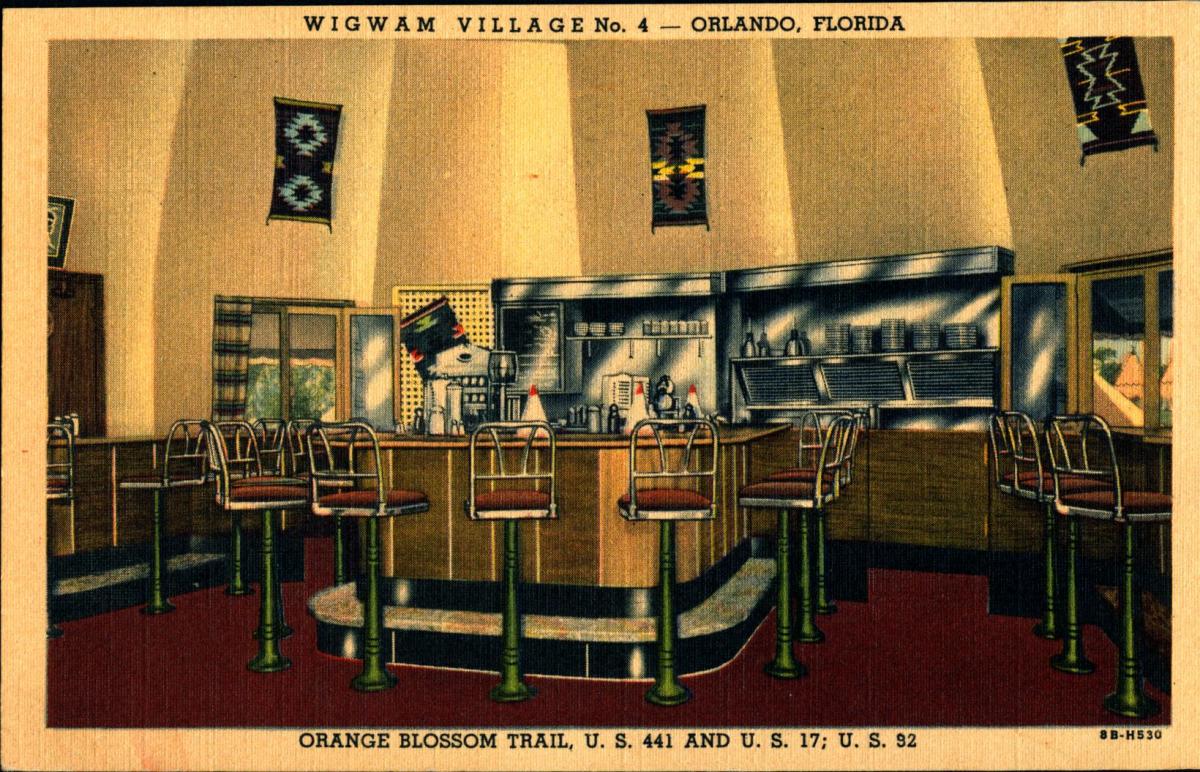 Wigwam Village No. 5 was built in 1940 in Bessemer, Alabama. This village consisted of fifteen wigwams arranged in a semicircle. In the center was a much larger wigwam and two smaller ones, which served as offices and a restaurant. This Wigwam Village and cafe fell into ruin after it went out of business in 1964, and was demolished soon afterward.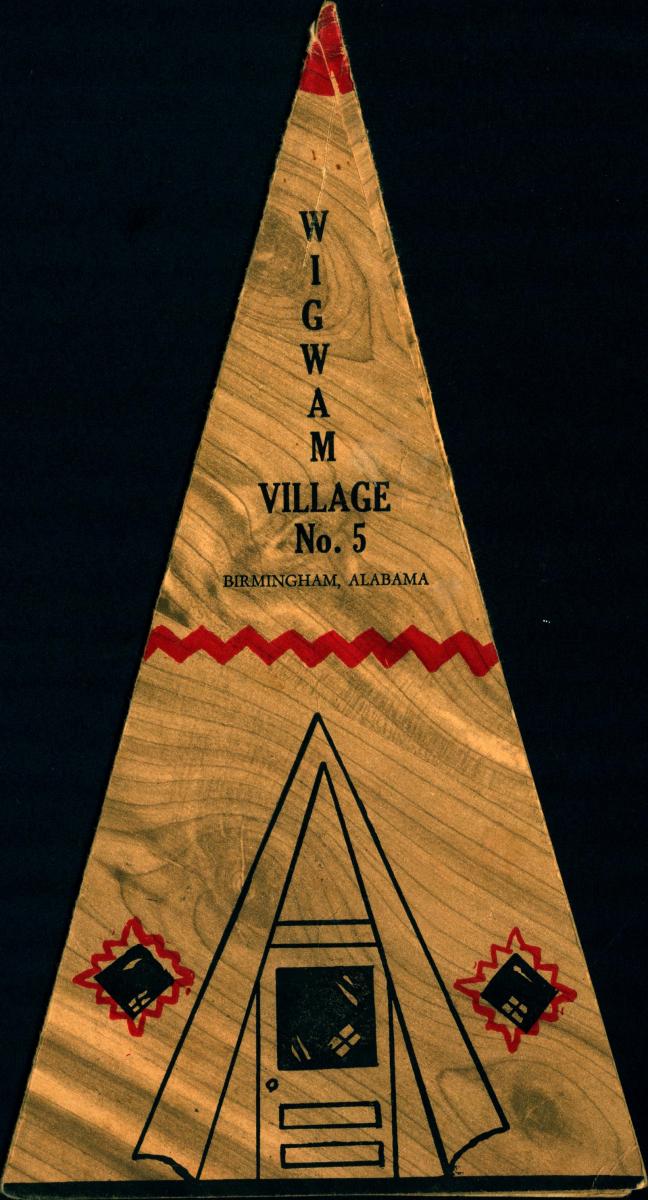 Wigwam Village No. 6 was built in 1950 by Chester Lewis along Route 66, in Holbrook, Arizona. Mr. Lewis purchased the rights to Redford's design, as well as the right to use the name "Wigwam Village" in exchange for part of the revenues from coin-operated radios in the rooms. 
The motel is arranged as a square, with fifteen wigwams on three sides and the main office on the fourth; there was also originally a gas station on the complex. Lewis operated the motel until closing it in 1974 when Interstate 40 bypassed downtown Holbrook. Two years after his death in 1986, his children renovated the motel before reopening it in 1988. The Lewis family continues to run and maintain Wigwam Village No. 6.
After the war, Frank Redford sold his Kentucky properties and headed west. In 1947, he began construction on his final property. Wigwam Village No. 7 opened for business in 1950 on the city boundary between Rialto and San Bernadino, California.
This site initially had one large wigwam building, with eleven smaller structures arranged in a semicircle surrounding a grassy area that featured a fire pit and picnic tables. As travel increased along Route 66, Redford added eight additional wigwams in a second semicircle, bringing the total number to 19 units.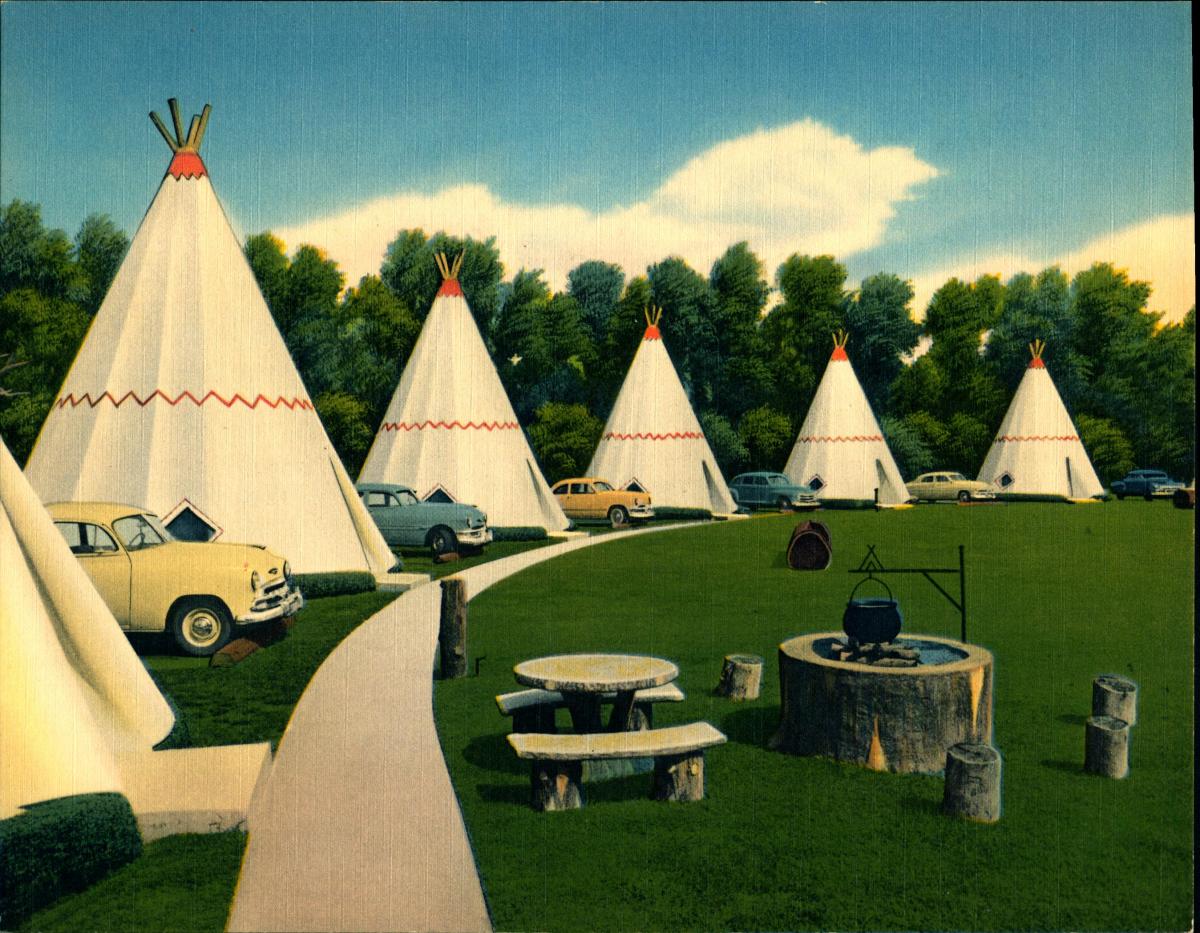 Of the seven original Wigwam Villages, only three of these distinctive examples of American programmatic architecture remain: No. 2 in Cave City, Kentucky, No. 6 in Holbrook, Arizona, and No. 7 in Rialto, CA. All three of them are listed on the National Register of Historic Places. Take a fun family vacation, and Sleep in a Wigwam!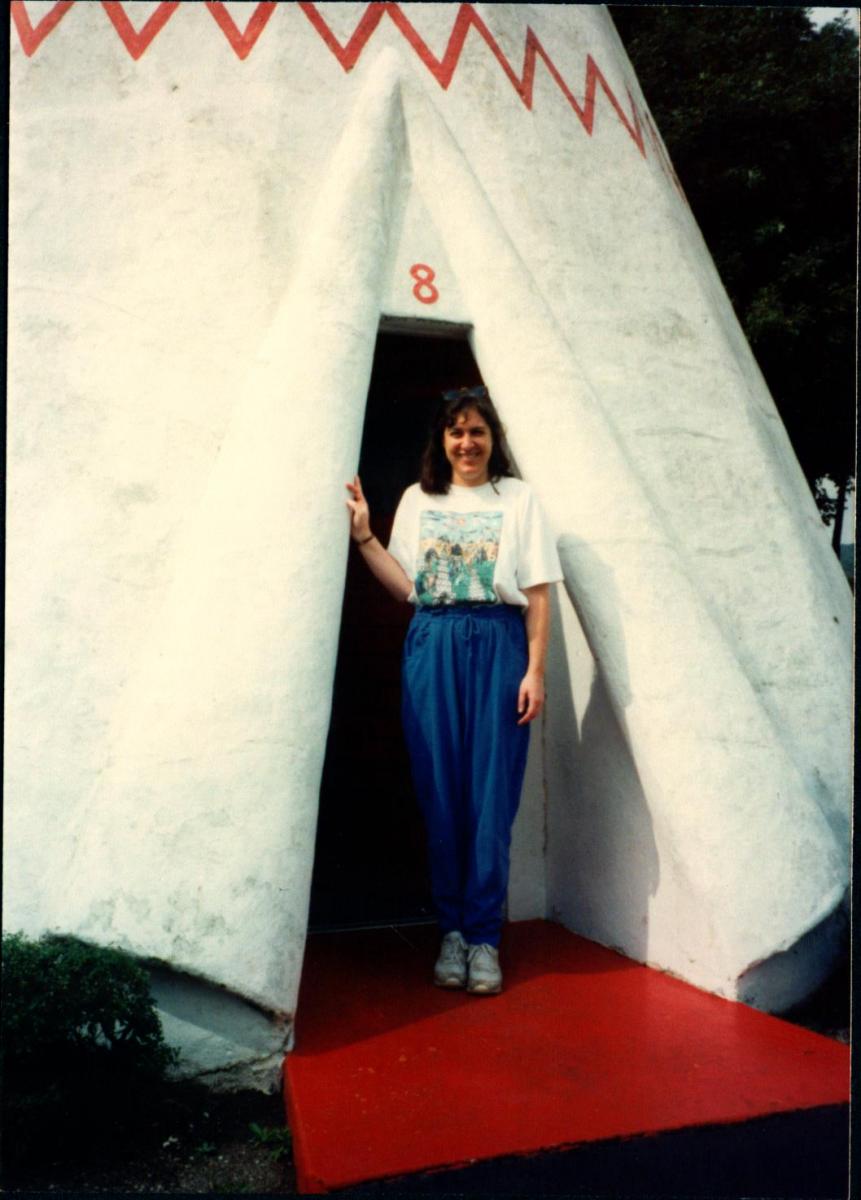 Illustrations from the John Margolies Collection of Travel Ephemera (currently being processed;) photos from the collection of the author.
---
Linda Gross is the Reference Librarian at Hagley Museum and Library.