Upon pursuing a personal connection in Hagley's collections, I stumbled across the life of Henry A. (Harry) Strohmeyer: dairy cattle photographer to the stars. While growing up in Texas, I participated in 4-H, like many other children from rural areas. My specialty was dairy judging. (Such competitions, which promote critical thinking and public speaking skills in addition to their dairy-specific curriculum, were introduced to 4-H clubs in 1919.) Decades later at Hagley, I noticed photos of kids judging heifers at the Eastern Guernsey Breeder's Association Field Day held at Longwood in 1925, and I couldn't resist further investigation.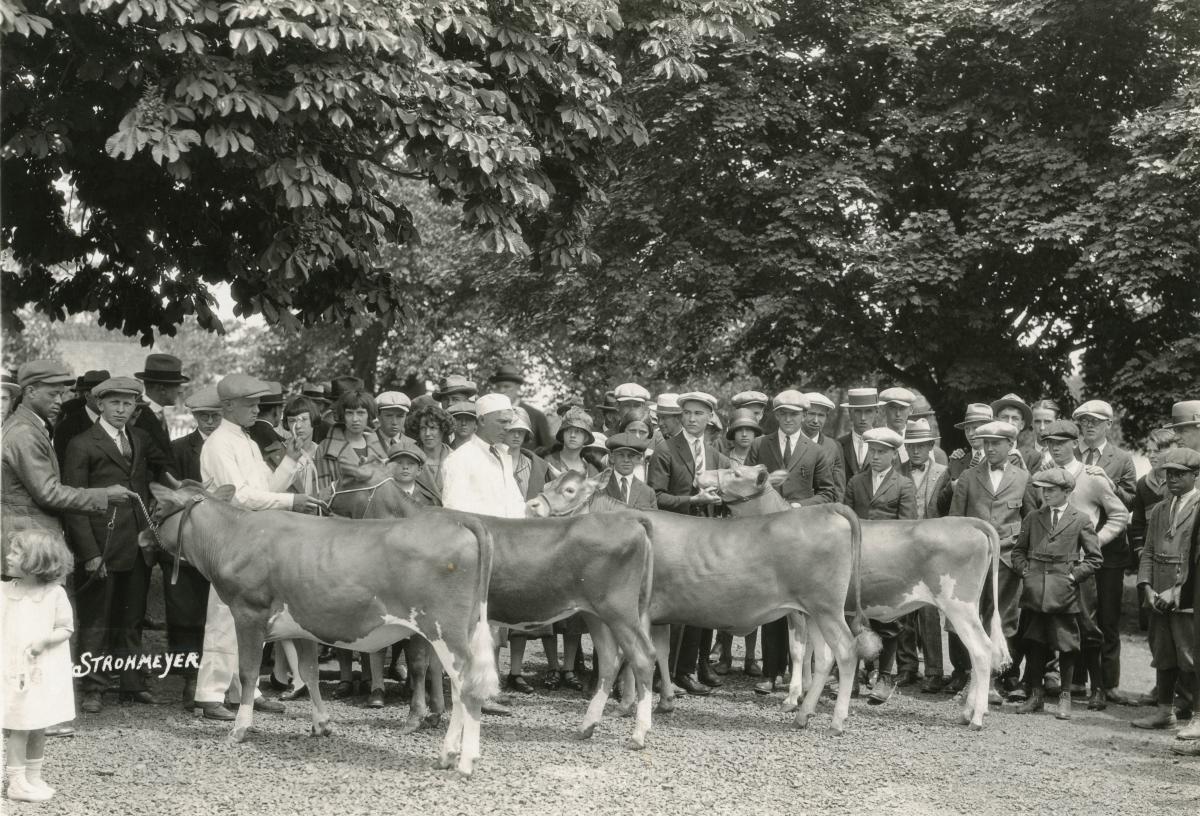 Delving into Longwood Farm records, a 1936 breeders' show catalog caught my attention. In it, advertisements abound for ideal Guernsey specimens, uniformly posed, from farms across the region. Almost every photograph is signed by Strohmeyer, the same photographer who'd captured Field Day. Who was Harry Strohmeyer, and how did he seemingly corner the market on bovine photography?
As a young man, Harry accompanied his father, an accomplished photographer who'd worked for Theodore Roosevelt, on photo shoots at wealthy estates in New Jersey, where he gravitated toward the purebred cattle raised there. After returning from service in the Army Signal Corps during the First World War, he partnered with his father and eventually went into business for himself. He travelled across the United States and Canada to farms and livestock shows, and he established a reputation for catching the most flattering angles of an animal, particularly dairy cattle. The purpose for such pictures was not for display on the mantlepiece alongside family portraits. In the world of elite livestock breeding, a good photograph could be the determining factor in a potentially lucrative sale.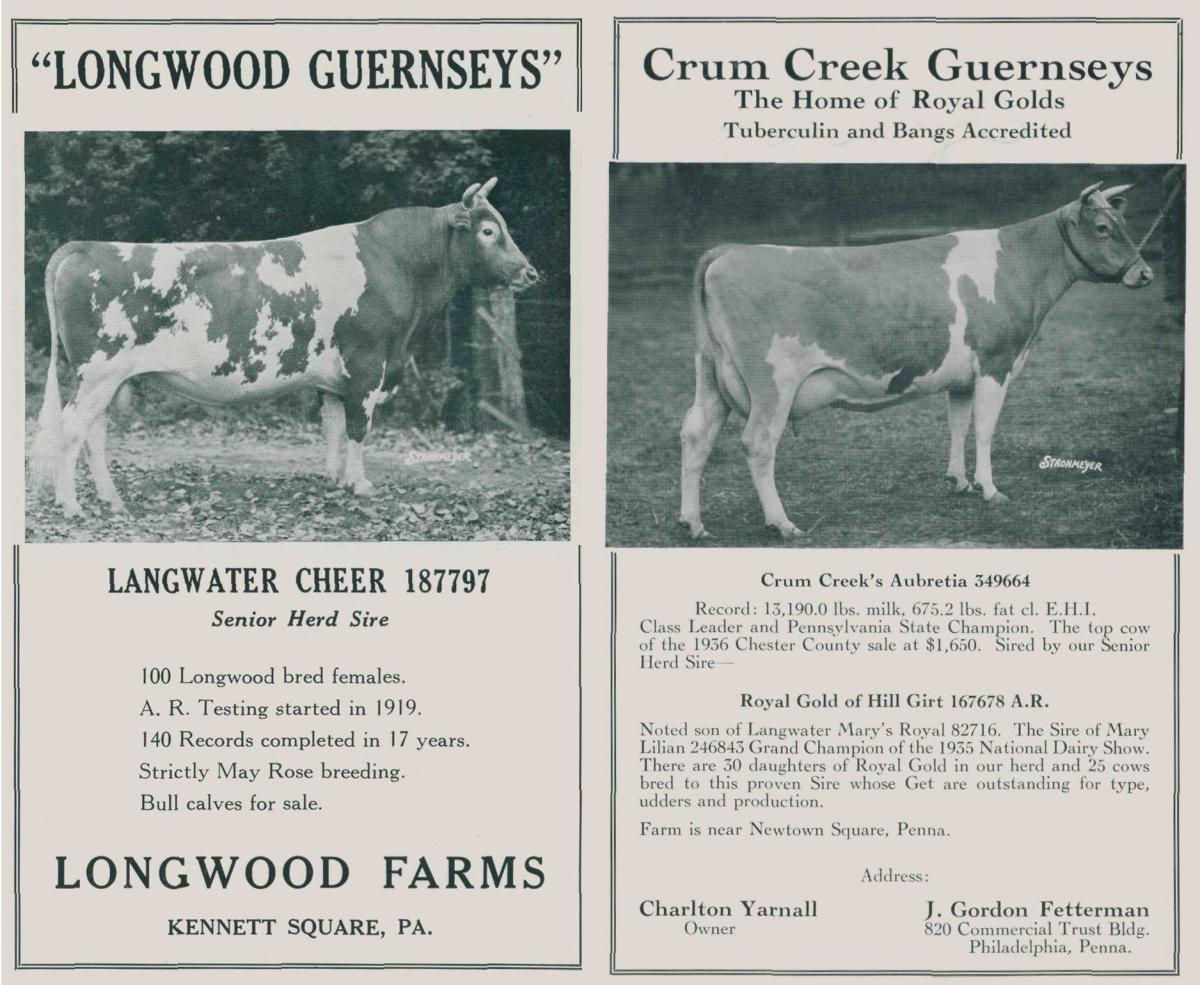 By 1928, demand had grown so much that Strohmeyer brought on John Carpenter, a dairyman, as a partner. Strohmeyer gambled that training Carpenter in photography was a better strategy than teaching a photographer to work with animals. Together, their work graced the pages of every major breeding magazine and instructional livestock treatise of the era. In a 1946 issue of Guernsey Breeders' Journal, Chester Lyon of Antietam Farm even felt obliged to apologize to potential buyers for not having photographs by the team. He lamented that, "It's a hard job to get Strohmeyer & Carpenter…consequently it may be necessary to furnish a snapshot…and we know from past experience that such pictures never flatter the animal." In 1948, Canadian magazine Maclean's profiled Strohmeyer in "His Lasso is a Lens," where I found several biographical details for this post. The article is well worth reading, particularly for its colorful description of Strohmeyer convincing a skeptical Holstein bull to strike a pose. By the time he passed away in 1972, Strohmeyer had photographed the herds of the du Ponts, Rockefellers, J.C. Penney, Carnation Milk, Wawa, and countless others across two countries.
As for my childhood counterparts who participated in the judging contest at the Longwood Field Day in 1925, they each received copies of the photos that Harry Strohmeyer took to remember their day.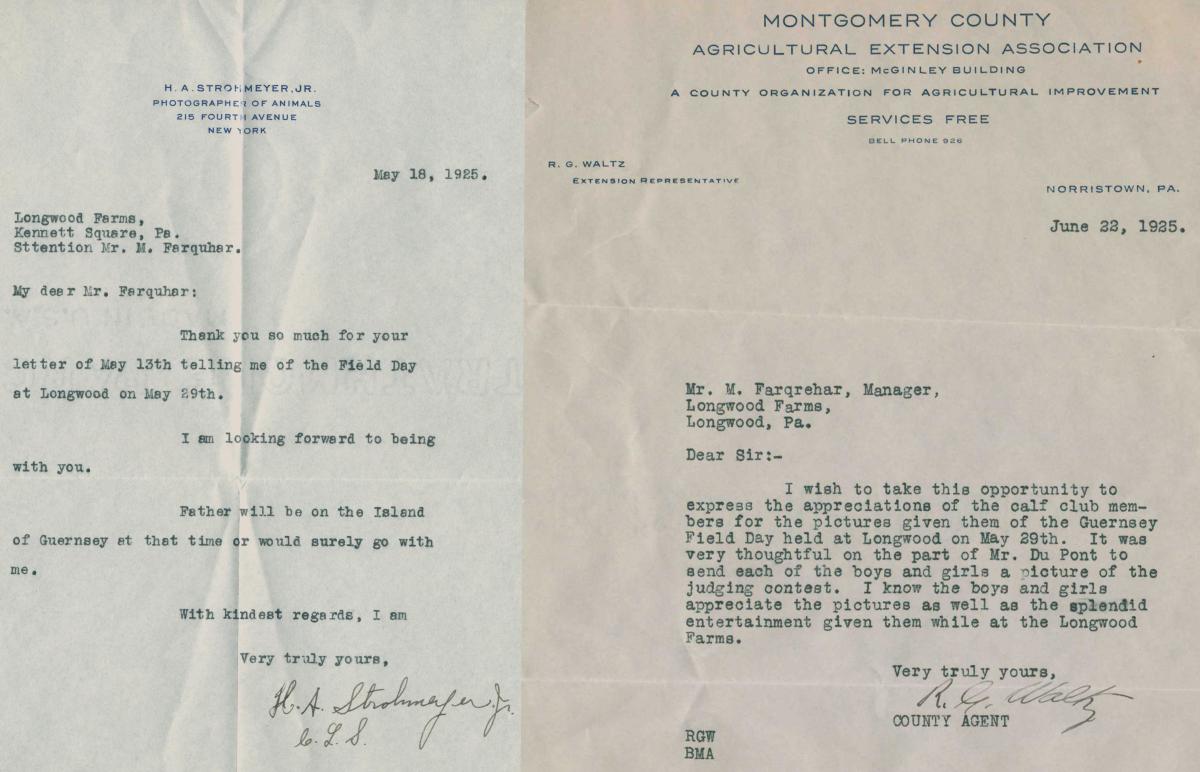 Angela Schad is the Reference Archivist and Digital Archives Specialist at Hagley Museum and Library.​