The outstanding variety of the Rothschild patent model collection simply amazes me each day I review records of models that have been unpacked and cataloged by Caroline Western, our Special Projects Cataloger. One patent model recently caught my eye so I decided to find out more about it. Most of the time, patent models for drying racks are usually for clothes but not this one!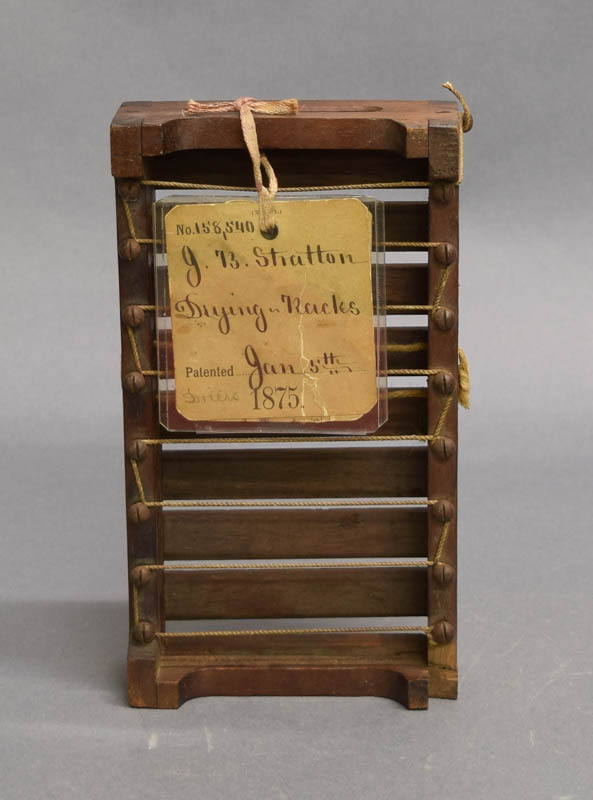 Patent Model – Improvement in Drying-Racks
Patent - #158,540; dated January 5, 1875
Patentee - Jackson B. Stratton from Waterloo, New York
What I surprisingly learned from the patent description is that this is "a machine called a Portable Drying-Rack, for the drying of yeast-cakes…" The purpose of this invention is that if the drying rack is built as specified, the yeast cakes "will dry rapidly and evenly in a shorter space of time than by any other method in use." (Patent #158,540)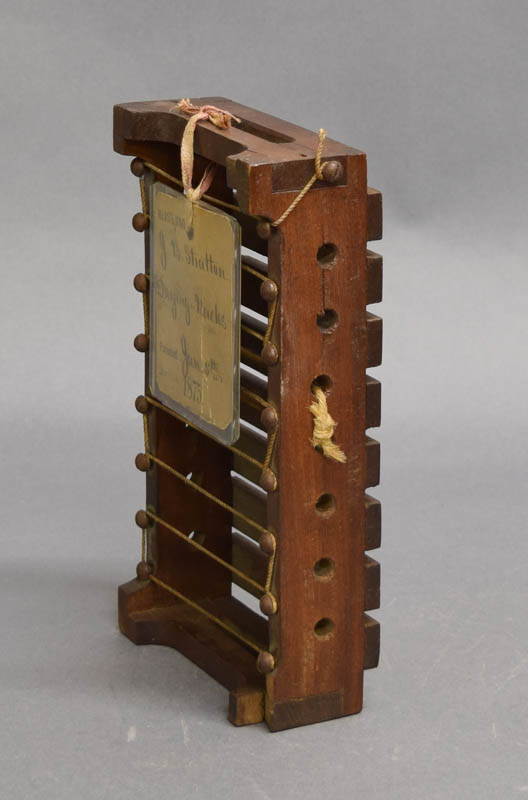 (Side view)
The yeast cakes would set edgewise between the slats, wires or cords. Since the cakes are thicker than the openings, they wouldn't fall through.
This would enable air circulation to thoroughly dry all exposed areas of the yeast cake faster that what they had been using before. Despite this and daily turning, yeast cakes still took between eight and twelve days to dry. Each single yeast cake made four loaves of bread.
So who was Jackson B. Stratton? He and his twin brother Thomas J. founded the Waterloo Yeast Company in Waterloo, New York in 1860. Born in Vermont in 1816, the family moved to New York when the twins were two years old. In 1837 they moved to Ohio.
It was Thomas who learned to be a baker in Ohio and decided to go into manufacturing yeast cakes. Later when the twins went into business together they created the trademark "Twin Brothers" and made dry hop yeast for baking bread.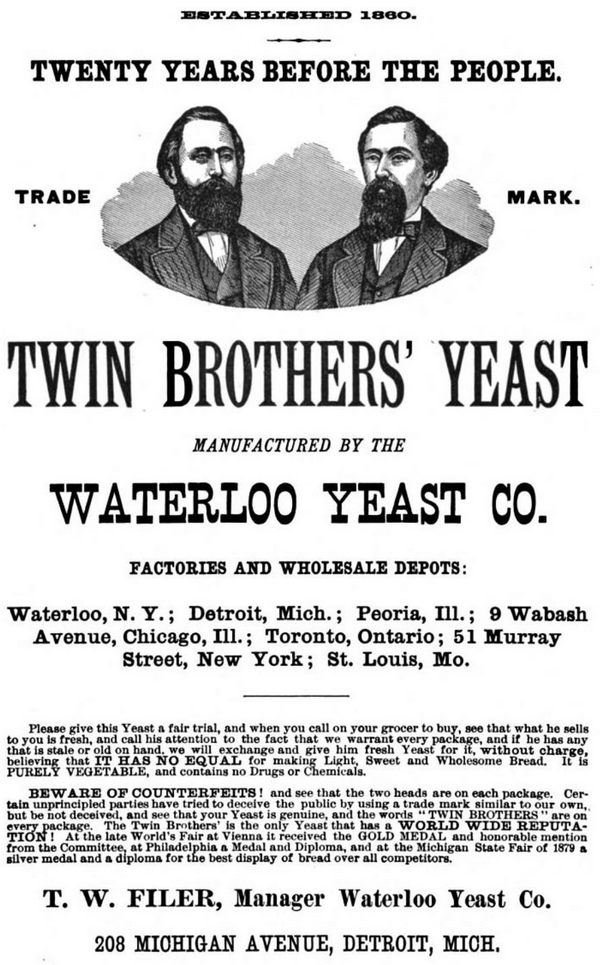 According to the Waterloo Observer on Wednesday, July 2, 1879, only two ingredients were used in producing this yeast – cornmeal and hops. After drying, yeast cakes were packed twelve to a package.
This article also mentioned that this yeast was exhibited at fairs around the United States and won many awards. The successful brothers expanded their business later with other manufacturing sites in Detroit, Michigan, Toronto, Canada and Peoria, Illinois.
After finding a married couple each with patents to their name, I had hoped that both of the brothers had patents but that was not to be. Maybe next time!
---
Debra Hughes is the Museum Curator of Collections and Exhibits at Hagley Museum and Library.