In July, Hagley Library released a new Digital Archives collection of colored lantern slides from renowned photographer William H. Rau.
William Rau was born in Philadelphia in 1855. As a child, his older brother George operated a photography studio and, at the age of 13, William became an assistant to the photographer William Bell (1830-1910), who would later become his father-in-law and, in 1876, a business partner.
During the 1870s and 1880s, William H. Rau would become best known for his work photographing scenic views from around the world, beginning with a trip to the Chatham Islands and a circumnavigation of the globe to follow the Transit of Venus across the face of the sun with a scientific expedition. This was followed by a trip to the American West with his brother George; Egypt, Palestine, and the Arabian Peninsula with renowned photographer Edward Livingston Wilson (1838-1903); Mexico with the travel writer John Lawson Stoddard (1850-1931) and sites in Europe and the Arctic as a solo practitioner. During his stays in Philadelphia, he was also a prominent portrait photographer for the city's elites.
In 1891, Rau was commissioned by the Pennsylvania Railroad as its official photographer to document operations and scenic views along its track lines. To complete this mission, Rau traveled the railroad's trackage in a customized passenger car, fitted out with living space, a darkroom, elevated viewing platform, a massive panoramic landscape camera, and other photographic equipment. In 1892, Rau published an illustrated pamphlet listing 312 photographs from this excursion.
The photographs taken during Rau's stint as the railroad's photographer were also later exhibited in the Pennsylvania Railroad's building at the World's Columbian Exposition, which opened in Chicago in May 1893. Later that year, the Pennsylvania Railroad commissioned Rau for another photographic campaign. In 1900, Rau published a second pamphlet featuring 497 photographs from both commissions.
In 1895, Rau received a similar appointment from the Lehigh Valley Railroad. Once again traveling in a customized passenger car, Rau traveled on the Lehigh Valley Railroad's lines from New York City to the Lehigh Valley in Pennsylvania and upstate New York, documenting hundreds of landscapes along the way. Over two hundred images from this commission would later be placed in Lehigh Valley Railroad terminals and public sites along the railroad's reach.
While many of the lantern slides in the collection at Hagley (see examples below) are undated and only partially identified, some can be definitively sourced as originating from this 1895 commission from the Lehigh Valley Railroad. Some of these images, including the photographs of Mauch Chunk (now Jim Thorpe) and Mt. Pisgah from Flagstaff Mountain, Mauch Chunk from the Station,  Mauch Chunk from the Mountain Road, and Mauch Chunk and Mt. Pisgah from Flagstaff Mountain, would later be included in Rau's albums of Pennsylvania Railroad scenery.
However, these locations did not lie along Pennsylvania Railroad lines at this time, and some are elsewhere definitively identified as part of Rau's work with the Lehigh Valley Railroad; as such, they are believed to also have been part of that 1895 commission.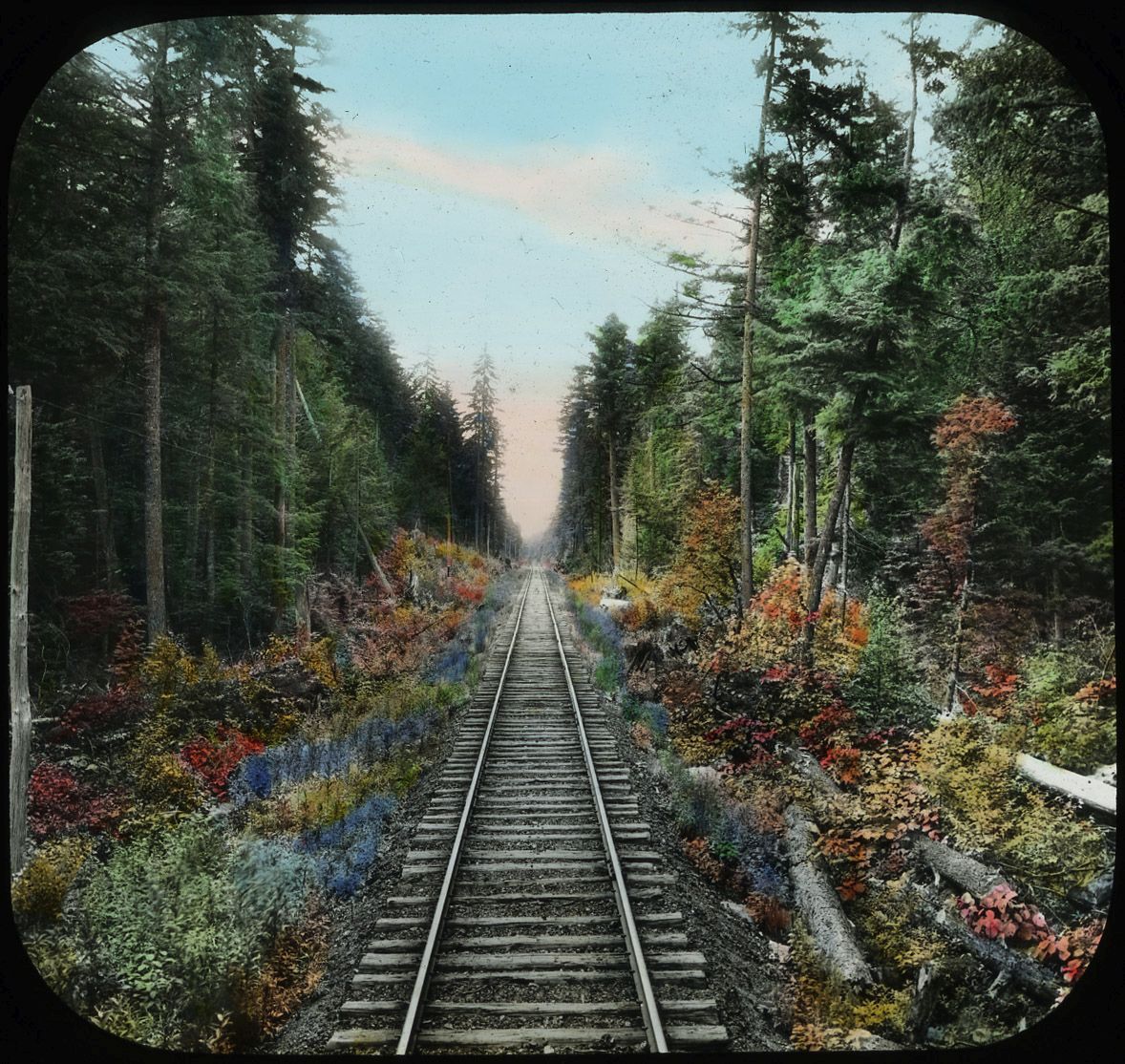 In later years, Rau would also receive appointments to photograph the Louisiana Purchase Exposition in St. Louis (1904)  and the Lewis and Clark Exposition in Portland (1905) . By the early 1900's however, Rau's photographic style, like that of many commercial photographers, had begun to decline in popularity in favor of more modern approaches (such as the Photo-Secession movement). Rau died at his home in Philadelphia on November 19, 1920.
View more of the Rau Collection slides in our Digital Archive.
A version of this article was originally published at The Hagley Vault on August 7th 2019.
---
Skylar Harris is the Digitization and Metadata Coordinator at Hagley Museum and Library.​