Promotional Comic Books at Hagley
Monday, November 20, 2017
Recent acquisitions at Hagley illustrate an interesting trend in the history of publishing: pulp fiction.
As inexpensive paper made of pulverized wood fiber displaced linen and cotton rag, new genres of printed publications gained popularity in America. By the early 20th century cheap tales of romance and adventure emerged as "pulp fiction." The same grade of newsprint gave rise to the comic book in the 1930's with the sheets typically folded in half and stapled, or "saddle-bound," down the center.  This familiar format lent itself to non-fiction pieces that businesses propagated just before World War II.
As a new addition to our collection, the pamphlet entitled Our United States represents this last category of promotional material. The text block of this booklet consists of 48 pages of newsprint, one for each of the United States in existence at the time of publication around 1941. The typical profile of each state provides a few facts about its geography, history and commerce. The cover, however, publicizes the merchandise and location across the nation of J.C. Penney stores, the company that sponsored the hand-out. 
Flipping through the book, which is stapled vertically across the top, one lands on the seventh page which characterizes Delaware as the place where DuPont built America's first powder mill on the Brandywine. 
This made me wonder:  in what other ways has DuPont made it into the funny papers? In our collection, I found a couple of examples.
The first is a comic book called Let's Go Shooting. It provides instruction on safety with .22 caliber rifles while also promoting Remington DuPont ammunition.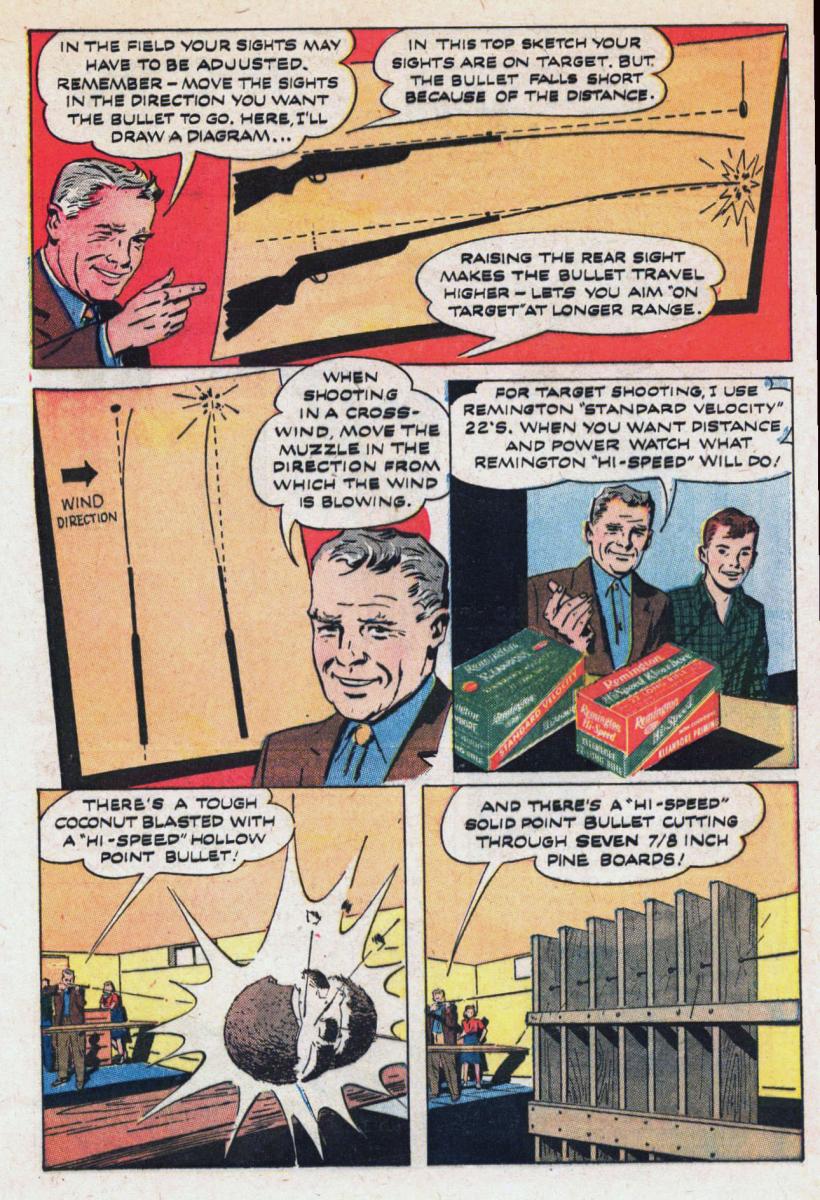 The second is actually a coloring book called Super Powers Good Health Activity Book. Sponsored in part by DuPont Pharmaceuticals, it presents cartoon superheroes such as Batman and Wonder Woman who guide youngsters through the potential perils of illness and injury.
All three of these specimens feature classic elements of the comic book genre such as line drawings, speech bubbles, hand-lettered text, wood pulp paper, and saddle-stitch binding. They offer intentional messages of enlightening content as well.
In recent weeks I have experienced an uptick in the cataloging of educational comic books at Hagley, as the Published Collections Department enthusiastically expands its holdings of this colorful and instructional class.
To learn more about promotional materials and educational comics, check out future installments of our newsletter or search our online catalog with the subject headings "promotional materials" and "educational comics."
---
Alice Hanes is the Technical Services Librarian at Hagley Museum and Library.