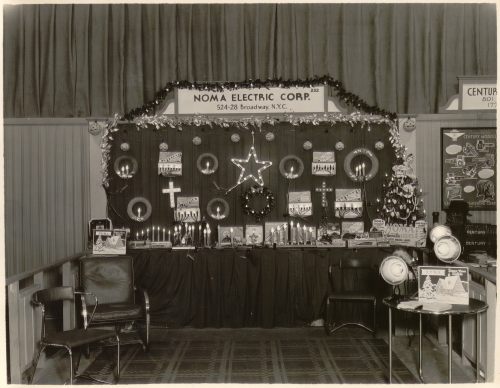 On this date in 1883, the first electric lighting system used overhead wires began service in Roselle, New Jersey. The system was built by Thomas Edison as part of an experiment; he wanted to see whether he could light an entire neighborhood with electricity using a shared central generating station.
Thirty-two years later to the day, in 1915,French engineer and inventorGeorges Claude made his own contribution to lighting history when he patented the neon discharge tube. This patent gave his company, Claude Neon Lights, a monopoly in the United States through the early 1930s on the production of the neon signs that his patent made possible.
Both inventors have left a complicated legacy. Claude was later imprisoned from 1945 to 1950 for propaganda work favoring collaborationduring the German occupation of France. And, as far as Edison goes, an elephant never forgets (R.I.P. Topsy). But we could all use a little extra light now and then, so in honor of their achievements, here's a photograph of the NOMA Electric Corporation's display at the Electrical Association of New York's 1934 National Electrical and Radio Exposition. NOMA was formed in 1925 as the National Outfit Manufacturer's Associationout of a trade group of around 14 small manufacturers who consolidated to better compete against large manufacturers.
The company became best known for making Christmas lights, seen here, and was once the world's largest manufacturer of the products. It's also credited with inventing the Christmas bubble light in 1946, and, to the best of our knowledge, never electrocuted an elephant or collaborated with Nazis. So that's nice.
This photograph is part of Hagley Library's National Electrical and Radio Exposition album (Accession 2015.289). The trade show was held in New York City at Madison Square Garden from September 19th to the 29th, and was one of the annual radio and electronic products trade shows held in the city in the 1920s through the 1940s.
Similar radio expositions during the era were hosted in other major U.S. cities sponsored by local trade associations that brought together manufacturers, retailers, and customers.The expositions included national manufacturers and large retailers from around the country to display, demonstrate, and sell their products.
Among the more prominent products featured at the expositions during this period were radios, household appliances (vacuums, ovens, refrigerators, etc.), home/industrial lighting, and heating/air conditioning technology.This collection includes 45 photographs taken during the exposition. The photographs are primarily of various companies' individual displays. Companies represented include RCA, Westinghouse Electric, Singer Sewing Machine, General Electric, Hoover, Leonard, among others. To view more photographs from this album online now, click here.