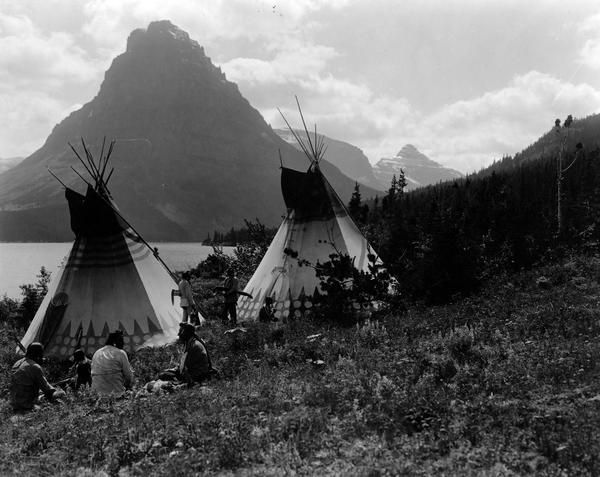 On this date in 1910, the U.S. Congress created Glacier National Park in northwestern Montana. 
The formation of the park would set off a decades long legal battle between the U.S. government and the Blackfeet people whose homeland the park's footprint encompassed. The eastern portion of the newly designated parkland was a longtime home to the Blackfeet people, and had been designated in 1855 as Blackfeet Reservation land by the Lame Bull Treaty. Upon the creation of the park, the U.S. government took the position that the region's designation as a National Park invalidated a recent 1895 treaty in which Chief White Calf of the Blackfeet had agreed to sell a portion of the reservation to the U.S. government with the caveat that his people would retain usage rights to the area for hunting and other activities so long as the region remained public land.
After 1910, the U.S. government argued that the park's footprint was no longer public land, and the usage rights that had been negotiated in 1895 were thus invalidated. This argument would be later upheld by the Court of Claims in 1835, on the basis of both the park's designation as a National Park and on the basis that the Blackfeet had forfeited the rights negotiated in 1895 when they "failed to establish the extent to which they used the reserved privileges from 1895 to 1910".
This ca. 1912 photograph of Blackfeet people on the shores of Two Medicine Lake in the newly created National Park was commissioned by the Great Northern Railway Company. The company had been active along what would later become the southern boundary of the park since 1891, and was actively engaged in promoting the region's status as a National Park and a destination for tourists, who would arrive using the company's passenger train service to the area. In the years immediately following the establishment of the park, the Great Northern Railway Company established the subsidiary Glacier Park Company to build and operate hotels and chalets for visitors and commissioned photographers to use capture images like this one, which the company used in advertising campaigns to promote public interest and visitation to the region.
This photograph is part of Hagley Library's collection of Chamber of Commerce of the United States photographs and audiovisual materials, Series II. Nation's Business photographs (Accession 1993.230.II). The majority of images in this collection are photographs that were taken for the Chamber's publication, Nation's Business. This collection has not been digitized in its entirety, but an online collection in our Digital Archive includes over 1,800 items from the physical collection; you can view it online now by clicking here.