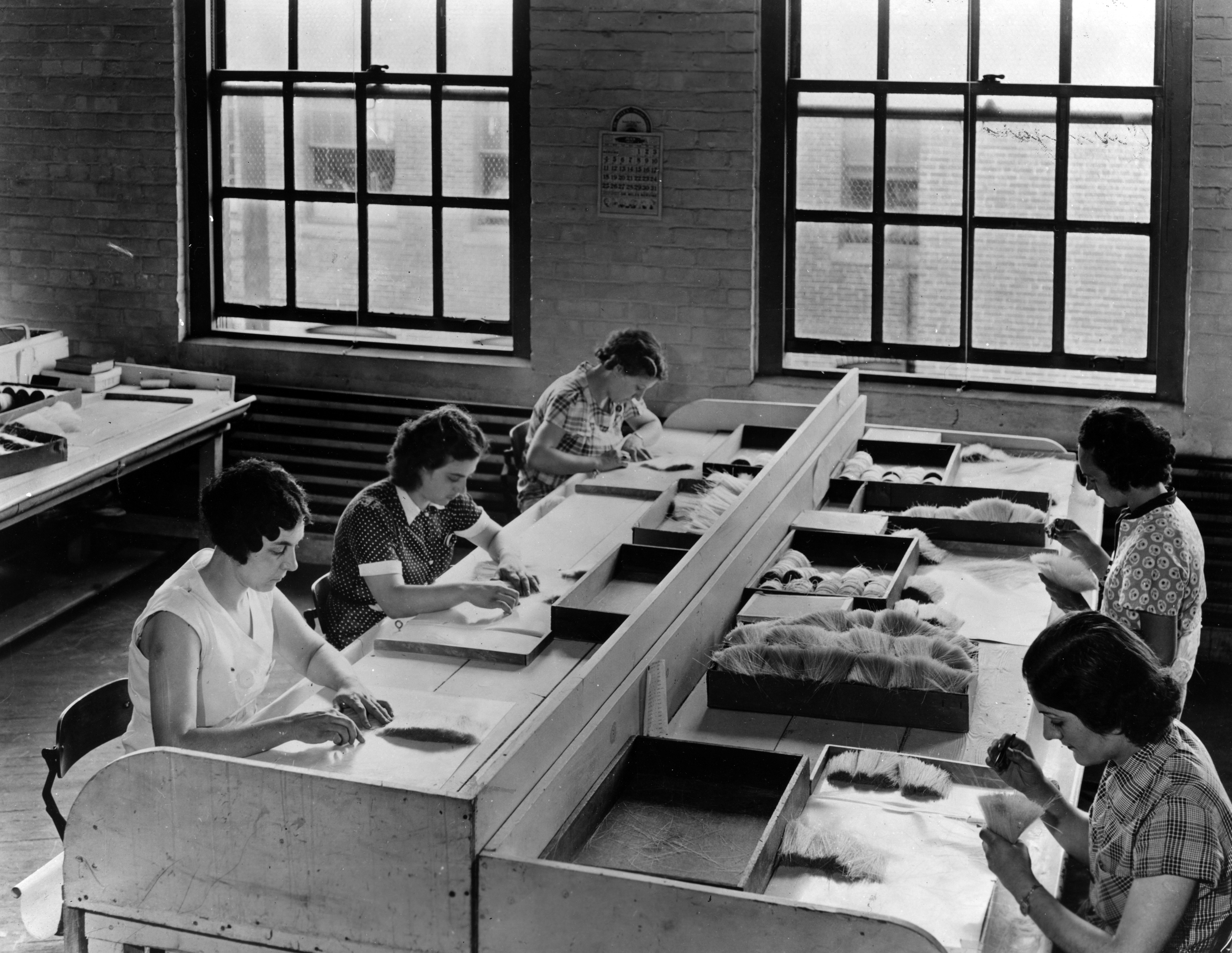 On this date, February 24, in 1938, DuPont began commercial production of the "Miracle Tuft Toothbrush", the first toothbrush to employ nylon bristles. Prior to this point, most toothbrushes were manufactured using boar hairs imported from Siberia, Poland, and China, where cold weather climates produced boars with firmer, thicker bristles. Other, more expensive toothbrushes, used animal hairs like badger or horsehair.
This 1937 photograph shows workers at an E.I. du Pont Nemours & Company's factory in Leominster, Massachusetts where pre-nylon toothbrush bristles were processed. These bristles have already been washed, bleached, and sterilized; the workers are examining them to identify and remove black and yellow bristles from the washed white stock.
This photograph comes from Hagley Library's DuPont Company Product Information Collection (Accession 1972.371). In 1952, the DuPont Company organized a Product Information section within the Public Relations Department. Its main purpose was to create news releases accompanied by photographs that would be run editorially by trade journals and newspapers to create inexpensive publicity and indirect advertising.
To be used, the news releases had to include interesting information about a DuPont product, its development, manufacture, or applications. They could not be direct commercial promotions of a product itself as that would be the work of the Advertising Department. Product Information photographs and their news releases told the reader what DuPont did, why it was important, and sometimes, how it was done. 
This collection has not been digitized in its entirety, but a selection of materials from it, mostly photographs taken from the 1930s through the 1950s, are available to view in our Digital Archive. Click here to take a look!