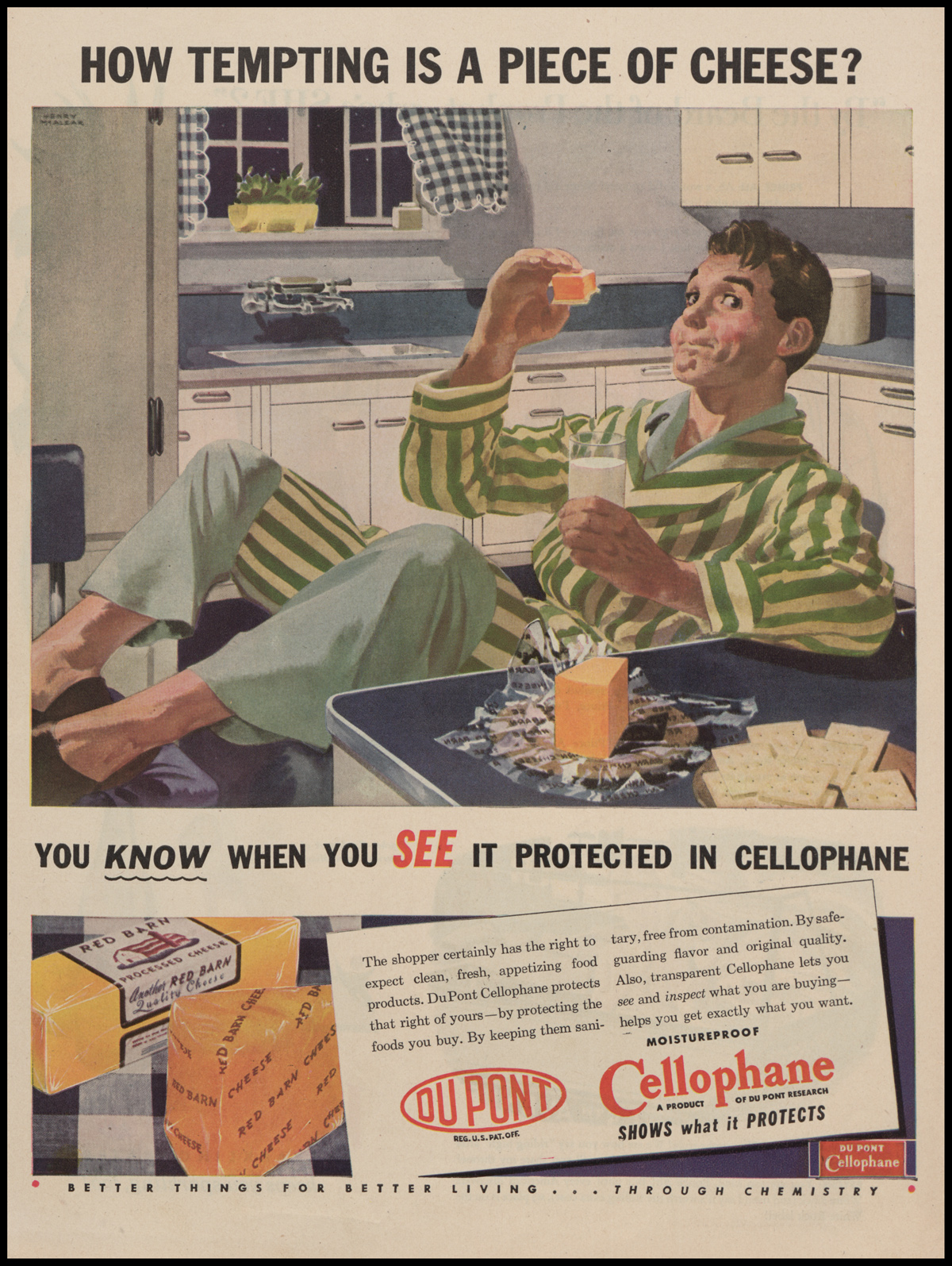 On this date, January 20, in 1964, the Wisconsin Cheese Foundation presented the 1964 New York World's Fair with what was, at the time, the world's largest cheese.
The treasure was produced using over 170,000 qts of milk from over 16,000 cows. It weighed over 34,000 pounds and measured to approximately 14.5 x 6.5 x 5.5 feet in dimension . After being displayed for the world to admire, it was later consumed at the 1965 annual meeting of  the Wisconsin Cheesemakers Association. To commemorate the achievement, however, a replica was created for display and erected in Neillsville, Wisconsin alongside the city's statue of Chatty Belle, the World's Largest Talking Cow.
We're celebrating their achievement today with this 1946 advertisement for DuPont Cellophane from Hagley Library's collection of E.I. du Pont de Nemours & Company Advertising Department records (Accession 1803). As DuPont began to diversify its product line beyond gunpowder and explosives in the early twentieth century, the company had a need for more advertising. DuPont established an Advertising Division within the Sales Department between 1907 and 1909, which was reorganized into a separate Advertising Department in 1921.
Cellophane became a popular focus for the Advertising Department soon after. DuPont acquired exclusive U.S. patent rights to the product in 1923, and the company enjoyed exclusive patent rights to cellophane during that decade.
The collection of E.I. du Pont de Nemours & Company Advertising Department records has not been digitized in its entirety. The online collection, which you can view by clicking here, comprises magazine tearsheets featuring DuPont advertisements dating from 1901 to 1971.