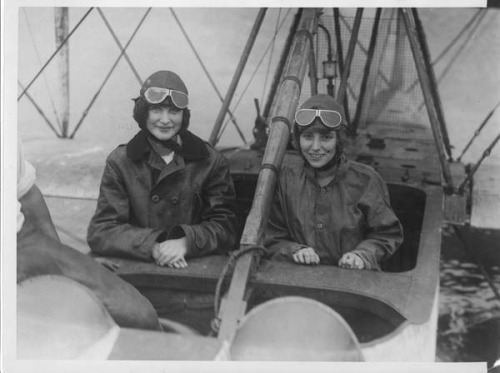 On this day, December 17, in 1903, Orville and Wilbur Wright's Wright Flyer made its now-famous first flight just south of Kitty Hawk, North Carolina. The world's first successful motor-powered airplane took to the air at 10:35 in the morning, with Orville Wright as its pilot. Traveling at a speed of 6.8 miles per hour, it rose ten feet and traveled for about 120 feet before landing safely and allowing Wilbur to take his turn.
We're marking this aeronautical achievement with this photograph, captured on July 27, 1922. The image is titled 'Society Girls Keep Cool' by text on the reverse of the image, which also adds "Photo shows L to R - Janet Moffett, daughter of the head of the Naval Air Service, Admiral Moffett, and Helen Johnson, daughter of Capt. Johnson, USN, taking a ride in a private plane. This is the latest fad in Washington for those who are fortunate enough to have the plane."
This photograph is part of Hagley Library's Lammot du Pont, Jr. collection of aeronautical photographs (Accession 1975.360). Lammot du Pont, Jr. (1909-1964) assembled a large collection of books, manuscripts, prints, drawings, and photographs relating to the history of aeronautics from the first balloon flights through the 1940s.
The collection has only been partially digitized, but our Digital Archive offers 650 images from this collection, primarily consisting of photographs that depict subjects such as airplanes, balloons and dirigibles, seaplanes, male and female pilots, long-distance and round-the-world flights, airplane crashes, air races, flying instruction, and the Arctic schooner Effie M. Morrissey. Nearly all of the photographs are news service images, many accompanied by original caption information. To view this collection online now, click here.