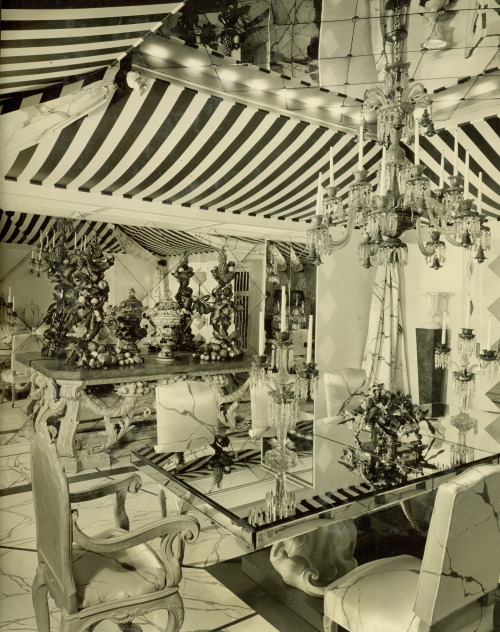 This December 12th marks the 120th anniversary of the birth of William Caroll Pahlmann (1900-1987), one of the leading American interior designers of the mid-twentieth century. Pahlmann is known for his "eclectic" style that combined materials and decorative elements from many time periods and cultures, everything from antiques to modern laminates, and for bold color and texture combinations. His design work prioritized the individual client and their comfort, and was intended to reflect their personal needs, tastes and personalities.
This approach, seen in this 1939 photograph of a marbleized fabric display at Lord & Taylor, stood in contrast to the austere modernism of his early contemporaries. Pahlmann was hired by the interior decorating and home furnishings department of the Lord & Taylor department store in 1936, where he established the use of the complete model room as the best method for displaying home furnishings
Pahlmann was born on December 12, 1900, at Pleasant Mound, Ill. His father died when he was six years old, and his mother moved the family to San Antonio, Texas, where she ran a boarding house. By age ten, Pahlmann had begun to develop an aptitude for freehand drawing and take an interest in flower-arranging at the local Baptist Church. After graduating from high school, Pahlmann found rather improbable employment as a traveling salesman for the San Antonio Sewer Pipe Company but used his time on the road to complete a 48-part correspondence course from "Arts and Decoration" magazine.
In 1927 he moved to New York City and enrolled at the New York School of Fine and Applied Arts, later the Parsons School of Design, where he studied color and interior decoration and paid his bills by dancing in Broadway musicals. After two years, Pahlmann received a scholarship to study at the school's Paris Atelier under renowned designer Mildred Irby. After graduation Pahlmann worked as a freelance decorator in New York. Although these were the worst years of the Great Depression, his eye-catching designs and a flair for self-promotion secured him a number of notable and successful commissions.
Over the course of his ensuing career Pahlmann would also play a major part in elevating the professional status of the interior decorator, who some once classed with window dressers, hair stylists, or pastry chefs, to that of the interior designer, on a par with architects, industrial designers, and artists. In addition to his wealthy clients and corporate accounts, Pahlmann found a ready popular audience in the newly-prosperous middle and lower-middle classes, who during the Depression and war had been too concerned with getting by to spend much time trying to observe canons of good taste. In this role of tastemaker, Pahlmann was part of the growing style-consciousness and increasing consumerist orientation of ordinary American people.
This photograph is part of the Hagley Library's collection of William Pahlmann papers (Accession 2388). A selection of interior design drawings and photographs from this collection can be viewed online in our Digital Archive by clicking here.