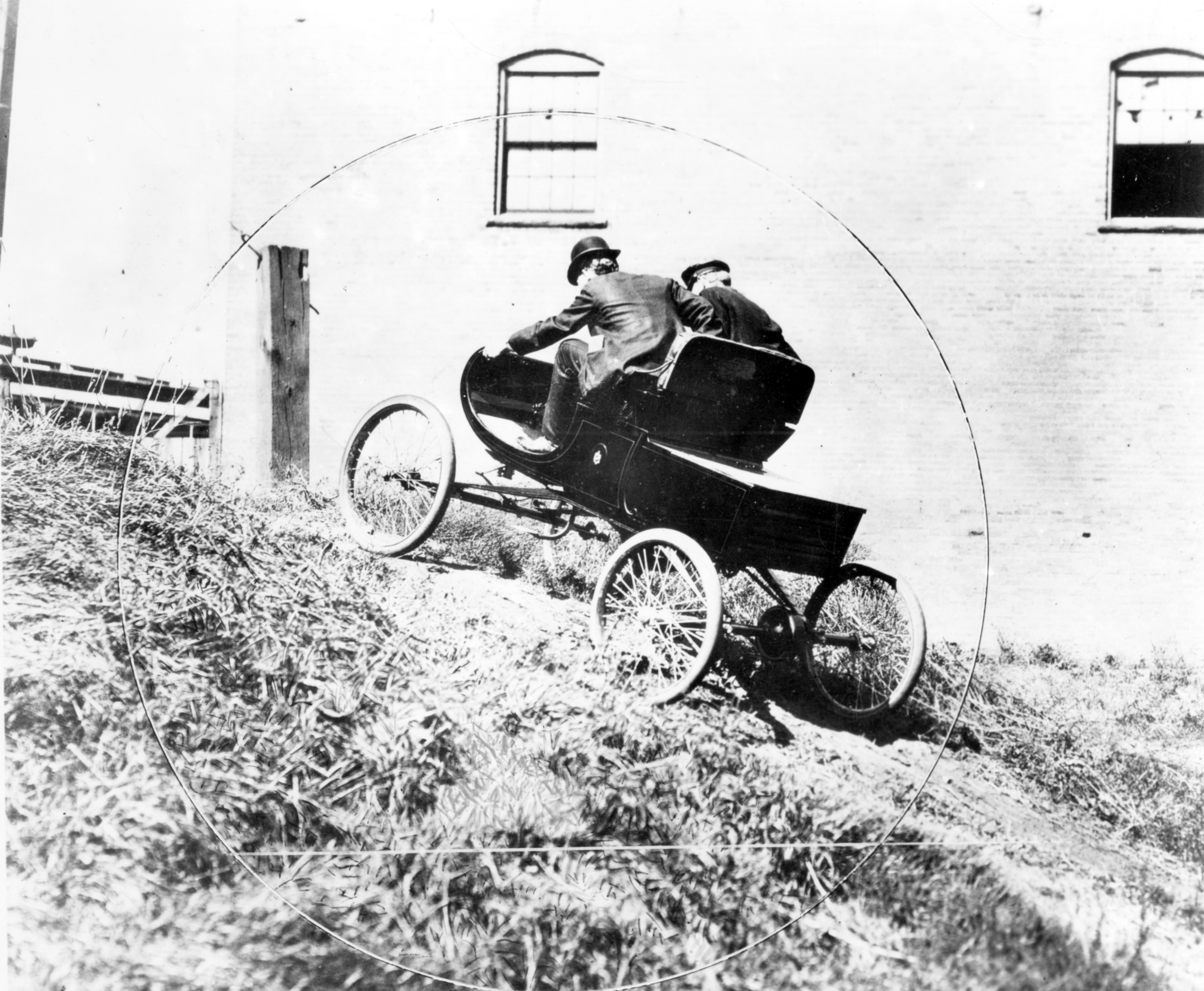 It's the first #MotorMonday of May and we're digging deep into automotive history today to bring you this photograph of automotive pioneers Ransom Eli Olds (1864-1950) and Jonathan Dixon Maxwell (1864-1928) driving what is probably the first or second version of an 1899 Oldsmobile in Detroit's Belle Isle.
Olds founded Olds Motor Vehicle Company in Lansing, Michigan in 1897, but relocated it to Detroit, near the Belle Isle Bridge, in 1899 and renamed Olds Motor Works after the company was purchased by Samuel L. Smith, a prominent Detroit industrialist and financier. This would have been one of the automobiles that Olds experimented with during these early years before the company's 1901 release of eleven prototype vehicles, which operated on a variety of steam, electricity and gasoline energy sources. Maxwell was Olds' chief engineer and frequent collaborator during this years. He would later launch a company of his own, manufacturing Maxwell Automobiles from 1904 to 1925, using a using a buggy body Maxwell first built in 1884.
This photograph is part of Hagley Library's collection of Chamber of Commerce of the United States photographs and audiovisual materials, Series II. Nation's Business photographs (Accession 1993.230.II).  The Chamber of Commerce of the United States of America formed in 1912 with the purpose of advising the government on issues facing industry and business throughout the country. The majority of images in this digital collection are photographs that were taken for the Chamber's publication, Nation's Business. Published from 1912 to 1999, the monthly magazine proved invaluable in communicating the Chamber's messages to business and government, and the magazine featured images by many of the country's most prominent photographers. This collection has not been digitized in its entirety, but you can view a selection of images from it online now in our Digital Archive by clicking here.