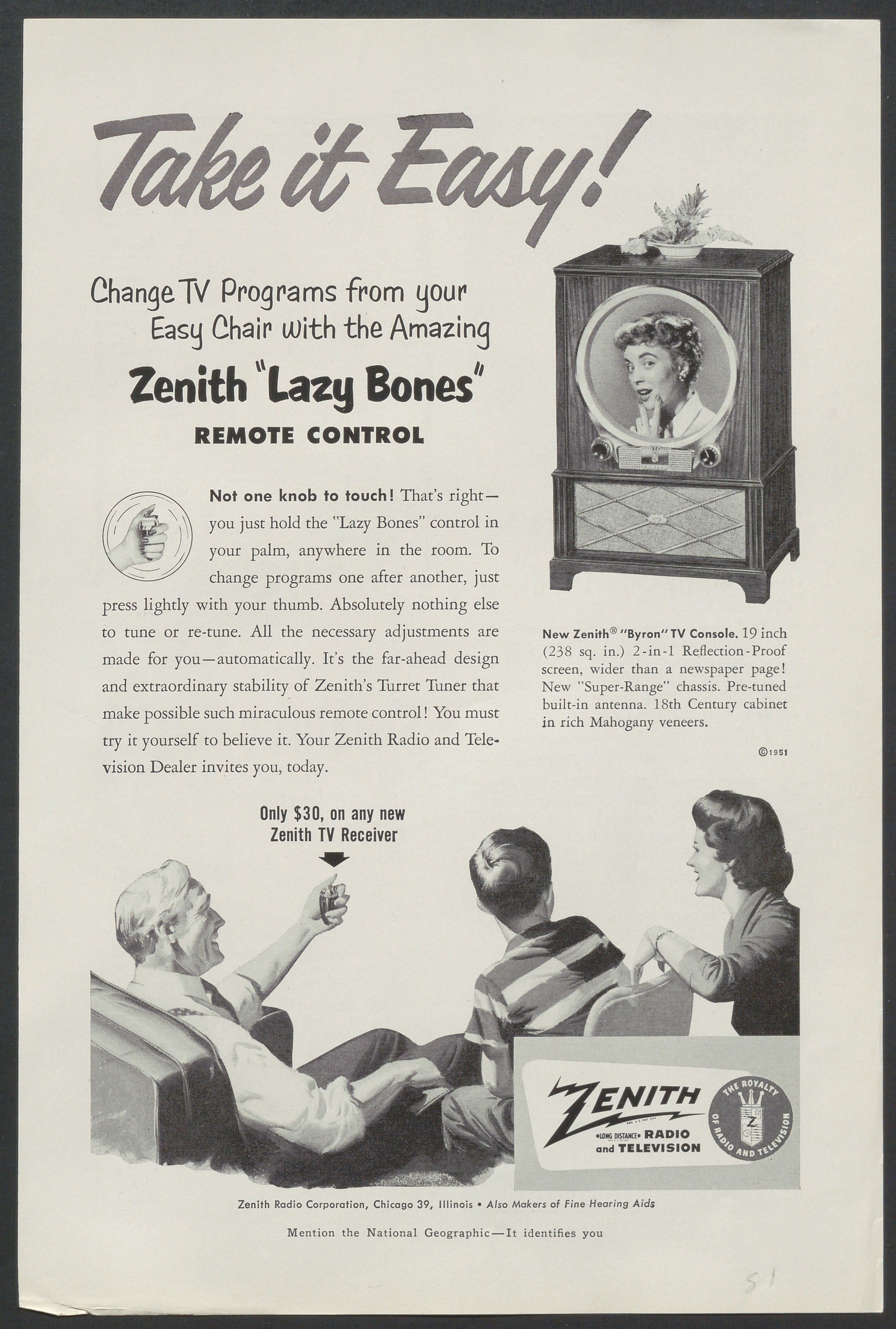 Let's take it easy this #TechTuesday with this 1951 advertisement for the world's first successful television remote control. The Zenith Radio Corporation's "Lazy Bones" wired remote control plugged into a compatible television set and offered the user two buttons to control channel tuning and volume.
Being lazy wasn't cheap, though! The device, marketed as "only" $30, would cost over $350 today when adjusted for inflation.
Zenith Radio Corporation was founded in 1918 as Chicago Radio Labs, and began its corporate life manufacturing parts for amateur radio devices. It was formally incorporated in 1923 as Zenith Radio Company, a name derived from it's founders' ham radio call sign - 9ZN (or ZN'th).
As the company grew, so too did its product lines. Zenith introduced the world's first portable radio in 1924 and was also pioneered in introducing home radio receivers that could operate on household electric currents (1926) and automatic push-button radio tuning (1927), and established the first FM radio station in the Midwest (1940).
Zenith's entry into the world of television manufacturing began in 1939, and the company began selling commercial sets to the public in 1948. The "Lazy Bones" model was superseded in 1955 by the "Flash-Matic" system, the world's first commercial wireless remote control for a television console.
This item is part of the Alexander Magoun advertising collection subseries of Hagley Library's David Sarnoff Library collections (Accession 2464). David Sarnoff (1891-1971) was president of the Radio Corporation of America (RCA), one of the country's leading manufacturers and vendors of radios, phonographs, and televisions. He established the David Sarnoff Library to house his private papers and professional records.
The collections developed further with the acquisition of papers of former RCA executives, scientists, and engineers, including Alexander Magoun, curator for the David Sarnoff Library from 1998 until 2000. Hagley Library obtained the Sarnoff collection records shortly after the Sarnoff Corporation closed the library in 2009. The College of New Jersey obtained the museum objects.
To view a selection of material digitized from this collection, click here to visit its page in our Digital Archive.